Product engineers are designing, developing, and taking products to market at a dizzying rate today, and that's due in part to the advancements in software tools over the past few years. 3D CAD modeling tools especially have been beneficial to increasing the speed with which product engineers can generate models for tooling, prototyping, patenting, marketing, and manufacturing. Of course, product engineers can be more productive only when they have the right type of 3D CAD modeling software tools, and that's why we've rounded up 50 of the top tools available today.
Our picks are based on product engineer reviews, product engineering blogs and forums, and other publications from experts in the field. We also chose 3D CAD modeling software tools that have the most useful features. Some of our picks are best suited for visualization and quick ideation and rendering, while others are useful for freeform surface modeling. Our top 3D CAD modeling software tools also range in price and capability because our goal is to help you find exactly those tools that will fit your budget and your product engineering needs so you can work more efficiently and stay one step ahead of the competition. Please note, we have listed our top 50 3D CAD modeling software tools here, in no particular order.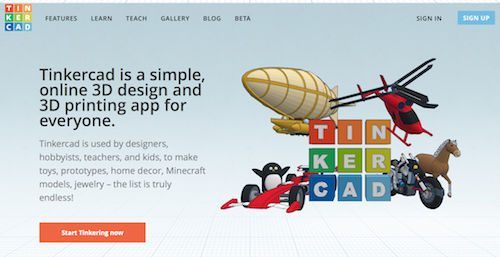 Tinkercad helps product engineers develop the best products for life. A browser-based 3D CAD modeling tool that is appropriate for nearly any skill level, Tinkercad suits product engineering students and seasoned professionals. Many product engineers also turn to Tinkercad when they need a 3D printing solution.
Key Features:
3D design and modeling tool for all
Part of the 123D family of free apps
Complete designs and models in mere minutes
Click-to-3D print
Cost: FREE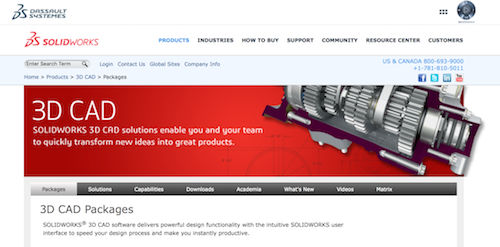 SOLIDWORKS 3D CAD software is available in three editions to ensure product engineers have the functionality needed to hasten the design process and be as productive as possible. All three editions have 3D design capabilities, but SOLIDWORKS Professional and SOLIDWORKS Premium are built for collaboration with powerful design and modeling features.
Key Features:
SOLIDWORKS Standard – Powerful 3D design for rapidly creating parts, assemblies, and 2D drawings
SOLIDWORKS Professional – File management tools, advanced photorealistic rendering, automated cost estimation, eDrawings Professional collaboration capabilities, automated design and drawing checking, and more
SOLIDWORKS Premium – Comprehensive 3D design solution with powerful simulation and design validation in addition to ECAD/MCAD collaboration, reverse engineering, and advanced wire and pipe routing functionality
Cost: Contact for a quote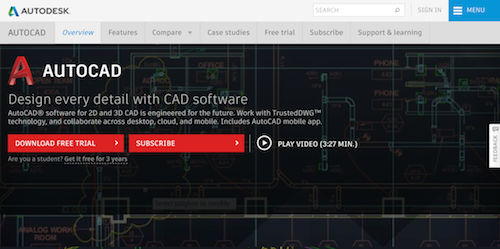 Autodesk offers some of the most popular 3D design, engineering, and entertainment software and services available today. Their AutoCAD software is a powerful 3D CAD tool that enables product engineers to design every detail and work with TrustedDWG technology, collaborate across desktop, cloud, and mobile, and access the AutoCAD mobile app for working on the go.
Key Features:
Innovative 3D design for creating and communicating almost any design with 3D modeling and visualization tools
Customize AutoCAD to increase productivity and enforce CAD standards
Share and use data from PDF and DGN files, Navisworks, Bing Maps, and the AutoCAD mobile app
PDF import enhancements, external file references, object selection, text to Mtext enhancements, and more
Cost: FREE trial available for 30 days
AutoCAD Subscription

$185/month
$1,470/1 year
$2,795/2 years
$3,970/3 years
4. FreeCAD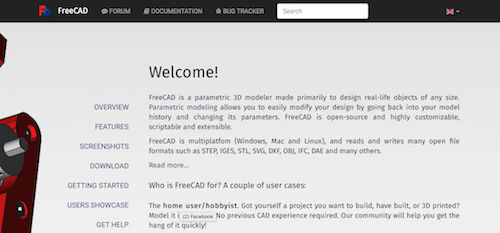 An open source software tool, FreeCAD is specifically designed for mechanical engineering and product design. FreeCAD is a parametric 3D CAD modeler appropriate for designing real-life objects of any size and includes tools similar to SOLIDWORKS. FreeCAD is open-source and multi-platform and reads and writes several open file formats including STEP, IGES, STL, SVG, DXF, LBJ, IFC, DAE, and others.
Key Features:
Parametric modeling for easily modifying designs by going back into model history and changing parameters
Highly customizable, scriptable, and extensible
Appropriate for experienced CAD users who identify with the tools and workflow that are similar to other commercial CAD and BIM modeling software
Cost: FREE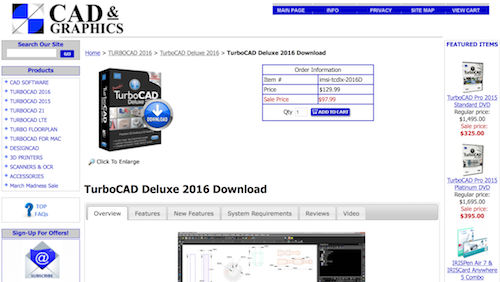 TurboCAD 2016 Deluxe is a complete, powerful 2D/3D CAD software tool with tools for drawing, modifying, dimensioning, and annotating. Product engineers appreciate the materials, lighting, and photorealistic rendering offered by TurboCAD 2016 Deluxe and the fact that they easily can share their work with AutoCAD and SketchUP or print in 3D.
Key Features:
Easy to learn and use
Complete 2D drafting and 3D modeling in one software tool
Customizable UI, time-saving wizards, XREF support, and more
Mechanical tools tailored to engineers such as 2D/3D Boolean operations, revolve, extrude, sweeps, and chain polyline
Improved mirror copy tool for 3D objects
Slot tools, improved conceptual selector, new highlighting of 3D objects and parts of 3D objects, and much more
Cost: Electronic download – $129.99
6. Creo Parametric 3D Modeling Software
@PTC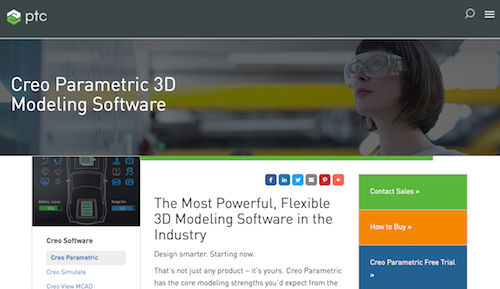 PTC brings technology solutions and leadership to the Internet of Things, and their 3D CAD tool is ideal for innovative product development. Creo Parametric 3D is a product engineering software tool that improves quality and speeds time-to-market because it enables users to efficiently build 3D virtual prototypes of products and automates the product development process.
Key Features:
Unique blend of parametric and direct modeling with product design apps that are interoperable
Seamless integration of technology for greater productivity and innovation
Easily capture design intent and build models that change as you change the parameters of their features
Freely create and interact with 3D CAD geometry to quickly see the results of your engineering decisions
Intuitive, flexible editing environment that is suited to beginners through experts
Cost: FREE trial available; Contact for a quote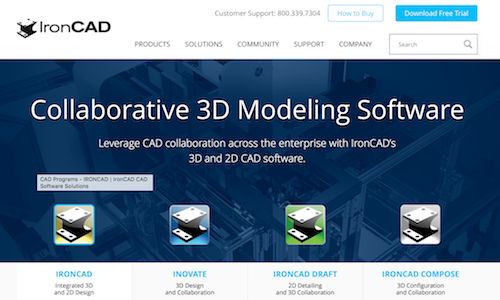 A leading provider of innovative design collaboration solutions, IronCAD delivers productivity and design freedom with their software tools. Their product engineering software solution aids in designing more quickly and easily because of its intuitive solution that empowers engineers to increase productivity and collaborate throughout the enterprise.
Key Features:
Intuitive platform that mirrors interaction with the physical world
Easily reposition components with the patented TriBall visualization tool
Complete 3D design program that allows engineers to choose from parametric, direct, or a combination of modalities on demand in a single environment
Freely explore design ideas and create models dynamically onscreen without needing to plan and map out concepts in advance
Use one tool to manage the entire design process from concept to production
3D models only require one file, regardless of complexity
Cost: FREE trial available; Contact for a quote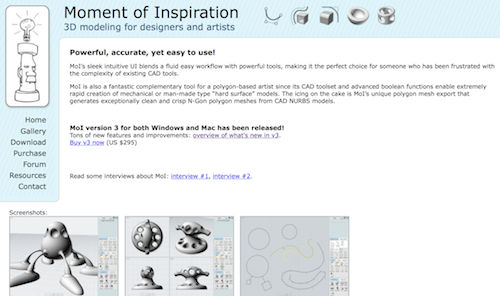 Moment of Inspiration is a 3D modeling tool for designers, artists, and engineers that features an intuitive user interface that blends a fluid workflow with powerful tools. MoI is less complex than other CAD tools yet includes a CAD toolset and advanced boolean functions for rapid creation of mechanical or man-made hard surface models.
Key Features:
For Windows and Mac
Unique polygon mesh export generates exceptionally clean and crisp N-Gon polygon meshes from CAD NURBS models
New options for extrude, extrude to point, and extrude tapered
New NSided hole filling command
Cost: $295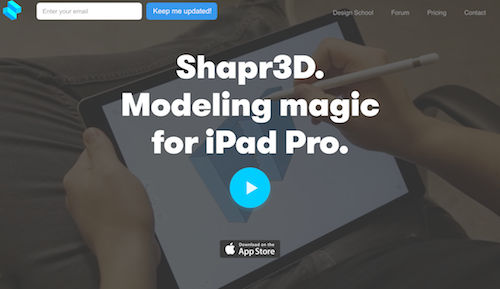 For product engineers who enjoy the freedom of working on a tablet, Shapr3D is an ideal solution for use on an iPad Pro. The first professional 3D CAD for iPad Pro, Shapr3D is easy to learn and use yet powerful enough for product engineers to draw shapes and transform them using just their tablet, and Apple Pencil, and the app.
Key Features:
Draw shapes and transform them; then, use freeform surfacing, sketch on faces, and chamfer edges in seconds
Designed specifically for the iPad Pro
Sketch as you would on paper but get instant results in 3D
Compatible with all major CAD software including SOLIDWORKS, AutoCAD, Fusion360, Rhino3D, CATIA, and Inventor
Precise sketches and models perfectly measured in mm, cm, m, inches, and feet
Supports transformations and features such as union, loft, hollow, offset, revolve, section, subtract, sweep, and freeform
Cost:
FREE – Ideal for 3D printing
Pro: $8.25/month paid annually – Ideal for professional users
10. Fusion 360
@autodesk
A cloud-powered 3D CAD software tool for product engineers, Fusion 360 is a 3D CAD, CAM, and CAE tool in a league of its own. Fusion 360 connects the entire product development process in a single cloud-based platform that works on Macs and PCs.
Key Features:
Design, test, and fabricate in a single tool
Work anywhere, any time
Collaborate with anyone
Quickly iterate with sculpting tools to explore form and modeling tools to create finishing features
Test fit and motion, perform simulations, create assemblies, make photorealistic renderings, and animations while you engineer and simulate with Fusion 360
Collaborate and manage – Create tool paths to machine your components or use the 3D printing workflow to create a prototype
Cost: FREE trial available
Standard Annual Plan: $300/year – Subscription services, design, documentation, data management and collaboration, accessibility, simulation, and manufacturing features
Ultimate Annual Plan: $1,500/year – All standard plan features plus advanced simulation and advanced manufacturing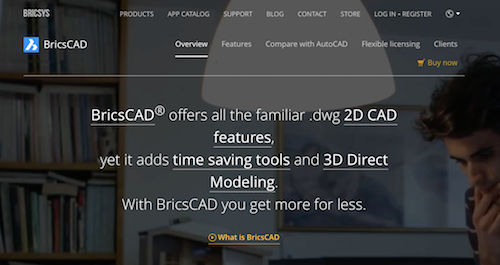 BricsCAD is a reliable, affordable 3D CAD software tool for designers and engineers. This product engineering tool features familiar .dwg CAD features and saves time with powerful tools and 3D direct modeling features.
Key Features:
Familiar 2D and 3D interface
Feature-rich combination of 2D drawing and 3D modeling
Available in three editions: BricsCAD Classic, BricsCAD Pro, and BricsCAD Platinum
Cost:
BricsCAD Classic: $550 or $750 with priority support and major upgrade
BricsCAD Pro: $680 or $880 with priority support and major upgrade
BricsCAD Platinum: $1,020 or $1,220 with priority support and major upgrade
12. OpenSCAD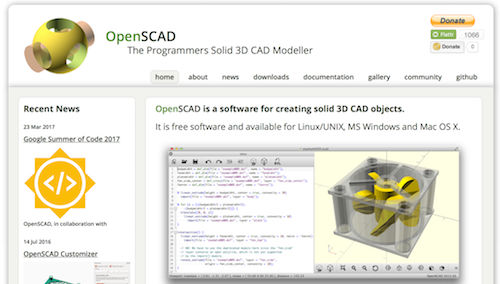 A 3D CAD software tool for creating solid 3D CAD models, OpenSCAD is free and available for Linux/UNIX, Windows, and Mac OS X users. OpenSCAD focuses on CAD for creating 3D models and gives product engineers control over the modeling process because the tool is similar to a 3D compiler that reads script files and renders 3D models from files rather than being an interactive modeler.
Key Features:
Gives engineers full control over the modeling process and allows for easily changing any step in the modeling process or making designs defined by configurable parameters
Delivers two modeling techniques: constructive solid geometry (CSG) and extrusion of 2D outlines
Read and create 3D motels in the STL and OFF file formats in addition to DXF files
Cost: FREE
13. VariCAD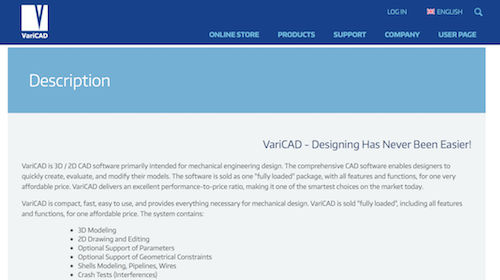 VariCAD offers 3D/2D CAD software for product engineers. With a comprehensive set of features and functions, VariCAD is fast and easy to use for quickly creating, evaluating, and modifying 3D models.
Key Features:
Optional support of parameters and geometrical constraints
Shells modeling, pipelines, and wires
3D assemblies and groups
Calculations of 3D objects or 2D sections
Uses STEP, STL, IGES, DWG, and dXXF file formats for data exchanging and fully supports Unicode
Provides tools for 2D updates after changes of 3D models
Provides a library of basic 3D shapes that easily are modified by editing their dimensions
Create solids via profile rotation, extrusion, or lofting
Complex tools include rotation blending between two profiles, lofting between a circle and rectangle or between different profiles, and creation of helical surfaces
Cost: VariCAD for Windows or Linux license + one year upgrade: $520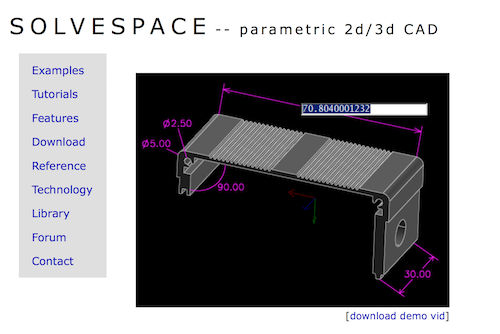 A parametric 3D CAD program, SolveSpace is appropriate for product engineers who need to model 3D parts, print 3D parts, prepare CAM data, design mechanisms, and use plane and solid geometry. SolveSpace includes features for sketching sections, building solid models, analyzing models, and much more.
Key Features:
Sketch sections using lines, circles, line styles, 3Dconnexion six degree of freedom controllers, and more
Constraints and dimensions on distance, projected distance, lengths in metric or inch units, and others
Build solid models with extruded or lathed sketch, Boolean operations, parametric step and repeat, etc.
Export 3D wireframe as DXF or STEP
Cost: FREE
15. Blender
@blender_org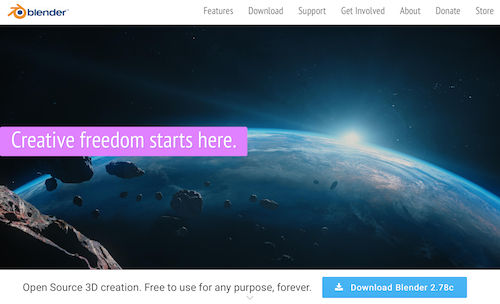 A free, open source 3D modeling tool, Blender is a complete 3D creation suite that supports the entire 3D pipeline from modeling and rigging to simulation and rendering to production. Product engineers choose Blender when they are looking for a tool for visualization and quick ideation and rendering.
Key Features:
Includes Cycles, the built-in, powerful, unbiased path-tracer engine for ultra-realistic rendering
Comprehensive array of modeling tools for creating, transforming, and editing models quickly and easily
Advanced sculpting tools and brushes
Cost: FREE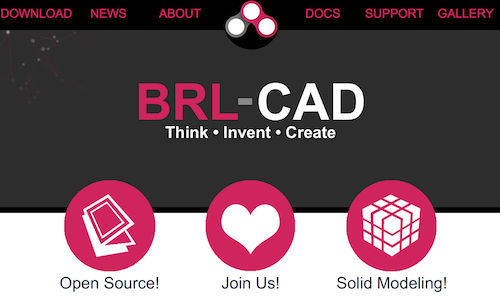 BRL-CAD is a powerful, cross-platform, open source solid modeling system. This 3D CAD modeling software tool includes interactive geometry editing, high-performance ray-tracing for rendering and geometric analysis, and much more for product engineers.
Key Features:
Combinatorial constructive solid geometry (CSG) solid modeling system
Network-distributed framebuffer support
Image and signal-processing tools
Path-tracing and photon mapping support for realistic image synthesis
The primary tri-service solid modeling AD system used by the U.S. military to model weapons systems for vulnerability and lethality analyses
Supports a variety of geometric representations including an extensive set of traditional CSG primitive implicit solids such as boxes, ellipsoids, cones, and tori
A collection of more than 400 tools, utilities, and applications
Cost: FREE
17. Meshmixer
@meshmixer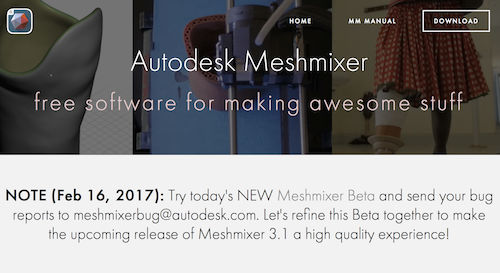 Meshmixer is Autodesk's state-of-the-art 3D software tool for working with triangle meshes. Product engineers choose Meshmixer when they want to design an object that fits something else or when they need a solution that offers precise 3D positioning with pivots.
Key Features:
Drag-and-drop mesh mixing
3D sculpting and surface stamping
Robust convert-to-solid for 3D printing
3D patterns and lattices
Branching support structures for 3 D printing
For Windows, OS X, and Linux
Cost: FREE
18. DesignSpark Mechanical
@DesignSparkRS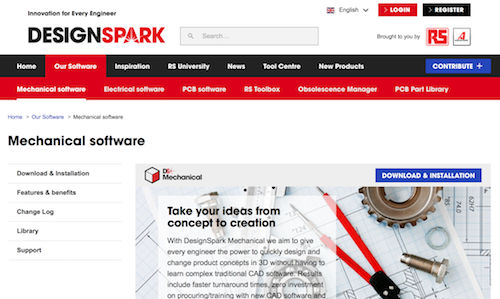 DesignSpark is an engineer and maker community offering free software, online resources, and design support. DesignSpark Mechanical is their 3D CAD modeling software that enables product engineers to design and make in 3D in innovative ways and to rapidly prototype and reverse engineer objects quickly and easily.
Key Features:
Seamlessly integrates into your existing design workflow
Import or save 3D models from a variety of suppliers in the RSDOC format for use i your existing DesignSpark Mechanical design projects
Create a Bill-of-Materials and get instant online quotes
Import and export in a variety of industry standard file formats including STL, SKP, OBJ, AutoCAD, and DXF
Cost: FREE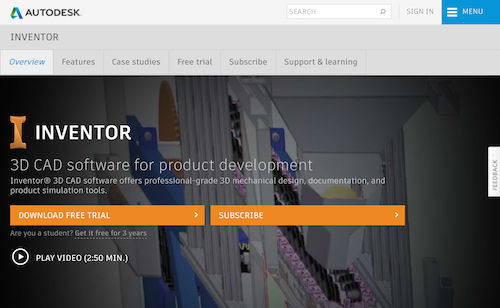 Inventor is 3D CAD software for product development that offers professional-grade 3D mechanical design, documentation, and product simulation tools. Inventor allows product engineers to work with data from any 3D CAD system and maintain an associative link.
Key Features:
Modeling flexibility with various modeling options
Automation allows you to set up your product configurator without writing complex code
Parametric modeling for focusing on designing rather than on the interface
Model-based definition – Use 3D annotations to add tolerance dimensions, notes, and other engineering details to the 3D model
Faster open time for large files to speed up the design process
Cost: FREE trial available
Inventor Subscription

$235/Month
$1,890/1 year
$3,590/2 years
$5,105/3 years
20. Rhino
@bobmcneel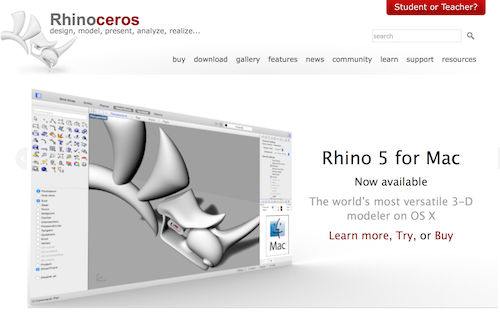 Rhino 5, for Windows and Mac, helps product engineers create, edit, analyze, document, render, animate, and translate NURBS curves, surfaces, and solids, point clouds, and polygon meshes. One of the most versatile 3D modelers available, Rhino virtually eliminates limits on complexity, degree, and size.
Key Features:
Affordable, uninhibited freeform 3D modeling tools for modeling any shape you can imagine
Accuracy for designing, prototyping, engineering, analyzing, and manufacturing nearly anything
Compatible with other design, drafting, CAM, engineering, analysis, rendering, animation, and illustration software
Fast and does not require any special hardware
Cost:
Commercial Rhino 5 for Windows, Single User: $995
Commercial Rhino/Flamingo/Penguin/Bongo Bundle: $1,695
Rhino/Brazil Bundle: $1,495
Rhino/Flamingo Bundle: $1,295
Commercial Rhino 5 for Mac, Single User: $695
A 3D CAD modeling software powered by Lumiscaphe, Patchwork 3D transforms CAD data into photorealistic 3D models for industrial use. Product engineers use Patchwork 3D to use real-time rendering to shorten design cycles.
Key Features:
Fully configurable, sun-type light for real-time illumination without or in addition to lightmaps
Up to three animatable clipping pains to reveal layers of products, clipping through just the surfaces you want
Real-time material editor
Best-in-class surface unfolding algorithms are unique for industry applications
Native CAD support provides interactive NURBS tessellation
Cost: FREE trial available; Contact for a quote
22. Onshape for Professional Design Teams
@Onshape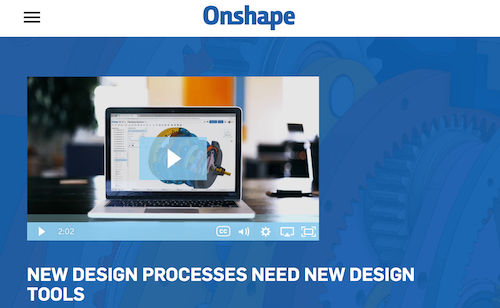 The first and only full-cloud 3D CAD system that allows for collaboration with team members using any web browser, phone, or tablet, Onshape for Professional Design Teams makes it possible to use a 3D CAD modeling software tool anywhere, any time. Onshape is designed specifically for today's agile design teams.
Key Features:
Enterprise-grade CAD
Real-time deployment and access
Real-time data management
Real-time analytics and controls
Cost: FREE trial available for 21 days; Contact for a quote
23. KeyCreator Direct CAD
@KubotekUSA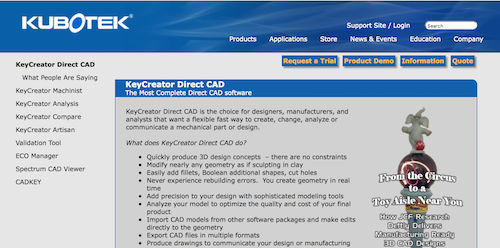 KeyCreator Direct CAD is a 3D modeling software tool for engineers, designers, manufacturers, and analysts seeking a fast, flexible solution for creating, changing, analyzing, or communicating a mechanical part of design. With KeyCreator Direct CAD, users quickly produce 3D design concepts without any constraints.
Key Features:
Modify nearly any geometry as if sculpting with clay
Eliminate rebuilding errors by crating geometry in real time
Add precision with sophisticated modeling tools
Import CAD models from other software packages and make edits directly to the geometry
Export CAD files in multiple formats
Cost: Contact for a quote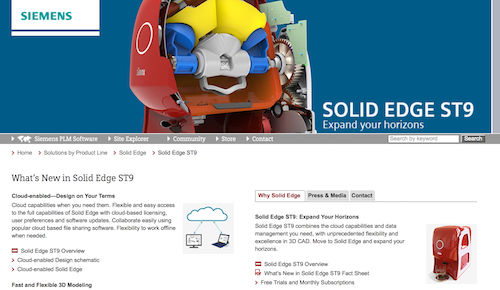 A portfolio of affordable software tools for the product development process, Solid Edge is easy to use and aids product engineers in such stages of the process as 3D design, simulation, and manufacturing. Solid Edge ST9 delivers unparalleled flexibility and excellence in a 3D CAD tool with the cloud capabilities modern product engineers need.
Key Features:
Enhancements in synchronous technology
Easily collaborate using popular cloud-based file sharing software and the ability to work offline
Fast, flexible 3D modeling with industry-leading part and assembly modeling tools that eliminate the constraints of traditional CAD software
Built-in data management with instant searches, easy revision and release management, and optional cloud-based vaulting
Cost: FREE trial available
Design and Drafting: $100/month  – Basic 3D CAD and support package
Foundation: $230/month – Complete 3D CAD and support package
Classic: $290/month – Advanced 3D CAD and support package
Premium: $420/month – 3D CAD and support package
Perpetual Licenses: Contact for a quote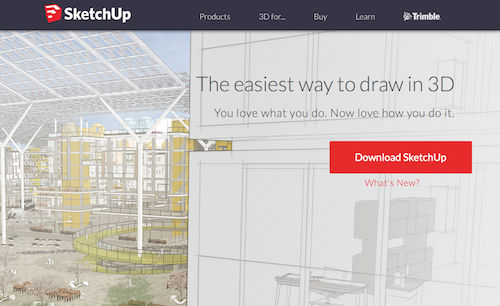 Product engineers looking for a 3D drawing tool that is ideal for quick ideation often opt for SketchUp. Intuitive and powerful, this 3D software modeling tool also allows for quick iteration and aids users in creating compelling visualizations and generating presentation documents.
Key Features:
Begin by drawing lines and shapes and then push and pull surfaces to turn them into 3D forms before stretching, copying, rotating, and painting to make any product
Turn 3D models into drawings
Find 3D models in 3D Warehouse, the world's largest library of free 3D models
Cost: SketchUp Pro: $695
26. AutoCAD Mechanical
@autodesk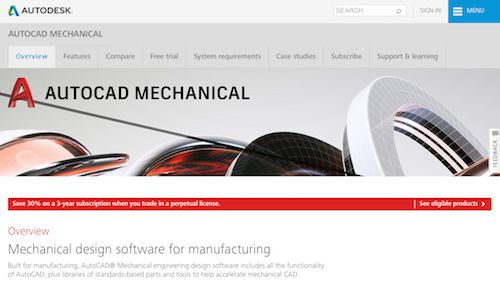 AutoCAD Mechanical is a product engineering design software that incorporates the functionality of AutoCAD with libraries of standards-based parts and tools to drive mechanical CAD. With more than 700,00 standard parts and international drafting standards support, AutoCAD Mechanical is a comprehensive 3D CAD modeling software tool.
Key Features:
Isolate and restore layer groups and specify linetypes
Create rectangles from the ribbon
Produce accurate drawings with standard components using more than 700,000 standard parts and features
Document 3D CAD models
Reusable mechanical drawing detailing tools
Create and save custom content with the custom content library
Cost: FREE trial available for 30 days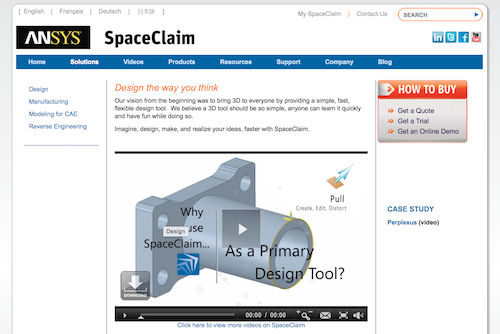 Billed as "the world's fastest and most innovative 3D modeling software," SpaceClaim helps product engineers design in the way that they think. SpaceClaim is a fast, flexible 3D tool that makes it easier for users to get to market faster.
Key Features:
Full part and assembly modeling
Detailed drawings include full 2D/3D GD&T
Photorealistic rendering capabilities with Keyshot
Open and edit files from neutral and native CAD systems
Cost: FREE trial available; Contact for a quote
28. DesignCAD 3D Max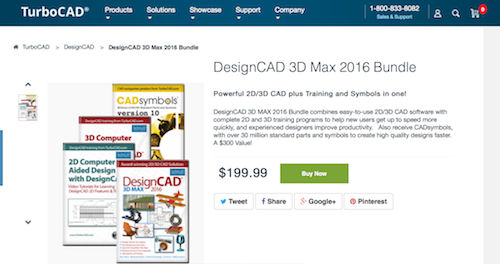 DesignCAD 3D Max is a versatile 3D CAD modeling software tool that is ideal for beginners to professionals. An award-winning software, DesignCAD 3D Max also is a 2D CAD solution that has the power needed for creating high-quality designs, simple renders, and animations.
Key Features:
New file interoperability
Better management of blocks, symbols, and image files
General purpose 3D CAD tool for creating precise, high-quality 2D designs, 3D models, renders, and animations
Full range of powerful 3D modeling primitives such as box, sphere, hemisphere, pyramid, cylinder, cone, and torus
Utilize Boolean operations including solid add, solid subtract, and slice to shape 3D parts
3D view settings, 3D primitives, 3D (solid) editing operations, and 3D visualization
Cost: FREE trial available
DesignCAD 3D Max 2016 Bundle: $199.99
DesignCAD 3D Max 2016: $99.99
29. CATIA 3DEXPERIENCE
@Dassault3DS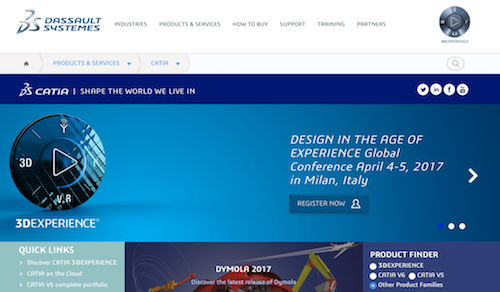 From Dassault Systèmes, the 3DEXPERIENCE company, CATIA 3DEXPERIENCE is a leading solution for product design and experience. Product engineers choose this 3D CAD software tool to develop products people around the world use every day.
Key Features:
Model any product and do so in the context of its real-life behavior to enable design in the age of experience
Define, imagine, and shape the connected world
Social design environment accessed via powerful 3D dashboards to drive business intelligence, real-time concurrent design, and collaboration across all stakeholders and mobile workers
World-class 3D modeling and simulation capabilities to optimize the effectiveness of every user
Cost: Contact for a quote
30. 3DCrafter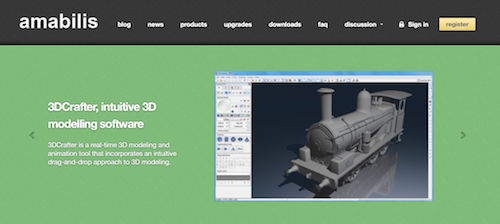 An intuitive 3D CAD modeling software, 3DCrafter is a tool that product engineers use for real-time modeling and animating. Design and create more quickly with the intuitive drag-and-drop approach to 3D modeling with 3DCrafter.
Key Features:
Construct complex models from simple 3D primitives or using the 3DCrafter's Shape Building Tools
Includes modeling tools to deform, sculpt, and paint 3D shapes
Customize the interface using tool roll-up groups so that you see only the items you use most frequently
Cost:
3DCrafter Standard: FREE – Introduction to 3D modeling and animation
3DCrafter Plus: $34.95 – Create detailed models or low-polygon models
3DCrafter Pro: $69.95 – Full-fledged 3D modeling and animation package and photorealistic image capabilities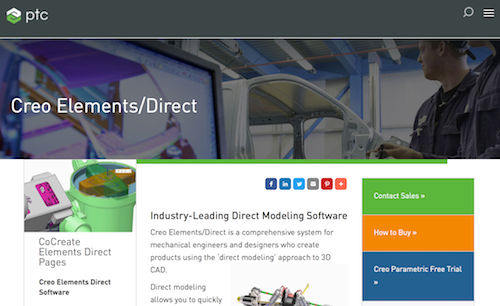 Creo Elements/Direct is a 3D CAD modeling software tool for product engineers who prefer to take a direct modeling approach. With this tool, you quickly and easily can create designs or radically repurpose existing designs even if you are unaware of how they were made. PTC offers three Creo Elements/Direct options: Creo Elements/Direct Modeling, Creo Elements/Direct Drafting, and Creo Elements/Direct Model Manager.
Key Features:
Shorten time-to-market
Meet customer demands
Satisfy increasingly complex customer requirements
Make changes to geometry quickly and easily
Cost: Contact for a quote
32. MeshLab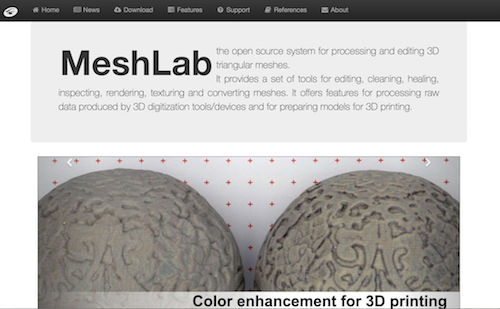 An open source, extensible system for processing and editing unstructured 3D triangular meshes, MeshLab is a 3D modeling tool that aids in the processing of typical, unstructured models in 3D scanning and in providing a set of tools for editing, cleaning, healing, inspecting, rendering, and converting these sorts of meshes.
Key Features:
Features for processing raw data produced by 3D digitization tools and devices and for preparing models for 3D printing
Supports large meshes
Vastly improved rendering speed
New transformation filters and ways of getting metric information out of models
Direct upload of models on SketchFab
Transformation matrices used more uniformly among filters
3D acquisition: aligning, reconstruction, and color mapping and texturing
Cost: FREE
33. CMS IntelliCAD
@CMS_INTELLICAD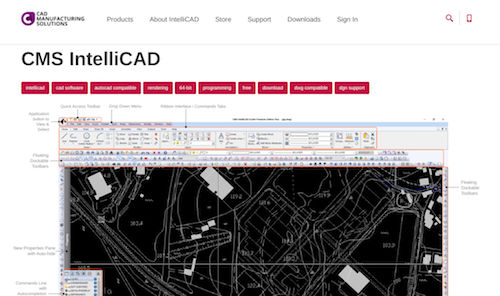 A 2D/3D DWG CAD software tool, CMS IntelliCAD is an affordable alternative to AutoCAD and MicroStation. Fast, efficient, powerful, and versatile, CMS IntelliCAD uses advanced technology to integrate the Microsoft Windows interface with a powerful CAD engine.
Key Features:
Unparalleled compatibility with AutoCAD – uses most of the same file formats including .dwg files for drawing
CMS IntelliCAD users also can use AutoCAD menu files and run Autodesk AutoLISP programs by recompiling custom ADS programs to ink with IntelliCAD libraries
Delivers additional tools with advanced CAD features
Seamless Microsoft Windows integration
Multi-document interface and powerful IntelliCAD Explorer for opening and working several designs at one time and quickly managing information and settings and copying layers, linotypes, and other information between drawings
Cost:
CMS IntelliCAD 8.2PE Plus: $239.95
CMS IntelliCAD PE ClLOUD Subscription: $149.95/1 year
34. ZW3D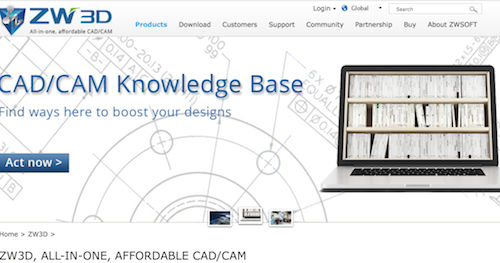 An all-in-one 3D CAD/CAM solution, ZW3D is an affordable 3D CAD/CAM solution appropriate for the complete product development process. ZW3D is a tool of choice for product engineers because it features the fastest kernel for solid-surface hybrid modeling.
Key Features:
Non-solid mold parting
Smart CNC machining tactics from 2 axis to 5 axis
Affords customers benefits that include reduced costs, optimized design workflow, and improved efficiency
Cost: Contact for a quote
35. SolidFace Collaborative Cloud 3D CAD Software
@SolidFaceCAD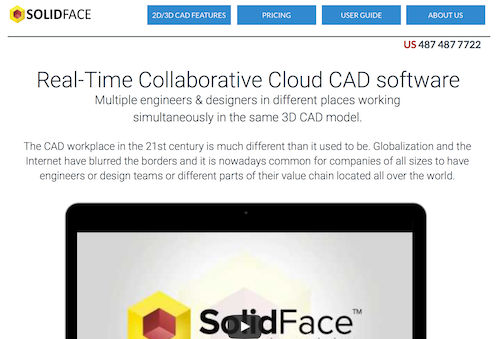 A 2D/3D parametric historic constructive CAD modeler, SolidFace is a real-time collaborative cloud CAD solution. Product engineers, designers, and their teams collaborate and work simultaneously in the same 3D CAD model with SolidFace.
Key Features:
Get working in seconds: start a cloud CAD collaboration session, share the unique key for each collaborative instance, and start working simultaneously in the same 3D model or assembly
Import existing CAD models and use SolidFace Cloud CAD for collaborating with anyone, anywhere, any time
Spend more time designing products and less time learning and using CAD
Cost: Contact for a quote
36. KOMPAS-3D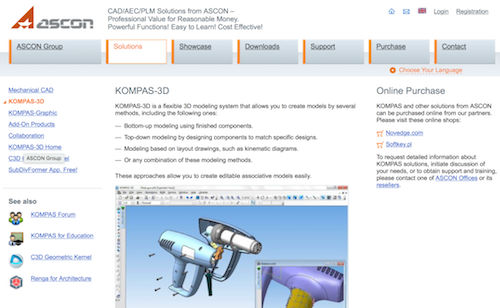 A flexible 3D CAD modeling software tool, KOMPAS-3D makes it possible for product engineers to create models using the method that best fits their preferences and their needs. The optional approaches to modeling accommodated by KOMPAS-3D allow users to create editable associative models quickly and easily.
Key Features:
Bottom-up modeling using finished components
Top-down modeling by designing components to match specific designs
Modeling based on layout drawings, such as kinematic diagrams
P NX for Designowerful functions for managing projects comprised of thousands of subassemblies, parts, and standard library products
Supports all capabilities of 3D solids and surface modeling that are considered the standard of mid-level CAD/CAM programs
Cost: Contact for a quote
37. NX for Product Design
@Siemens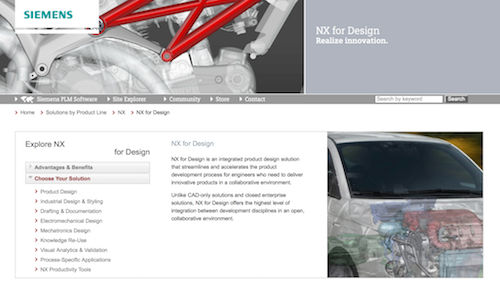 NX for Product Design is a leading-edge 3D CAD modeling software tool that is a powerful solution intended to help product engineers, designers, and teams design more efficiently and cost-effectively. NX provides comprehensive modeling to ensure users utilize productive modeling approaches interchangeably.
Key Features:
Helps deliver cost savings extending beyond the design process to all stages of product development
Be more productive with modeling approaches ranging from explicit solid and surface modeling to parametric and direct modeling
Powerful CAD assembly design tools supporting both top-down and bottom-up design techniques for advanced assembly management and navigation for even the most complex assemblies
Cost: Contact for a quote
38. AC3D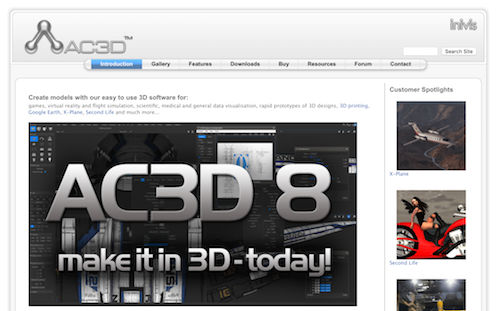 AC3D is a 3D modeling software tool for rapid prototypes of 3D designs, 3D printing, and more. Powerful and easy to use, AC3D is available for WINDOWS, MAC, and Linux.
Key Features:
Simple click and drag user interface
Powerful UV-mapping with the integrated texture coordinate editor
Support for a range of 3D file formats including 3DS, OBJ, and Collada
Create smooth and organic shapes from simple underlying models
Boolean operations to cut, intersect, and join shapes as if they were solid
No polygon limits
Cost: FREE trial available
AC3D Home/Student: $89.95
AC3D Commercial/Group: $109.95/1 user
AC3D Site Licenses: Contact for a quote
39. K-3D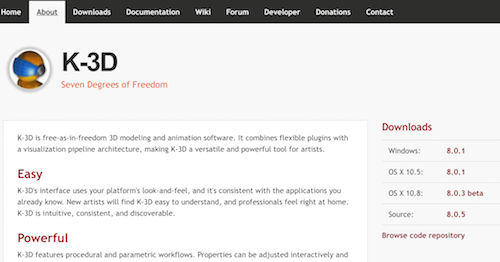 A 3D CAD software tool, K-3D is appropriate for 3D modeling and animation. Product engineers choose K-3D when they need a tool that allows for more artistic work because it combines flexible plugins with a visualization pipeline architecture.
Key Features:
Familiar interface consistent with many applications you already know and use
Intuitive, consistent, and discoverable
Procedural and parametric workflows
Advanced undo/redo system enables you to go back; the pioneering undo tree allows you to go forward, even where other programs lose redo capabilities
Powerful node-based visualization pipeline gives you the freedom to create combinations previously unseen
Cost: FREE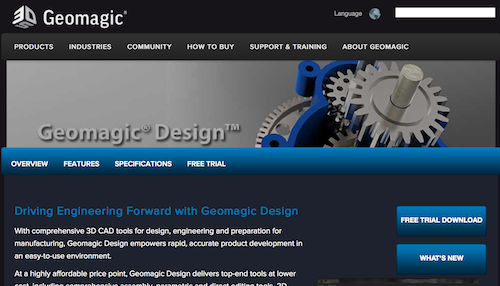 A leading provider of 3D software for creating digital models of physical objects for reverse engineering, product design, inspection, and analysis, Geomagic offers their 3D CAD software tool, Geomagic Design. Geomagic Design enables users to rapidly and accurately move through the product development process with its easy to use environment.
Key Features:
Affordable – delivers top-end tools at lower cost
Comprehensive assembly, parametric and direct editing tools, 2D documentation, sheet metal design, motion analysis, and integrated CAD data sharing tools
Ideal for automotive design and production, aerospace, industrial equipment manufacturing, and consumer product manufacturing
Cost: FREE trial available; Contact for a quote
41. ZBrush 4R7
@pixologic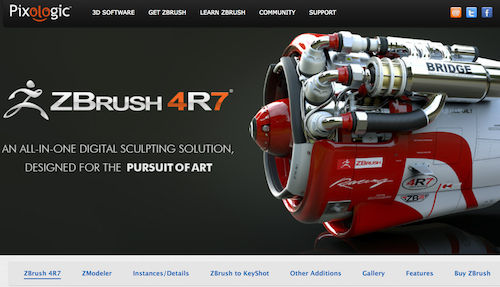 Pixologic presents ZBrush 4R7, an all-in-one digital sculpting solution. ZBrush includes ArrayMesh, NanoMesh, and ZModeler with QMesh to aid the creative process from initially creating to finally refining the artwork of your product.
Key Features:
Stay within ZBrush for more of your workflow
Optional 64-bit support for fully harnessing your machine's computing power and allowing for higher polygon counts and more creativity in less time
ZModeler is a smart polygonal modeling system for simplifying the creation process by fusing polygons, deleting full blocks of geometry, connecting parts with advanced paths, and repeating actions with a single click
Refine the shape of your model in real-time to transform the way in which you create hard surface models
Cost:
ZBrush 4R7 Mac Single User License: $795
ZBrush 4R7 Windows Single User License: $795
42. Vectorworks Fundamentals
@Vectorworks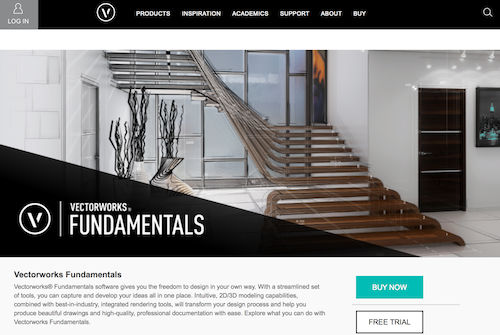 A streamlined set of tools and intuitive 2D/3D modeling capabilities make Vectorworks Fundamentals a top software tool for product engineers. Vectorworks Fundamentals gives users the freedom to design in your own way and to capture and develop your ideas all in one place.
Key Features:
Best-in-industry integrated rendering tools
Creative 3D modeling with an advanced suite of parasoled-based solids and NURBS surface tools to create any shape and easily explore geometry
Intuitive interface for designing from any 3D view using modes in modeling tools that automatically infer working planes as you move your cursor
Manipulate models with ease
More accurate object information and better snapping
Cost: Contact for a quote
43. 3DS Max
@Adsk3dMax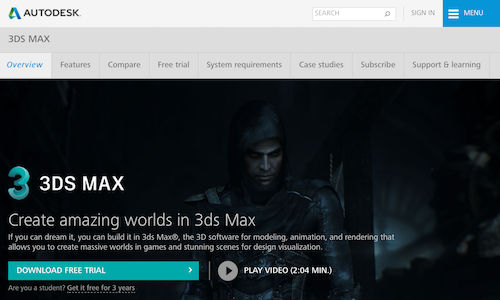 Autodesk 3DS Max is a powerful 3D modeling software tool for product engineers. Users have the power to model any person, place, or thing they can imagine, thanks to 3DS Max's tools for shaping and defining.
Key Features:
3D modeling, shading, and texture mapping
Works with most major renderers including V-Ray, Iray, and mental ray
Flexible interoperability to fit into your workflow with Autodesk Revit, Inventor, Fusion 360, and Stingray, or with SketchUp, Unity, Unreal, and others
Cost: FREE trial available for 30 days
3DS Max Subscription

$185/month
 $1,470/1 year
$2,795/2 years
$3,970/3 years
44. Modo
@TheFoundryTeam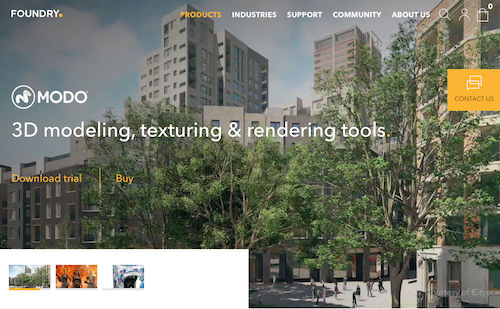 Foundry develops innovative software solutions for the design, visualization, and entertainment industries. Modo contains a 3D modeling, texturing, and rendering tool set for product engineers to explore and develop ideas quickly, easily, and creatively. Modo especially is a useful 3D modeling tool for visualization and quick ideation and rendering.
Key Features:
Fast direct modeling, flexible procedural modeling, award-winning MeshFusion Boolean toolset, and built-in sculpting tools
Focus on creation rather than construction
Advanced photorealistic and progressive renderer so you can visualize your designs as you develop them
Modeling, sculpting, texturing, painting, and photorealistic rendering in one complete, easy-tl-use package with unlimited network rendering capabilities included
Cost: FREE trial available for 30 days; Contact for a quote
45. Autodesk Alias
@Autodeskalias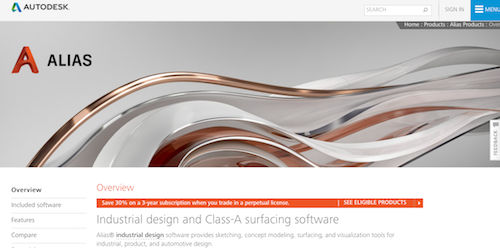 An engineer and designer software tool, Autodesk Alias serves as an ideal industrial surface and automotive design tool. Alias Design, SpeedForm, AutoStudio, Concept, and Surface comprise Autodesk Alias and support concept communication, design modeling, technical surfacing, reverse engineering, real-time design visualization, and engineering development collaboration.
Key Features:
Flexible product modeling to visualize forms with multiple iterations
Dynamic shape modeling to edit product models at any stage
Refine 3D models with 3D sculpting
Fast concept modeling with mesh-lied modeling for 3D sculpting concept exploration, better theoretical and feature lines, and more
Cost: Contact for a quote
46. OpenJSCAD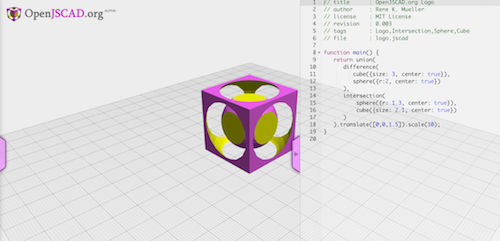 A combination of OpenSCAD and JavaScripts, OpenJSCAD provides a unique programmers' approach to developing 3D models. Product engineers can create more precise models for 3D printing with OpenJSCAD.
Key Features:
Support for OpenSCAD source-code
Use JavaScript programming concepts and libraries
Create and manipulate 3D shapes in addition to 2D shapes
Cost: FREE
47. ImplicitCAD
A powerful, open-source, programmatic CAD, ImplicitCAD enables engineers to use programming language to create objects. For some complex objects and products, using programming is the most efficient way to avoid design mistakes by using math and computer science to create better products with 3D printers.
Key Features:
 Design classes of objects parameterized by variables and in collaboration with others
Design in your web browser
Free and open source 3D modeling tool
Cost: FREE
48. Antimony
@impraxical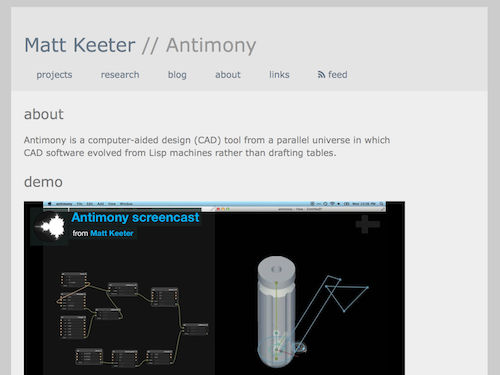 With his hands in hardware, firmware, software, and design, Matt Keeter has a special interest in making interactive things and rapid prototyping and fabrication. That's why he built Antimony as a 3D CAD modeling tool that "evolved from Lisp machines rather than drafting tables."
Key Features:
Built on three axes: a framework for tracking information flow through directed acyclic graphs, a geometry engine for doing CSG, and a standard library of shapes and transforms
Solid modeling is done by connecting nodes in a graph
Graph engine scales up to complex multi-part assemblies
Geometry engine uses functional representations for solid modeling, which is ideal for modeling with boolean operations
Geometry engine renders shapes as shaded bitmaps and then bits them to a 3D viewpoint
Define custom shapes
Cost: FREE
49. Strata Design 3D
@Strata3DDesign
A commercial 3D modeling and animation program, Strata Design 3D is a powerful, yet affordable software tool for designers and engineers. Strata offers Design 3D CX 8.0 for professional 3D modeling and animation on Mac OS.
Key Features:
End-to-end power for the entire 3D design workflow
Bring ideas to life quickly with tight integration with Adobe Photoshop and award-winning rendering quality
Integrated modeling and scene composition to get high-quality images and animations
Stand-alone solution connected to other tools and resources to maximize workflow efficiency
User-friendly modeling toolset and environment for manipulating polygons, splines, and primitives into any 3D object you can imagine
Utilizes a host of filters and options to accurately import third-party 3D models and scenes
Cost:
Design 3D CX 8 Mac Subscription

1 Seat: $19.95/month plus $50 license fee
5 Seats: $84.79/month plus $212 license fee
10 Seats: $159.60/month plus $400 license fee
50. Morphi
@MorphiApp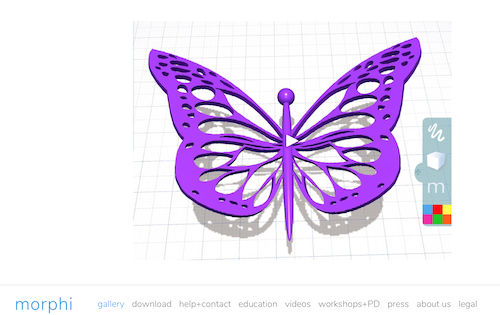 Morphi is a 3D design app for 3D printing, augmented reality, virtual reality, stop-motion animation, visualization, and more for crating inventions, prototypes, and products. Morphi gives product engineers and their teams the ability to create 3D models from anywhere using touch and 3D shapes, text, hand drawing, images, and streamlined 3D modeling tools.
Key Features:
Simple, powerful 3D design tool
Use touch to crate 3D models from anywhere, any time using a mobile device
Design both online and offline
For iPad, Mac desktops, and Mac laptops
Cost: