Touch Screen Technology
The "Transparent" Membrane Switch
What is a Touch Screen?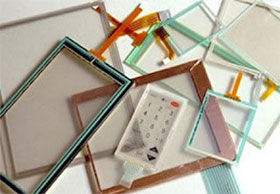 A touch screen (also called a touchscreen or touch panel) is a visual display controlled either by a stylus/pen or by one or more fingers, using single or multi-touch gestures. The touch screen enables the user to interact directly with the display's content, instead of using a mouse, touchpad or other device.
Originally designed for use in industrial applications, touch screens are now being used everywhere from warehouse inventory controls to restaurant order entry. More and more we see touch screens being adapted to our personal lives.
Touch screens help provide a good method by which we can utilize nested programs within electronic devices. No longer are we confined to the limited number of discrete buttons found on conventional membrane switches. With touch screens used in combination with high-resolution digital displays and nested programming we have literally millions of switch options available at the touch of a finger.
Pannam offers both custom-designed and standard-size resistive touch screens, which can be integrated into a fully-featured user-interface assembly with a variety of components and input technologies. All Pannam touch screens are made of the highest quality glass and hard-coated polyester, making them extremely scratch and chemical-resistant.
Let Pannam Integrate Your Touch Screen into a Custom User-Interface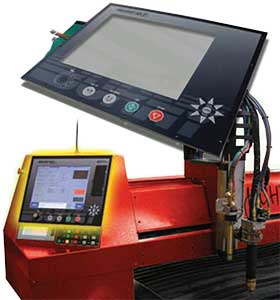 While Pannam can supply you with a standalone custom-designed or off-the-shelf touch screen, our core competency is the integration of your touch screen into a complex, feature-rich user-interface assembly. Pannam will also integrate a touch screen from a supplier of your choosing, if you prefer.
Pannam's advanced fabrication capabilities and network of qualified suppliers enables us to source all the sub-components needed to successfully complete your project. The result is that you work with one dependable partner, saving you valuable time and money, while decreasing time to market. In addition to the touch screen, technologies and components you may consider for incorporation into your assembly include:
Printed circuit board controller electronics – rigid (PCB) and flexible (FPC)
Rigid support back panels (aluminum, stainless steel, acrylic, FR4, etc) with PEM mounting hardware
Bezels, enclosures, housings
Advanced printing capabilities for high-resolution images and half-tone effects
Backlighting options (LEDs, optical fibers, electroluminescent)
Nameplates & labels for logos, branding, instruction, rating
Bar Coded nameplates and labels for asset tracking – 2D and 3D bar codes
Set your equipment apart from the competition.
Contact Pannam now regarding your user interface assembly.
Visit our Product Gallery to learn more about the various constructions and product features we can offer, and learn how Pannam can customize your touch screen assembly to meet and exceed your unique application requirements.