thiNcoder® Rotor
Keypad Technologies for Demanding Environments
What is thiNcoder?
The thiNcoder® rotor is an ultra-thin, non-invasive encoder that enables greater keypad design customization. Additionally, the DuraSwitch thiNcoder® rotor is the only rotary switch that can be mounted directly on a flex circuit, providing easy integration with other switches.
This patented rotary switch offers new possibilities for thin-panel design, integrating easily into a traditional flat panel keyboard. An extremely low profile delivers a thinner, lighter unit with inherent sealing capabilities against contaminants, such as dirt and moisture. These features increase design capabilities, and extends the life of your product.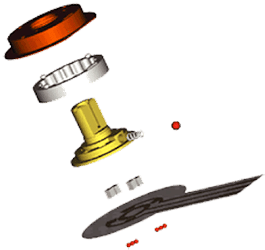 Advantages of thiNcoder®
Ultra-thin profile – package thickness below the overlay is less than 0.087"
No soldering required
Durable and reliable
Sealed Construction
No parasitic power required
Multiple codes and indexing options
Low-energy circuit capable; Dry circuit compatible
Customizable detent/stops and knobs
Design Flexibility

Easy to integrate with PushGate® and other switch components
Will work with either a rigid PCB or FPC
Frees up valuable PCB real estate
Product Specifications
Electrical
Quadrature (repeating 2-bit gray code)
8 (16 detent), 12 (24 detent); pulses / 360°
Binary (repeating 2-bit code)
8 (16 detent), 12 (24 detent); pulses / 360°
On/Off Switch
Available
Analog potentiometer
Available
Analog potentiometer resistance
1K – 10KOhms, 300° sweep; linear taper standard; total resistance tolerance +/- 20%
Voltage
3 – 30 VDC
Current
10 mA
Electrical Life
>100,000 cycles
Maximum contact resistance
<500 ohms at end of life
Open circuit and insulation resistance
>20 Mohms (between mutually insulated parts)
Voltage breakdown
>250 VAC (peak to peak, between mutually insulated parts
Mechanical
Cover diameter
0.875″ / 22.2 mm
Cover height
0.138″ / 3.5 mm
Shaft diameter
0.236″ / 6 mm
Shaft type
Round with flat
Shaft length
0.285″ / 7.24 mm
Length of flat
0.270″ / 6.9 mm
Dimension from shaft back to flat
0.178″ / 4.5 mm
Rotational life:
– Carbon ink blend
– Copper on flex
>100,000 cycles
>500,000 cycles
Contacts
Ball armature
Sheer force of shaft
12 lbs./53N
Environmental
Storage Temperature
-40°C to +85°C
Operating Temperature
-40°C to +85°C
Carbon ink
-40°C to +85°C
Copper on flex
-40°C to +85°C
Thermal Shock
-54°C to +105°C
Humidity
95% RH
Salt Fog, 5% Solution
24 hrs.
Shock
100g
Drop
8 feet
Material
Magnetic Material
Rare earth
Ball Armature
Gold-plated chrome steel
Rotor / Shaft Detent Ring
Engineered thermoplastic
Circuit
Flexible polyester
Cover
Plated brass alloy
Detent
Number of detents
0, 1, 16 (22.5°), 24 (15°) stock; custom available
Detent
Ball and spring
Stop plate positions
300° sweep standard; custom available
Stop strength
3.0 in.lb. / 0.35Nm nominal
Rotational torque
2.5 in.oz. / 0.17mNm nominal
Set your equipment apart from the competition.
Contact Pannam now regarding your user-interface assembly.
Visit our Product Gallery to learn more about the various constructions and product features we can offer, and how Pannam can customize your membrane switch design to meet and exceed your unique application requirements.
The integration of custom components to your membrane switch assembly can often add significant functionality and enhance the user experience when operating your equipment.
Some of the more common components are:
Contact Pannam now regarding your membrane switch assembly project.