Overview
Pannam's SimTouch® keypads are discrete membrane keypad buttons designed to create the light feel of capacitive touch switches at a fraction of the cost. Using Pannam's innovative conductive ink technology, SimTouch® enables designers to create user interfaces limited only by their imagination. Light actuation force switches have become a characteristic of elegant product designs, thereby creating competitive advantage for your equipment's user-interface.
SimTouch® is a proprietary technology that uses a flexible overlay laminated to the switch circuitry. As a result of low actuation force and short travel distance, the experience of a capacitive touch switch is simulated. SimTouch® construction also permits use of thicker overlay materials providing a smooth glass-like finish or brushed metallic finish for a stainless steel look.
Typical Construction & How it Works
Typical Actuation force: 1.5oz to 2.5oz (43gr to 71gr)
0.010″ (.25mm) polycarbonate overlay (hardcoated, textured or brushed metallic finishes) OR
0.007″ (0.18mm) polyester overlay (hardcoated and UV resistant finishes)
Activation pads can be screen printed directly on overlay or on an additional polyester layer
Selectively printed adhesive or die cut spacer
Conductive circuitry/force sensing layer
Polyester circuit
Pressure sensitive mounting adhesive
Force applied on top of the polycarbonate is transmitted to the force-sensing resistor material.
This causes a drop in resistance, which is detected by the electronics connected to the membrane circuitry.
The electronics then perform a switching action.
Switch is not affected by temperature or pressure changes.
What are the benefits of SimTouch®?
Low actuation force – Simulates the feel of capacitive touch.
Resistive technology – May be actuated with use of a stylus or through gloved operation.
Scrolling/Sliding action – Ideal for navigating large menus.
No programming or controller chips – Easy integration into existing platforms at a lower cost than capacitive technology.
Temperature, chemical & moisture resistant – Dependable performance in a wide range of environments.
All the features & benefits of traditional membrane switch technology.
UL-Recognized Component
SimTouch® is UL-recognized under File #E156070.
Specifications
| Overlay Thickness | Actuation Force | Nominal Thickness |
| --- | --- | --- |
| 0.010″ (0.25mm) | 1.5 – 2.5 oz. (43 – 71 grams) | 0.020″ (0.25mm) |
| 0.015″ (0.38mm) | 3 – 6 oz. (85 – 170 grams) | 0.025″ (0.64mm) |
| 0.020″ (0.50mm) | 5 – 11 oz. (142 – 312 grams) | 0.030″ (0.75mm) |
| 0.030″ (0.75mm) | 9 – 22 oz. (255 – 624 grams) | 0.040″ (1.00mm) |
Life Cycle: >1,000,000 actuations with no stress cracks in the polycarbonate film
Environmental Testing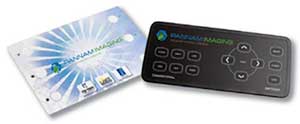 Subjected to temperature and humidity cycle of:
Transition from ambient 1.0 Hour
Steady state @ 5 C, 30% RH +/- 20% 1.0 Hour
Transition to 85 C, 50% RH 1.0 Hour
Steady state @ 85 C, 50% RH 1.0 Hour
Transition from 85 C to 45 C, 90-98% RH 1.0 Hour
Steady state @ 45, 90-98% RH 1.0 Hour
Transition from 85 C to 45 C, 90-98% RH 1.0 Hour
Transition from 25 C to 105 C, 30% RH +/- 20% 1.0 Hour
Steady state @ 105 C, 30% RH +/- 20% 1.0
Transition from 105 C to 25 C, 20%RH 2.0 Hours
Steady state @ 25 C, 20%RH 1.0 Hour
Subjected to 30 cycles and monitored at various points in the test cycle. No anomalies found in the switch. Additional testing is ongoing
Operating Temperature: Designed for -10 C to + 105 C, test results pending
Resistance: Open > 1 Megohm / Closed < 1 kilohm
Set your equipment apart from the competition with SimTouch® membrane switch keypads.
Our U.S.-based design engineers will help you determine if SimTouch® is a suitable technology for your project, and make the best recommendations that meet your requirements for performance, construction, appearance, and budget.
Download the SimTouch® data sheet.
Contact Pannam now to discuss SimTouch® for your project.
Visit our Product Gallery to learn more about the various constructions and product features we can offer, and learn how Pannam can customize your user-interface to meet and exceed your unique application requirements.
The integration of custom components to your membrane switch assembly can often add significant functionality and enhance the user experience when operating your equipment.
Some of the more common components are:
Contact Pannam now regarding your membrane switch assembly project.