PushGate®
Keypad Technologies for Demanding Environments
What is PushGate?
PushGate® is a patented push-button design that incorporates crisp tactile feedback similar to an electro-mechanical switch. Parts that wear out in typical tactile designs are eliminated and replaced with a magnet-armature design. The thin profile of PushGate® switches works without the scraping, flexing, or grinding that typical membrane switch components endure.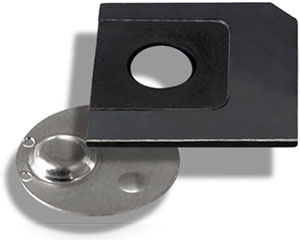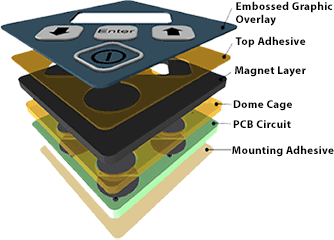 Advantages of PushGate® Technology
Crisp, consistent tactile feel

Superior tactile feel that does not degrade over time
Dependable performance over typical competitor products

Durability and reliability

Rated to over 30 million actuations
More reliable than traditional metal dome membrane switches
Eliminates material stress caused by bending and flexing of materials
Temperature, chemical and vandal-resistant
Environmentally sealed for use in harsh and wet environments

Design Flexibility

Easy to integrate with thiNcoder® rotor and other switch components
Backlighting can be easily integrated. Full-key illumination possible with fiber optic, EL and LED backlighting
Maintains firm tactile feel when backlighting is incorporated
Technical Specifications
PCB Application
Flex Circuit (FPC) Application
Electrical
Current
50mA
20mA
Voltage
3 – 50 VDC or AC peak
3 – 30 VDC or AC peak
Power
1.5W
0.6W
Switch Resistance
Less than 20 Ohms
Less than 100 Ohms initial
Mechanical
Thickness (typical)
0.145″ / 3.7mm
0.086″ / 2.2mm
Switch Armature Spacing
0.750″ / 19.06mm center spacing
0.750″ / 19.06mm center spacing
ESD/EMI/RFI Shielding
Capable
Capable
Life
>30 million actuations
>30 million actuations
Actuation Variance
No noticeable difference
No noticeable difference
Actuation Force
10 oz / 284 gm. / 2.8N
10 oz / 284 gm. / 2.8N
Switch Travel
0.012″ / 0.3mm
0.012″ / 0.3mm
Contact Bounce
1ms typical
1ms typical
Environmental
Storage Temperature
-40°C to +85°C
-40°C to +85°C
Operating Temperature
-40°C to +85°C
-40°C to +85°C
Altitude
40,000 ft.
40,000 ft.
Thermal Shock
-40°C to +85°C
-40°C to +85°C
Humidity
95% RH
95% RH
Salt Fog, 5% Solution
24 hrs.
24 hrs.
Shock
100g
100g
Drop
3 feet
3 feet
Material
Magnetic Material
Bonded Derite
Armature Material
1008 – 1010 steel with silver plating
Set your equipment apart from the competition.
Contact Pannam now regarding your user-interface assembly.
Visit our Product Gallery to learn more about the various constructions and product features we can offer, and how Pannam can customize your membrane switch design to meet and exceed your unique application requirements.
The integration of custom components to your membrane switch assembly can often add significant functionality and enhance the user experience when operating your equipment.
Some of the more common components are:
Contact Pannam now regarding your membrane switch assembly project.