Electrical and electronic engineering requires a deep knowledge of all things electrical, from mathematics to circuitry, and everything in-between. Hundreds, if not thousands, of tools, mobile apps, and software products exist in the marketplace, all targeted to electrical engineering professionals. But, it's not always easy for busy electrical engineers to find the time to search through all of the offerings and select the tools that are best suited for them.
Of course, electrical engineers require various tools for various jobs, so there is not just one tool that fits the bill. The electrical engineering professional needs a literal toolbox as well as a virtual toolbox to complete jobs effectively and efficiently. That's why we've searched for the best tools, mobile apps, and software products around – to save those busy professionals time and energy. To make the cut, the tools, mobile apps, and software products must be innovative, on the leading edge of technology, useful for multiple situations, easy to use, and provided by well-regarded sources in the industry. We offer the top 50 tools for an electrical engineer's toolbox here, in no particular order.
This guide was created by Pannam Imaging, manufacturers of custom membrane switches

The Top Tools for Electrical Engineers

One of the most important tools for electrical engineers is a calculator. And, Calculatoredge offers free online calculators tailored to an electronic engineer professional's needs. The website "features more than a few hundred calculators solving complex equations and formulas in the field of electrical, mechanical, chemical, electronics…" and more. With separate categories for electrical engineering and electronics engineering, Calculatoredge is sure to have the tool you need.
Key Features:
RMS Value
Ohm's Law
Voltage Drop
Resistance-Frequency-Capacitance
Cost: FREE
2. Electronics Bundle
@WagMob

WAGmob is known for delivering its simpleNeasy learning apps for "Electronics and Digital Electronics." The best part is, the apps are available on mobile devices, so electrical engineers can access the information from any where, at any time.
Key Features:
"Snack-sized chapters" to access the information more quickly and easily
"Bite-sized flashcards" for memorizing key ideas
Quizzes for self-assessment
Designed for students and adults
Available for smartphones and tablets
Cost: 
iPhone and iPad app: $1.99
Google Play app: FREE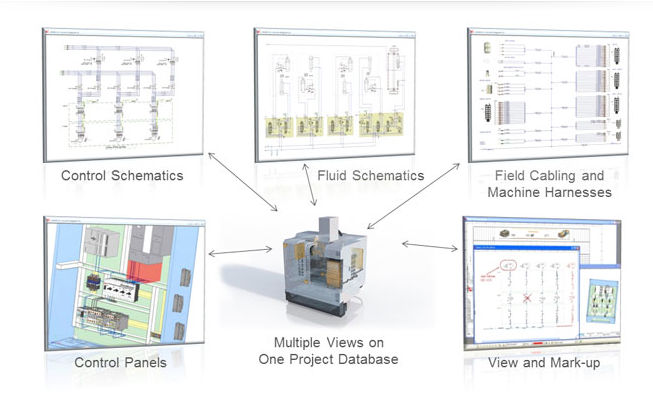 Zuken's E.3 series is electrical wiring, control systems and fluid engineering software. Electrical engineers will appreciate the updated electrical CAD software, which is available in various product options, including E3.3d Routing Bridge, to E3.enterprise, to E3.Wireworks.
Key Features:
Design and documentation of wire harnesses and cable assemblies
Design and documentation of control systems and panel layouts
Fluid design for hydraulic and pneumatic systems
Multi-view project file
Electrically-aware parts library
Real-time design rule checks (DRC)
Cost: 
A free test drive of E.3 series Design Software is available
Contact for the solution and quote that best fits your needs
PartSim is "a free and easy to use circuit simulator that runs in your web browser." Electrical engineers looking for SPICE simulation, AC/DC/Transient Sims, and a Waveform Viewer need to look no further than PartSim.
Key Features:
A full SPICE simulation engine
Web-based schematic capture tool
Graphical waveform viewer
Browse examples on the website without registering for PartSim
An integrated Bill-Of-Materials manager allows you to assign Digi-Key Part Numbers to your models
Cost: FREE
5. Electrical Tools & Reference
@ProCerts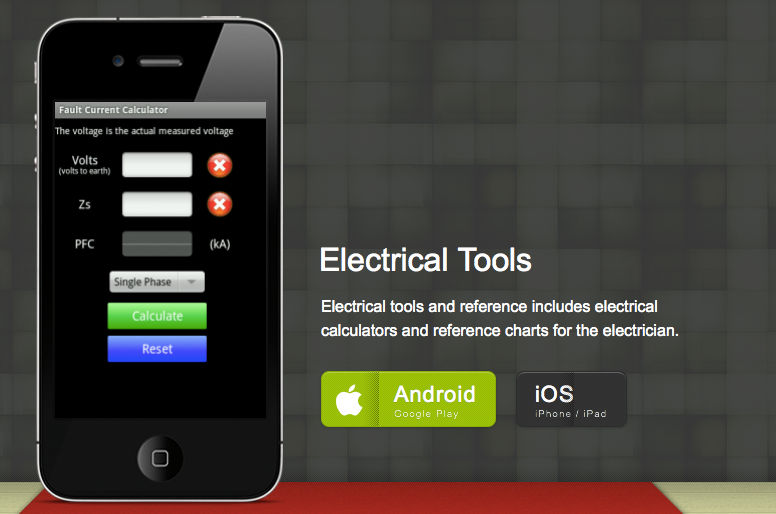 When apps are done well, they can make electrician and electrical engineers' jobs infinitely easier. As "one of the most comprehensive electrical apps," the Electrical Tools & Reference App for Android from ProCerts Software is one of those apps.
Key Features:
Includes Max Zs Values, Watts Amps volts Calculator, kVA Calculator, and more
Includes several electrical reference charts
Developed using reliable Android SDKs for smooth running on Android devices
Available on Google Play
Cost: $4.28

6. Power eSim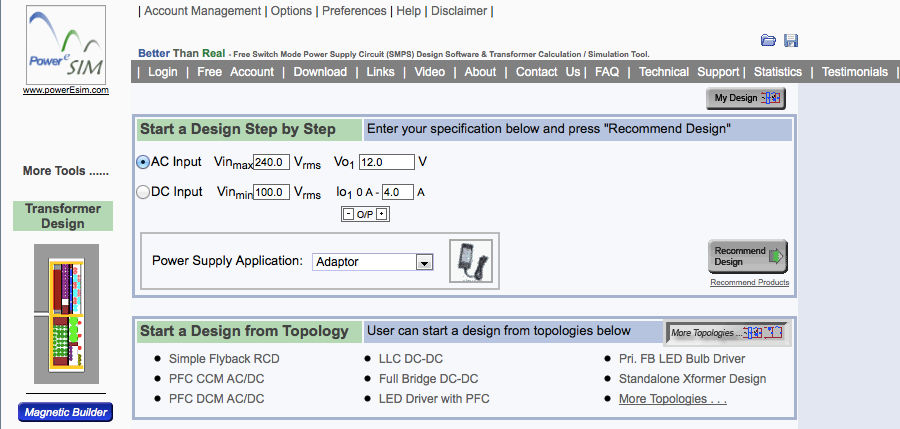 Power eSwim was developed with the mission of making "a tool for designing better power supply" by Dr. Franki N. K. Poon. Power eSim lives up to its mission, as it provides online switch moe power supply SMPS, circuit and transformer design, calculation, and simulation software.
Key Features:
More than 100 circuits and topologies are available with real constructed transformer
Allows users to complete the predesign phase in minutes and is a great verification tool for the final design
Component loss analysis
Essential waveforms
Feedback loop analysis
MTBF prediction
Cost: FREE
With all of the tools available to electrical engineers, it is difficult to find one that truly stands out from the rest. The NL5 Circuit Simulator is one that does, because instead of using SPICE-based simulators that attempt to perform accurate simulation, it offers simple "ideal" components. That's just one of the many features that should appeal to electrical engineers about NL5 Circuit Simulator.
Key Features:
Performs instantaneous switching of ideal switches and diodes
Uses piece-wise linear (PWL) representation
Much faster than solving complex non-linear equations at nearly every step of simulation
Friendly and intuitive interface for fast modifying of the schematic
Cost: 
30-Day Trial License: FREE
1 Year Student License: FREE
1 Year Single PC License: $99
Single PC License: $199
Portable License: $299
Network License: $399
Personal License: $499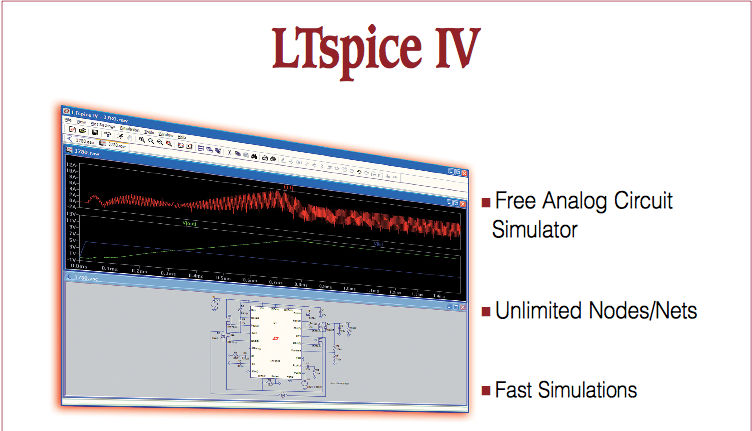 Linear Technology offers several tools and solutions for electrical engineers, and its LTspice IV is one of its best. Described as a "high performance SPICE simulator, schematic capture and waveform viewer with enhancements and models of easing the simulation of switching regulators," LTspice IV is a tool that should definitely be in an electrical engineer's toolbox.
Key Features:
Enhancements to SPICE make simulating switching regulators extremely fast
Users can view waveforms for most switching regulators in just a few minutes
Includes LTspice IV, Macro Models for 80% of Linear Technology's switching regulators, over 200 op amp models, as well as resistors, transistors, and MOSFET models
Available for Windows and Mac OS X 10.7+
Cost: FREE

Note Taker HD, a productivity app, is an electrical engineer's dream come true, when it comes to organizing handwritten notes and diagrams. With all of the documentation electrical engineers have to keep track of, make that job a little easier with Dan Bricklin's Note Taker HD for the iPad.
Key Features:
Write and organizes handwritten notes, diagrams, and more on the iPad, or annotate PDF files
Shrinks writing to easily fit a great amount of text on a page
Read the reduced-size "ink" as though you had written using a very fine pen
Auto-Advance allows you to continue writing while Note Taker HD automatically adds new writing to the old
Multi-level undo and redo buttons, plus an eraser
Type blocks of text with optional borders
Choose from more than 60 customizable shapes
Insert images from photo albums or pasteboard
Cut, coy, and paste selections
Cost: $4.99
10. iCircuit
@praeclarum

iCircuit, an easy to use electronic circuit simulator and designer, is versatile enough to be suited to students, hobbyists, and professional electrical engineers. Available for iOS devices, Mac OS X, Windows phones, and Android phones and tablets, iCircuit works on nearly any platform and meets today's electrical engineers' needs because it is always simulating, just like a real circuit.
Key Features:
Handles both analog and digital circuits
Realtime always-on analysis
Add elements, connect them, and set their properties
Does not require users to stop to take a measurement or spend time configuring reports
Includes everything from simple resistors, to switches, to MOSFETs, to digital gates
Use the multimeter to probe around the circuit to instantly read voltages and currents
Cost: 
iPhone and iPad app: $9.99
Windows 8 Store app: $4.99
Windows Phone 7 app: $2.99
Google Play app: $4.99
11. ElectroDroid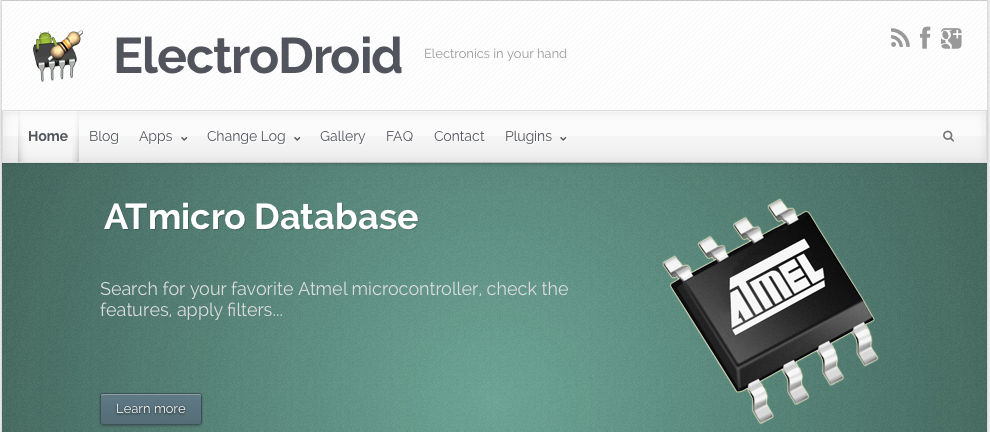 ElectroDroid, a "simple and powerful collection of electronics tools and references," is available in both a free and a PRO version. With its calculators, conversion tables, pinouts and resources, ElectroDroid is an incredibly useful multi-tool for electrical engineers.
Key Features:
Lookup Resistor color by value
SD card pinout
Raspberry Pi GPIO pinout
Fuses and Automotive Fuses color codes
Cost: 
ElectroDroid Free Google Play app: FREE
ElectroDroid Pro Google Play app: $2.79
Windows Phone app: $2.99
Android Appstore app: $2.71
12. High Voltage Engineering
@FaaDo0engineers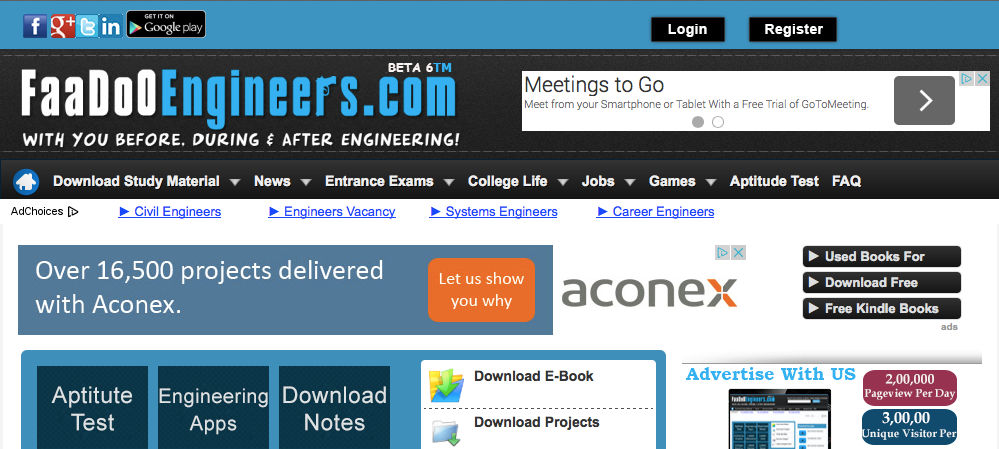 Better suited for electrical engineering students, High Voltage Engineering cores 149 topics related to High Voltage Engineering, divided into 5 units. Topics covered by the app include Finite Difference Method, Charge Simulation Method, Surface Charge Simulation Method, and many more.
Key Features:
Topics are addressed in approximately 600 words
Topics come complete with diagrams, equations, and other visual representations
Detailed, yet simple explanations of concepts
Access content from anywhere, any time
Cost: FREE
13. Electrician's Bible
@electricianB

Sometimes, electrical engineers require tools that are helpful in the field and for certification purposes. The Electrician's Bible is one of these tools that does double duty for electricians, electrical contractors, and electrical engineers.
Key Features:
Voltage Drop
Electrical schematics
Transformers
Raceway calculations
Pipe Bend
Box Fill
Cost: $2.99
Circuit Simulator is a handy tool for simulating electronic circuits using basic components. Intended for education purposes, Circuit Simulator is a good choice for people beginning to pursue electrical engineering or who are electrical engineering students.
Key Features:
Basic electronics components for ease of use
Colorful graphics to better visualize circuits
Made for Android devices
Cost: FREE

A very popular app for electrical engineers, EE Engineer's Handbook can attribute its popularity to the fact that it was made by an engineer for engineers. From Dude Productions, EE Engineer's Handbook is updated frequently and encourages users to post feature requests in the feedback.
Key Features:
Bode plots
Filter design
Impedance calculations
Track width
AWG Gauge table
Design Lowpass, Highpass, Bandpass or Bandcut filters
Cost: $1.99

From Linear Technology, LTpowerPlay is "a powerful, Windows-based development environment supporting Linear Technology's Digital Power System Management products, including PMBus Power System Managers and DC/DC Power Converters with PSM." For electrical engineers looking for a software solution that does all of this, plus is able to become a valuable diagnostic tool when bringing up boards or rails, LTpowerPlay is the answer.
Key Features:
Supports a variety of different tasks
Evaluate Linear Technology ICs by connecting to a demo board system
May be used in an offline mode without any hardware present, in order to build a multi-chip configuration file to be saved and reloaded later
Unprecedented diagnostic and debug features
Automatic update feature
Cost: Contact for a quote
17. Logisim

Perfect for electrical engineering students, Logisim has a simple toolbar interface and can help those who are learning even the most basic concepts related to logic circuits. Electrical engineering students are able to "design and simulate entire CPUs for educational purposes" with Logisim.
Key Features:
Runs on any machine that supports Java 5 or later
Color-coded wires for simulating and debugging a circuit
Save completed circuits to a file, export to a GIF file, or print them
Use "subcircuits" of other circuits to create a hierarchy of circuit design
Cost: FREE
Design Dimensions allows users to sort through hundreds of illustrations in the extensive visual database of commonly referenced items and find their corresponding dimensions. An incredibly useful app, Design Dimensions Pro helps electrical engineers to find the materials and the information needed, quickly and easily.
Key Features:
Ever-expanding database of the most commonly referenced design items
In-app search
Metric conversion
Every item is displayed with a 3D thumbnail
Available for Android devices
Cost: 
App with ads: FREE
Ad-free version: $4.99
19. Cable 3D
Installation often poses a design challenge, and Cable 3D helps by quickly solving calculations involving "complex three-dimensional cable pulling tension and sidewall pressure." Electrical engineers will enjoy the ability to make quick, correct decisions and the freedom from worrying about cable damage.
Key Features:
Easily communicate designs with professional reports and graphs
Calculates jam ratios, clearances, and percent fills
Suitable for any type of cable and pulling profile
Simple single-screen interface
3D graphical display
Cost: Contact for a quote
20. xCircuit

For electrical engineers, it can be very frustrating to find a program that produces the output of a schematic capture that is suitable for publication. XCircuit, a UNIX/X11, Windows, or Windows using Cygwin and the Cygwin X-Server program, holds the key to the problem. With XCircuit, electrical engineers are able to draw electrical circuit schematic diagrams and other figures that are of a high enough quality to be published.
Key Features:
Writes both hierarchical PostScript output and hierarchical SPICE netlists
Save editable circuit components in or retrieve them from libraries
Maintain flexibility in style without compromising the schematic capture
Cost: FREE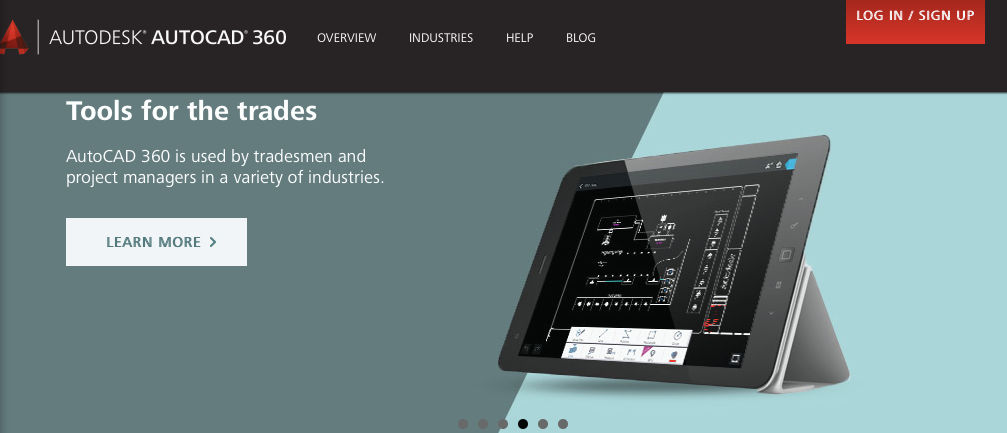 Often, electrical engineers want to collaborate and share their latest projects, but find it difficult to do so. AutoCAD 360 is the software that enables you to view, edit, and share drawings from a smartphone, tablet, or desktop computer, so that electrical engineers no longer need to bring printed drawings to the sites.
Key Features:
View, redline, add comments, and make changes directly on the tablet or smartphone.
Real time editing and sharing of drawings
View, create, and edit using a web browser or the mobile app
Access and edit drawings using existing cloud storage services such as Dropbox, Box, etc.
Cost:
AutoCAD 360 FREE: FREE – 5 GB storage, 10 MB maximum support file size, view third party storage
AutoCAD 360 PRO: $4.99/month or $49.99/year – 25 GB storage, 30 MB maximum support file size, view and edit third party storage, all of the FREE features, plus create drawings with advanced editing, unit, and measuring tools and more
AutoCAD 360 PRO PLUS: $99.99/year – 100 GB storage, 40 MB maximum support file size, view and edit third party storage, plus all of the PRO features
Designed for professional electricians and electrical engineers or those with a knowledge of the electrical field, Circuit Number To Color is an app that quickly and accurately delivers the standard color code according to the circuit number. The app is useful for electrical engineers who are frustrated with needing to do repulls because the wrong color had been pulled initially.
Key Features:
Deigned for 120-240 VAC 3 phase or 277-480 VAC 3 phase Color Code By Circuit Number
Easy to use functions and buttons within the app
Reset with the push of one button
For Android devices
Cost: $2
23. Electronic Toolbox Pro
@CreatingYourApp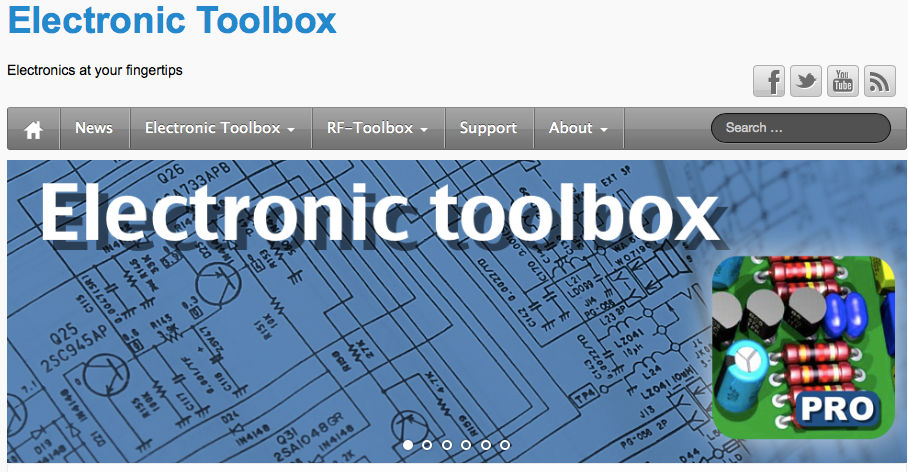 Currently offering more than 70 individual tools, Electronic Toolbox Pro combines electronic reference materials with calculation and conversion tools. Known for providing "the most important electrical information right at your fingertips," Electronic Toolbox Pro is an app most electrical engineers do not like to be without.
Key Features:
72 individual tools from ASCII Table to Zener Diode calculation
Wide variety of simple and complex tools, including the resistor color code conversion and the PCB Trace width tools
Include reference tools with millions of component specs for ICs, Transistors, FETs, and more
Parametric search for components within certain specs and cross references
Cost:
App Store iPad, iPhone, and iPad app: $6.99
Windows Store app: $8.99
24. Voltage Drop Calculator
@Southwire
Available both online and in application form, Voltage Drop Calculator is exactly that – a calculator that helps electrical engineers to calculate the voltage drop of various projects. The app is available for the iPad, iPhone, or Android devices.
Key Features:
Calculate using either minimum conductor size or maximum circuit distance
Appropriate for use with either single or three phases and copper or aluminum conductors
Choose from direct buried, conduit, or overhead installation
Easily input your parameters to get a quick calculation
Cost: All versions are FREE
25. Engineering Calc

Keysight Technologies offers its Engineering Calculator Application for iPhones, to give individuals involved with electrical engineering their "engineering calculator at your fingertips." Simply input the necessary information and get results in the form of graphs, tables, animations, or other helpful representations. Engineering Calc is suitable for engineers, lecturers, and engineering students.
Key Features:
Basic electrical equations
Resistor color coding calculator
Capacitance value calculator
Smith Chart simulation
Cost: FREE
26. Circuit Pro
A utility application, Circuit Pro is intended to aid electrical engineers and electricians in their quest to size branch circuits according to the National Electrical Code (NEC). Based on the input circuit load, which can be entered in Amps or kiloWatts, the app discovers the appropriate standard breaker size and other information necessary for completing the job.
Key Features:
Determines the minimum required conductor or parallel runs of conductors based on Table 310.16 of the NEC
Determines the equipment grounding conductor using Table 250.122 of the NEC
Determines the minimum-sized conduit using the Tables from Chapter 9 of the NEC
Displays the ampacity and conduit fill of the calculated branch circuit
Upsize the circuit to the next standard circuit sizes, repeatedly if you wish
Multiple insulation and conduit types are available
Cost: $4.99
27. AmpCalc

While some calculators for electrical engineers are just for use in simulations or small residential jobs, AmpCalc is appropriate for cable installations in industrial, commercial, and utility electrical power distribution systems. A computer program for Windows XP or Windows 7, AmpCalc is useful for calculating power cable ampacity ratings and/or cable operating temperatures for user defined cable installations.
Key Features:
Ampacities calculated for single or multiple underground systems, including duct bank, direct buried cable, and direct buried conduit
Calculations and aerial systems including cables isolated in air, conduit isolated in air, and cables in a covered or an uncovered cable tray
All calculations are in compliance with Neher-McGrath calculation procedures
Cost: Contact for a quote – Licenses for single computer, multiple computers, and network applications are available
28. Electrician App

Easy to use, the Electrician App is appropriate for anyone in the electronics engineering field, including those in training. With the most important formulas necessary for completing the job, Electrician App is a handy tool to have in your toolbox.
Key Features:
Calculation of up to twenty resistors (parallel)
Calculation of current, charge, and time
Calculation of line resistance
Calculation of real, reactive, apparent power at AC
For Android Devices
Cost: $1.35
CEDAR Logic Simulator (CEDAR LS) is intended for electrical engineering teaching purposes or for testing simple digital designs. An interactive digital logic simulator, CEDAR LS earns high marks from users in the categories of simulations and visualization.
Key Features:
Low-level logic gates
High-level components, including registers
Z80 microprocessor emulat
Cost: FREE
30. Lessons in Electric Circuits
Lessons in Electric Circuits, from tomtomapps, is an education tool. While it was designed for students of electrical engineering, the app also is appropriate for professional engineers who want to sharpen their knowledge and skills.
Key Features:
In-depth information written in a reader-friendly manner
Includes 6 lessons in electric circuits
For Android devices
Cost: FREE
31. Electronics Tutorials
@jagansindia
Electronics Tutorials, an education app, provides tutorials and projects for students of electrical engineering. Also suitable for hobbyists, the app is for Android devices. The app follows a blog-like format, which matches the posts on the developer's website.
Key Features:
Features 8051 Micro controller tutorials
Includes basic electronics projects
Covers several topics, including Arduino, robotics, and more
Cost: FREE

An education app from DC E-Apps, Electric Circuits is a great choice for beginners in the electrical engineering field or students of electrical engineering. Electric Circuits contains useful information about DC electric circuits.
Key Features:
Contains useful information and concepts relating to DC electric circuits
Includes formulas for DC circuits
Made for Android devices
Cost: FREE
33. FreePCB

Electrical engineers often search for useful tools for PCB. A feature-rich solution is FreePCB, a PCB editor for Windows, that is suitable for anyone in the electronic engineering field, from novices to professionals. While it does not have a built-in auto router, it uses the FreeRoute web-based auto router.
Key Features:
Maximum board size of 60″ x 60″
English or metric units available for most functions
Copper fill areas
1 to 16 copper layers
Imports and exports PADS-PCB netlists
Cost: FREE
SKM Systems Analysis, Inc. is known for its top quality products and outstanding customer service, and now it is known for its Power*Tools for Windows (PTW) 7.0. Electrical engineers have ben using SKM's electrical engineering software for years, and they will be thrilled with the way in which PTWO simplifies power systems.
Key Features:
Arc Flash Evaluation
Quickly switch between functions with the protective device Function Toggle button in the Component Editor and TCC Interface
General Modeling
Transient Motor Starting (TMS)
Cost: Contact for a quote (You may be eligible to receive up to 60% off when you switch from ETAP to SKM)
35. Electric Circuit

From DudiE, Electric Circuit is an education app intended for electrical engineering students, but professional electric engineers will also find it helpful as they refine their skills, because the app is a multi-tool.
Key Features:
Multiple functions and features
Power calculator
Parallel circuits
Simulator
Cost: FREE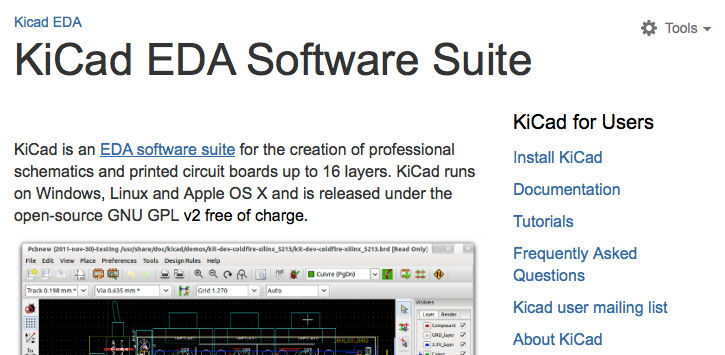 Intended for electrical engineering professionals, KiCad is an EDA software suite designed for creating professional schematics and printed circuit boards up to 16 layers. KiCad is unique in that it allows users to develop their PCB using three interconnected and independent main applications, Eeschema, Cvpcb, and Pcbnew.
Key Features:
Includes a robust set of libraries with 3D models as well
Includes a project manager and four main independent software tools
Software tools include Eeschema, Pcbnew, Gerbview, and Cvpcb
Available for Windows, Linux script, Ubuntu via PPA, and OS X
Cost: FREE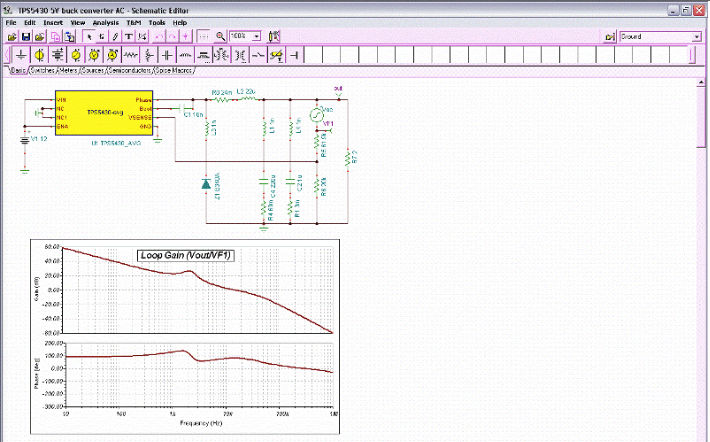 From Texas Instruments, TINA-TI is a circuit simulation tool based on a SPICE engine. Intended for designing, testing, and troubleshooting a wide range of "basic and advanced circuits, including complex architectures, without any node or number of device limitations." Easy to use, yet powerful, TINA-TI is a great tool for an electrical engineer's toolbox.
Key Features:
Fully functional version of TINA
Complete with a library of TI macro models plus passive and active models
Includes Schematic Symbol Editor (useable with the Macro Wizard)
Import any SPICE model
Includes Block Wizard for making block diagrams
Available for Windows XP or 7
Cost: FREE
38. Electronics Engineering ToolKit PRO

A highly-rated and recommended productivity app, Electronics Engineering ToolKit PRO is available for the iPhone and iPad. From developer Thomas Gruber, the app is suited for anyone interested in electrical engineering, from students to hobbyists to electrical engineers.
Key Features:
Extra large component reference section
Unit converter
Auto save feature
Enhanced stability
Cost: $4.99

From Snappy Appz, Electric Calc USA is intended for electricians and electrical engineers, "to make their lives easier." Electric Calc USA is specifically designed for the latest US code rules, and it is designed by tradesmen who work in the field.
Key Features:
Several time-saving modules that provide accurate results
Find box fill for any situation
Solve pipe fill for any wire combination
Available for iPhone, iPod, iPad, Android, Blackberry, and Windows Phone
Cost: 
Google Play app: $5.07
App Store iPhone app: $9.99
App Store iPad app: $9.99

Developed by Innervision Web Development, Electrician Side Kick is a useful resource to have on the job. As a tool for everything from ohms law to jotting down notes about projects, Electrician Side Kick is an aptly name tool for any electrical engineer.
Key Features:
Bending calculator helps users quickly calculate offsets for various conduit sizes
Calculate ohms, amps, or volts with the ohms law calculator
Quickly add notes to the note pad and update later as needed
Available for Android devices
Cost: $0.99
41. Electrical Pro Formulator
@MultiEducator

MultiEducator, Inc. offers mobile apps for Apple devices, with Electrical Formulator Pro included. With over 200 formulas for calculating electrical formulas and over 400 conversions formulas included in the program, electrical engineers find Electrical Pro Formulator to be one of the most useful tools in their toolbox.
Key Features:
Conversion of Kilowatts to BTUs, horsepower, joules, and lumens
Calculates amps from both AC and DC currents
Includes over 200 charts and direct access to the National Electrical Code
Save, email, or print every result
Select from favorites and recent formulas
Cost: $6.99

A great tool for electrical engineering education, Electrical Dictionary Pro allows users to type in the words or terms they want to find. Perfect for beginning electrical engineers or hobbyists, Electrical Dictionary Pro is a handy reference for electrical engineering.
Key Features:
Bookmark favorite electrical terms by clicking the star icon
Add and store new terms
Free of ads
Use it offline, as no internet connection is necessary for using the app
Available for Android devices
Cost: $1.06
43. Harmonic Calculator
@ROKAutomation

A tool from Rockwell Automation, Harmonic Calculator helps users determine "how much voltage and current distortion might exist on your distribution system when operating nonlinear loads." Electrical engineers will find the tool especially helpful for complex projects, as Harmonic Calculator is not meant to be used for determining harmonic distortion with single phase loads.
Key Features:
Provides an estimate on harmonic conditions that might exist when applying nonlinear equipment that controls ac motors
Estimates the additional distortion that could be likely within the distribution system
Available in both basic and advanced editions
Cost: FREE

When electrical engineering projects involve lighting design, the engineers don't always have all of the information about the lighting brands they have to use. LitePro 2.0, which contains files for nearly all of the Hubbell Lighting, Inc.., brands including Kim, AAL, Columbia, Prescolite, Alera, Spaulding, SLS, and Hubbell Outdoor and Industrial, solves that problem.
Key Features:
Operates with Vista, Windows 7, or earlier Windows operating systems
Allows users to compare multiple lighting systems within the same project
Provides several useful interactive tools, reports, and renderings
Cost: Contact for a quote
45. Circuit Builder
Developed by LJ Create Ltd, Circuit Builder is intended for users who are looking to understand the basics of electrical and electronic circuits. As an introduction to constructing and operating electronic circuits, Circuit Builder is a helpful tool for those individuals just starting out in electrical engineering.
Key Features:
Optimized for use on tablets, but also works on smartphones with larger screens
Use any combination of electrical components to build your own virtual circuits
Virtual multimeters measure voltage, current, and resistance
Use either component or schematic vies
Cost: $2.55
46. Circuit Color Chuchoideas1

Colors are very important to electrical engineers, so tools that help them to find the correct color of a wire are very useful. Circuit Color Chuchoideas1 is a tool that does just that, with a very simple interface to save electrical engineers time.
Key Features:
Chose from several options
Determine the color of the wire according to the circuit number and set of phases used
Requires a few simple inputs and clicks to quickly get results
Available for Android devices
Cost: $0.99
47. Power Wizard

Power Wizard, from Phoenix Computers, is a different sort of app for electrical engineers, as it is designed for anyone working with home solar panels or wind turbine technologies. As technologies change and alternate power sources become more popular, electrical engineers will find tools like Power Wizard an invaluable resource.
Key Features:
Calculate total load on an inverter given the inverter efficiency
Calculate amps, volts, and watts
Usage guide for a variety of input fields
Available for Android devices
Cost: $1.34
48. Master Electrician Reference

A productivity app from PawEng, LLC, Master Electrician Reference (MER) is a handy pocket electrician reference guide for electrical engineers. A robust app, MER goes beyond being a reference guide and does useful calculations for those working in the electrical field.
Key Features:
Nearly every page contains a general scientific calculator that is expression based
Includes key NEC tables
Divided into several sections for easy navigation and reference
Available for Android devices
Cost: $9.99

"The leading smartphone conduit bending app," Conduit Runner Pro is a must-have app for electrical engineers working in the field. With a wide range of options and features, Conduit Runner Pro is helpful for nearly any electrical engineering project.
Key Features:
Calculates conduit bends, fill, and more
Length converter accepts a variety of unit inputs
Additional bends and information are added as free upgrades
Available for Android devices
Cost: $0.99
50. WEBENCH® Power Designer
@TXInstruments
Get "power supply design at your fingertips" with WEBENCH® Power Designer from Texas Instruments. Electrical engineers looking to reduce the time and hassle with traditional power supply design methods have found the perfect solution in WEBENCH.
Key Features:
Create customized power supplies or DC-DC converters for your circuits
Tools help in solving switching-power-supply design problems before you build your prototype
WEBENCH Electrical Simulation
WebTHERM Thermal Simulation
Build It Features
Available for Android devices
Cost: FREE trial available