No matter which project it is that they are working on, electronics engineers must know exactly how the electrical circuits should be laid out and how they will work. Without printed circuit boards (PCBs), an electronics engineer's job would be impossible. But, it can be quite a task for an electronics engineer to find the right PCB design software tools because they are so busy and there are so many to sift through.
That's why we have pulled together 46 of the top PCB design software tools for electronics engineers – to save you time while you are designing your projects. We also realize that one software tool may be appropriate for one PCB project while another will work better for other types of projects. As a result, we have included simple tools, free tools, and proprietary tools on our list. Our criteria was simple: the PCB design software tools for electronics engineers must be intuitive, include useful features, be established enough to limit risks, and feature a robust library so they can be applied to multiple projects. We share our top 46 PCB design software tools for electronics engineers here, in no particular order.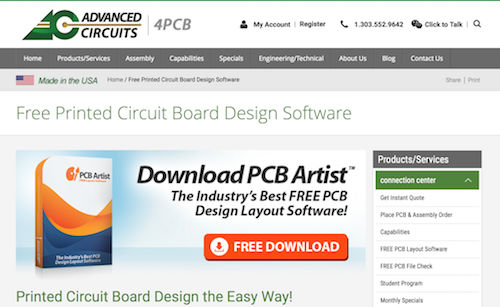 Advanced Circuits is the leading PCB manufacturer with the industry's largest active customer database and best on-time shipping record. Their PCB Artist is a reliable software tool for electronics engineers looking for an intuitive, easy to use solution. Electronics engineers also choose PCB Artist because it helps save time and money.
Key Features:
Components Library of more than 500,000 parts
Free Gerber format files
Integrated schematics
Parts list reports in CSV
Design rule check error report and between selected items
Cost: FREE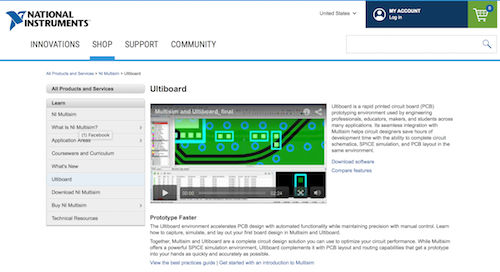 National Instruments accelerates engineering success with their open, software-centric platform that leverages modular hardware and an expansive ecosystem. Electronics engineers specifically choose National Instruments' Utiliboard because it provides a rapid PCB prototyping environment for several applications.
Key Features:
Seamless integration with Multisim
Saves electronics engineers hours of development time
Complete circuit schematics, SPIC simulation, and PCB layout in the same environment
Accelerates PCB design with automated functionality while maintaining precision with manual control
Compliments Multisim's powerful SPICE simulation environment with PCB layout and routing capabilities
Cost: FREE evaluation; Contact for a quote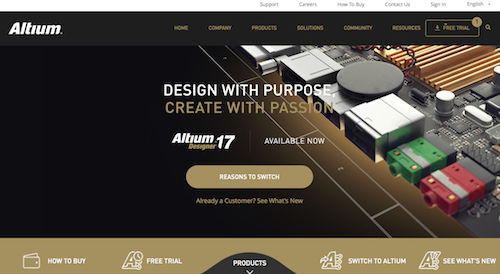 A software company providing PC-based electronics design software for engineers, Altium presents Designer 17. This PCB design software for electronics engineers is considered the gold standard by many in the industry. Altium Designer 17 is efficient, easy to use, and meets the modern needs of professional electronics engineers.
Key Features:
Leverages innovative technologies to help electronics engineers focus less on process and more on design
Product more inspired designs by concentrating more on the creative aspects of your workflow
Effortless design automation
Endless engineering reach
Intuitive team collaboration
Verify designs in the mechanical world
Centralize trusted design assets
Cost: FREE trial available; Contact for a quote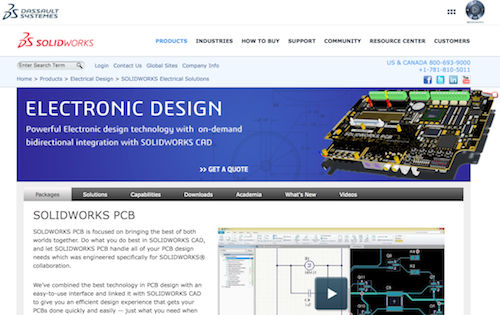 For electronic design, SOLIDWORKS offers powerful design technology with on-demand bidirectional integration with SOLIDWORKS CAD. And, their PCB solution brings together CAD and PCB design for flawless collaboration.
Key Features:
Combines the best technology in PCB design with an easy-to-use interface
Links with SOLIDWORKS CAD for an efficient design experience
Quickly and easily complete PCB designs to continue with your product design workflow
Cost: Contact for a quote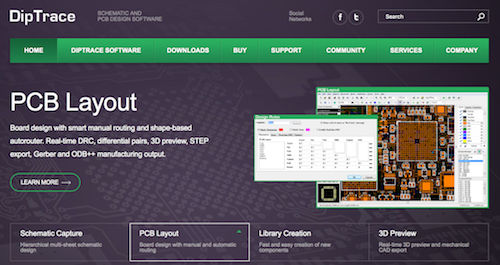 DipTrace is a PCB design software tool for electronics engineers that features an intuitive interface and wide capabilities. For PCB layout, DipTrace provides board design with smart manual routing and shape-based autorouter. Electronics engineers prefer DipTrace for its single environment with direct circuit-to-board converting, updating from schematic, and back annotation.
Key Features:
Real-time DRC
Differential parts
3D preview
STEP export
Placement features allow for placing components manually by simple drag and drop or automatically according to custom settings
Fanout feature for nets, components, and single pads
Cost:
DipTrace Full: $1,195 – Unlimited pins, unlimited signal layers
DipTrace Extended: $695 – 2,000 pins, 6 signal layers
DipTrace Standard: $395 – 1,000 pins, 4 signal layers
DipTrace Lite: $145 – 500 pins, 2 signal layers
DipTrace Starter: $75 – 300 pins, 2 signal layers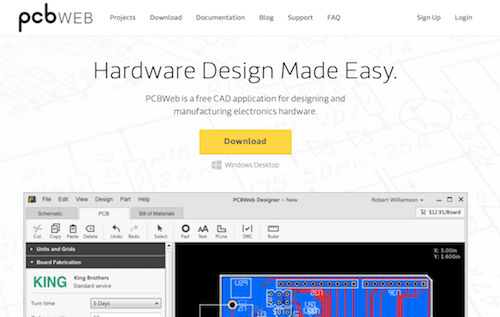 A full-featured electronics design tool, PCBWeb supports both schematics and PCB layout. For electronics engineers looking to simplify hardware design, PCBWeb is an ideal tool for designing and manufacturing electronics hardware.
Key Features:
Design multi-sheet schematics with PCBWeb's fast, easy-to-use writing tool
Route multi-layer boars with support for copper pours and DRC checking
Integrated Digi-Key Parts Catalog with Bill of Materials Manager
Cost: FREE
7. BSch3V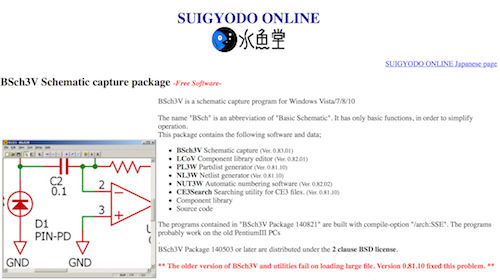 BSch3V is a popular PCB design design software tool from Suigyodo Online for electronics engineers who need a free solution. A schematic capture program, BSch3V is for Windows Vista/7/8/10 and has basic functions to simplify operations.
Key Features:
Basic schematic capture
Component library editor
Parts list generator
Netlist generator
Automatic numbering software
CE3Search searching utility for CE3 files
Source code and component library
Suigyodo also offers Minimal Board Editor, a free PCB editor software
Cost: FREE
8. XCircuit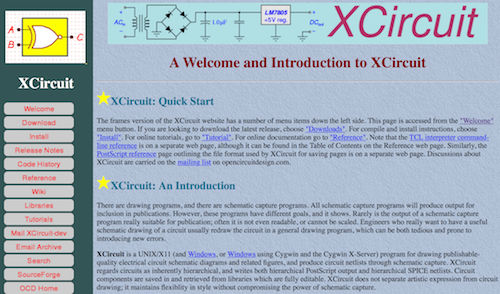 Electrical engineer Tim Edwards writes and maintains XCircuit, a schematic capture program for presentations and an electronic design automation (EDA) tool. Electronics engineers make XCircuit part of their PCB design software toolbox when they need to draw publishable-quality electrical circuit schematic diagrams and related figures and produce circuit net lists through schematic capture.
Key Features:
Online tutorials available
Output is suitable for publication
Regards circuits as inherently hierarchical and writes both hierarchical PostScript output and hierarchical SPICE netlists
Saves circuit components in libraries that are fully editable
Maintains flexibility in style without compromising the power of schematic capture
Especially useful for tasks requiring repeated use of a standard set of graphical objects including PCB layouts
Cost: FREE
Available on sourceforge, gerbv is an open source Gerber file viewer for RS-274X only. Electronics engineers can load several files on top of one another with gerbv.
Key Features:
Do measurements on the displayed image
View Excellon drill files
View pick-place files
Quickly determine conflicts before sending files to a board house
Cost: FREE
10. KiCad EDA
@kicad_pcb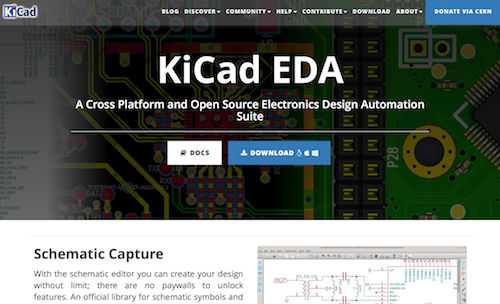 A cross platform and open source electronics design automation suite, KiCad EDA includes schematic capture, PCB layout, and a 3D viewer for electronics engineers. Create designs without limit, make professional PCB layouts, and inspect designs in an interactive canvas with KiCad EDA.
Key Features:
Up to 32 copper layers
Lay out boards more quickly
Draw your track while KiCad pushes forward traces that are in the way or reroutes tracks around obstacles
Push and shove router makes sure your DRC constraints are respected
Footprint editor (GAL)
Cost: FREE
11. DesignSpark PCB
@DesignSparkRS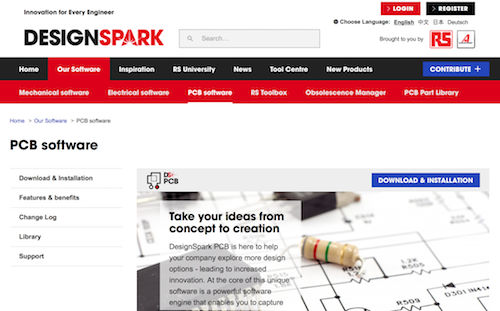 DesignSpark is for the engineering and maker community with free DesignSpark PCB, DesignSpark Mechanical, and DesignSpark Electrical software. Electronics engineers choose DesignSpark PCB when taking ideas from concept to creation is a priority.
Key Features:
Seamless integration into existing design workflows
No limitation on schematic size
Use as many layers as needed for PCB designs
Maximum size of PCB is 1m x 1m
Create your own parts models in the library editor or access the ready-to-use embedded libraries
Prepare unrestricted Gerber and ODB++ files to order PCBs or let DesignSpark's PCB quote service build it for you
Cost: FREE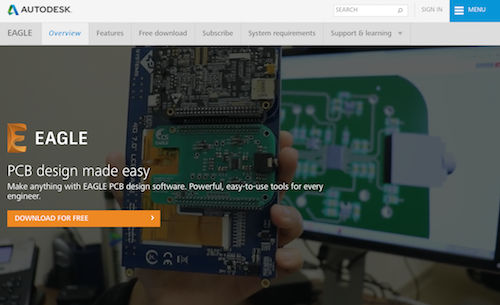 Offering 3D design, engineering, and entertainment software and services, Autodesk makes electronic engineers' jobs easier with Eagle PCB. This powerful, easy-to-use PCB design software tool makes is possible for engineers to make anything they can dream.
Key Features:
Easy-to-use schematic editor to transform your ideas into reality
Bring designs to life with intuitive PCB layout tools
Accessible library content enables electronic engineers to skip busywork and get creative with ready-to-use part libraries
Routing engine makes it possible to speed through complex layouts with modern PCB routing tools
Modular design blocks for quickly reusing sub circuits that are synchronized between schematic and PCB
Escape ball grid arrays in seconds
Cost: FREE trial available
EAGLE Standard Subscription
EAGLE Premium Subscription
13. CircuitMaker
@CircuitMaker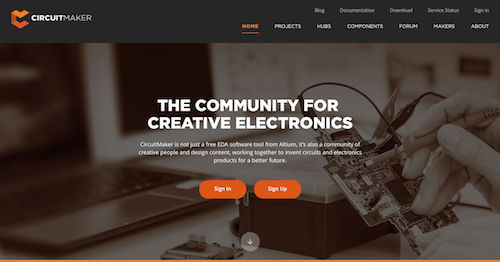 A free PCB design tool powered by Altium, CircuitMaker also includes a community of creative people that works together to invent circuits and electronics products. Electronics engineers looking to create products to better the future often use CircuitMaker to turn their idea into products.
Key Features:
Design high-quality schematics and PCBs with no artificial limits on layer counts or board areas
Rely on the community to find reference designs and to promote and rate other projects
Set up teams for collaborative designs
Cost: FREE
14. Pad2Pad
@pad2padpcb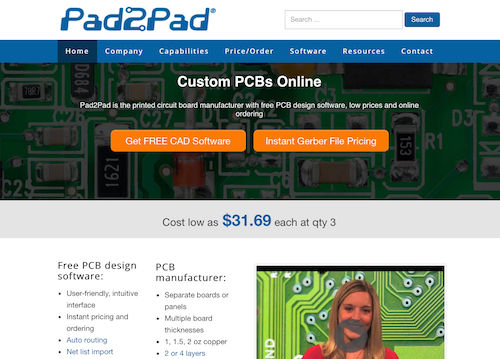 Pad2Pad is a printed circuit board manufacturer with free design software. Electronics engineers use Pad2Pad to create products using a library of through hold components, net list import, any board shape, and auto routing.
Key Features:
User-friendly and intuitive interface
Auto error check
Ground planes
BOM integration with Digi-Key
Snap-to-line mode
Trace simplifier
Assorted material
Cost: FREE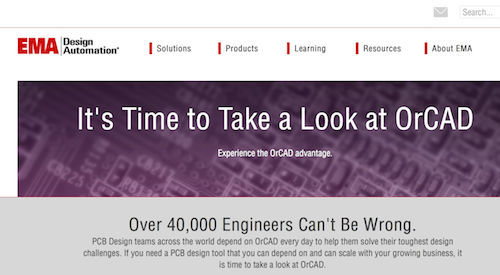 OrCAD is the PCB design software tool of choice for more than 40,000 engineers. Electronics engineers choose OrCAD because it is dependable and allows them to scale as business grows. They also prefer OrCAD because it provides a complete environment, from the initial schematic to the final artwork.
Key Features:
Grows with evolving design challenges and provides scalability for future challenges
Fully integrated simulation and analysis technologies ensure first pass-success without any need for translations
Intuitive interfaces make OrCAD easy to learn and use
Powerful, effective functionality depth with award-winning OrCAD technologies
Cost: FREE trial available; Contact for a quote
16. ZenitPCB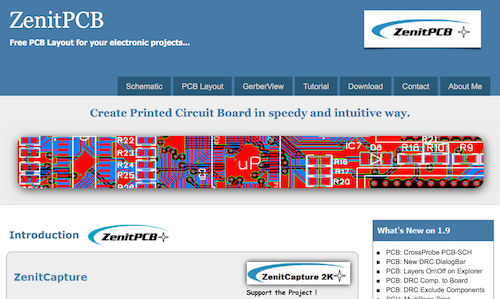 ZenitPCB is a free PCB layout software tool for electronic projects. A flexible and easy-to-use program, ZenitPCB helps electronics engineers create projects in a short time because it is intuitive.
Key Features:
Designed for personal or semi-professional use
Limited to 800 pins
Developed by a PCB designer
Create PCB in a speedy, intuitive way
Cost: FREE
17. CircuitStudio
@CircuitStudioTM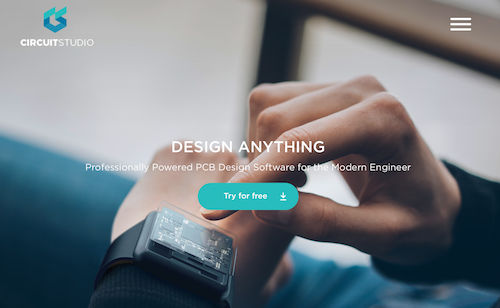 CircuitStudio is a professional PCB design tool for modern electronics engineers. Use CircuitStudio to quickly design advanced PCB layouts with interactive routing, collaborate with mechanical design teams, and simulate and ship advanced electronics.
Key Features:
Intelligent Situs Autorouting technology
Native 3D PCB editing and STEP MCAD support
Integrated analog and digital simulation
Intelligent schematic capture and PCB layout
Easy-to-use interface and customizable workflow
Complete design history compatibility with Altium Designer and EAGLE
Cost: FREE trial available for 30 days; Contact for a quote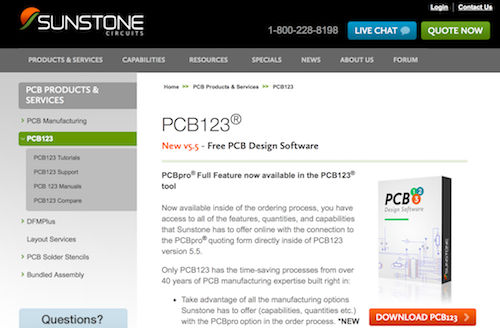 Sunstone Circuits has been delivering high-quality, on-time PCB prototypes for more than 40 years. They also offer PCB123, a professional-quality PDB design software available free of charge for electronics engineers inside of the Sunstone ordering process.
Key Features:
Improved polygon functions for merging, clipping, and optimizing more complex designs
Gerber files free with every PCB123 order
Enhanced user controls for faster rendering, smoother drag and drop, more zoom control, and unified control panels
Slots and cutouts available in parts definitions
Cost: FREE
19. CUSPICE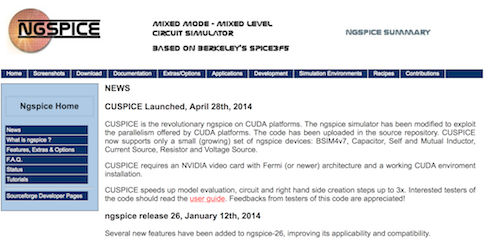 From ngspice, CUSPICE is available on CUDA platforms and supports hospice devices such as BSIM4v7, Capacitor, Self and Mutual Inductor, Current Source, Resistor, and Voltage Source. Electronics engineers speed up model evaluation, circuit, and right-hand side creation steps by up to three times with CUSPICE.
Key Features:
hospice for CUDA platforms
Modified to exploit the parallelism offered by CUDA platforms
Requires an NVIDIA video card with Fermi or newer architecture and a working CUDA environment installation
Cost: FREE
20. FreePCB
A free, open source PCB editor for Microsoft Windows, FreePCB is easy to learn and use but enables electronics engineers to produce professional-quality work. If necessary, engineers can use the FreeRout web-based autorouter with FreePCB as it does not include an autorouter.
Key Features:
1-16 copper layers
Board size up to 60 inches x 60 inches
Uses English or metric units for most functions
Copper fill areas
Footprint Wizard and Footprint Editor for creating and modifying footprints
Cost: FREE
21. Mentor Graphics Xpedition
@MentorPCB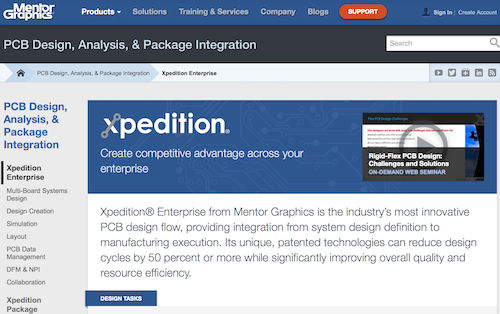 A leader in electronic design automation, Mentor Graphics PCB offers Xpedition, a PCB design software tool for electronics engineers. Billed as "the industry's most innovative PCB design flow," Xpedition includes unique, patented technologies to reduce design cycles by at least 50% while improving overall quality and resource efficiency.
Key Features:
Multi-board systems design
PCB virtual prototyping results in higher quality products faster
Collaborative placement and routing of highly complex PCBs
Capture, verify, and communicate design intent throughout the PCB design flow
PCB data management with a single, integrated solution for WIP design and library management
Get designs right the first time and meet PCB's most demanding manufacturing process rulesets
Cost: Contact for a quote
22. ExpressPCB
@expresspcb_com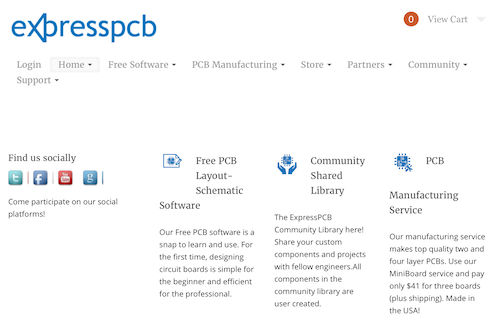 ExpressPCB is a PCB design software tool that is easy to learn. This free tool is appropriate for beginner and professional electronics engineers, who benefit from the ExpressPCB community library while completing designs.
Key Features:
For XP, Vista, and Windows 7/8.1/10
Fully functionally and was to install
Standardized Windows user interface
You choose whether to draw a schematic first using the ExpressSCH program
Design two or four layer boards
Drag and drop features
Instant quotes
xCheck analyzes PCB designs to identify potential problems before manufacturing the board
Cost: FREE
23. Easy-PC PCB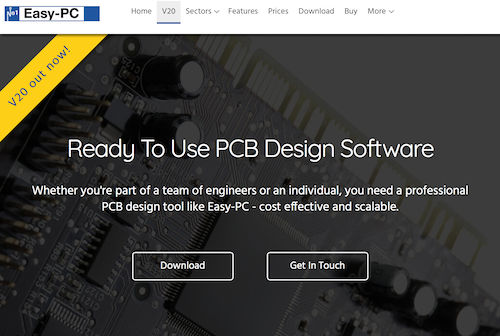 From Number One Systems, Easy-PC PCB is ready-to-use PCB design software for electronics engineers. Teams and individuals choose Easy-PC PCB because it is a professional design tool that is cost effective and scalable.
Key Features:
Easy to use
Dedicated manned support
Library management tools
Library creation wizards
3D preview
Automatic project versioning
Create PCB designs without a schematic
Design reuse
Shape-based copper pour
Fully integrated autorouters
Cost:
Easy-PC Integrated Schematic Capture and PCB Layout

Unlimited Pins License: £497
2000 Pins License: £397
1000 Pins License: £297
24. TINA
@tinadesignsuite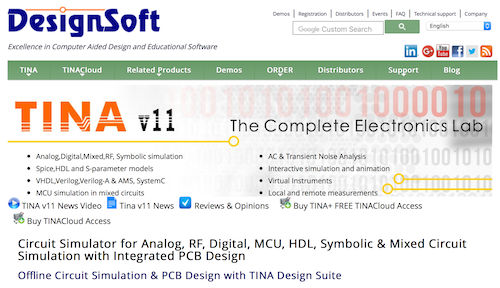 TINA (Toolkit for Interactive Network Analysis) Design Suite, a powerful circuit simulation and PCB design software package, is available both offline and online for electronics engineers. From DesignSoft, TINA is powerful, yet affordable and is useful for analyzing, designing, and real-time testing analog, digital, HDL, MCU, and mixed electronic circuits and their PCB layouts.
Key Features:
Easy to use
High-performance tool
Choose TINACloud for editing and running your circuit simulation designs online on PCs, Macs, thin clients, tablets, smartphones, smart TVs, and ebook readers without any installation
Fully integrated layout module includes all the features electronics engineers need for advanced PCB design, including multilayer PCBs with split power plane layers, powerful autoplacement and auto routing, rip-up and reroute, manual and follow-me trace placement, 3D views of your PCB design from any angle, and much more
Cost:
TINA 11.0 Design Suite Basic Edition, Single User: $129, Bundled with free TINACloud Basic registration for one year
TINA 11.0 Design Suite Basic Plus Edition, Single User: $299, Bundled with free TINACloud Basic registration for one year
TINA 11.0 Design Suite Classic Edition, Single User: $600, Bundled with free TINACloud Basic registration for one year
TINA 11.0 Design Suite Industrial Version, Single User: $1200, Bundled with free TINACloud Industrial registration for one year
25. Fritzing
@FritzingOrg
A free software tool to support designs, artists, hobbyists, and engineers work creatively with interactive electronics, Fritzing is an open-source hardware initiative. Fritzing also includes a community website and services for processing and Arduino to foster a creative community for documenting prototypes, sharing with one another, teaching electronics, and laying out and manufacturing professional PCBs.
Key Features:
Get inspired by projects within the Fritzing community
Ideal for beginners through professional engineers
Use the Fritzing Fab to turn your PCB sketches into professional PCBs
Cost: FREE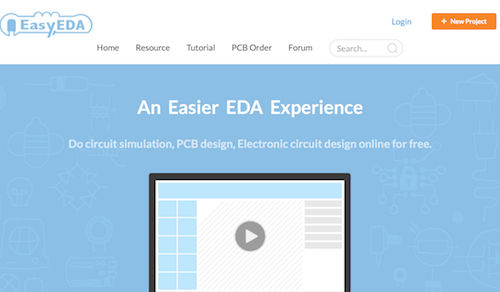 EasyEDA is a web-based EDA, schematic capture, spice circuit simulation, and PCB layout tool for electronics engineers. The developers of EasyEDA set out to create a PCB design software tool that provides comprehensive data and collaboration tools to help engineers and designers move from idea to product more easily and quickly.
Key Features:
Complete circuit simulation, PCB design, and electronic circuit design online
Supports Mac, Linux, Windows, Android, and all other platforms by requiring zero installation and existing in a cross-platform environment for electronics engineers
Powerful PCB layout and simulation capability with massive libraries of schematic components, PCB footprints and packages, spice simulation, and more
Import designs from Eagle, Altium, KiCad, and LTspice
Operate quickly and lay out PCB design quickly even with multiple layers and thousands of pads
Cost: FREE
27. Proteus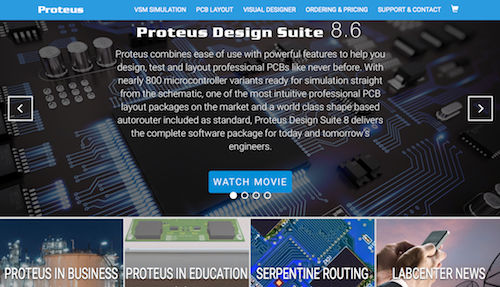 From Labcenter Electronics, Proteus combines powerful features with ease of use to help electronics engineers design, test, and lay out professional PCBs incredibly quickly and easily. Proteus is intuitive and includes a world-class shape-based autorouter, making it a complete software design tool for modern engineers.
Key Features:
Nearly 800 microcontroller variants ready for simulation right from the schematic
Professional PCB layout package
Combines schematic capture and ARES PCB layout programs to be a powerful, integrated suite of tools for professional PCB design
Complete functionality yet featuring a simple, clean user interface and tight integration with schematic design
Design capacity scales with the product range, which allows electronics engineers to choose the Proteus product right for you
Cost:
Proteus PCB Design Level 1, 500 pins in Netlist: $248
Proteus PCB Design Level 1, 1000 pins in Netlist: $487
Proteus PCB Design Level 1, 2000 pins in Netlist: $652
Proteus PCB Design Level 2+, 1000 pins in Netlist: $982
Proteus PCB Design Level 2+, 2000 pins in Netlist: $1642
Proteus PCB Design Level 2+, Unlimited pins in Netlist: $2022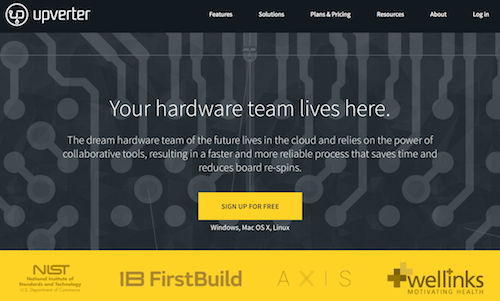 Upverter is a leader in cloud-based PCB design tools, and they attribute their success to empowering engineers by equipping them with world-class technology, knowledge, and support. With the power of collaborative tools, electronics engineers find a speedier design process that saves time and reduce board errors.
Key Features:
Upverter Parts Concierge eliminates the need for you to create and verify schematic symbols and footprints and allows you to focus on your design
On-demand part verification removes the risk of symbol and footprint errors
Centralized library management
Growing component library with verified parts from Texas Instruments, Broadcom, Atmel, Cypress Semiconductor, and countless others
Cost: FREE trial available
Starter: FREE
Professional: $100/user/month billed annually
Enterprise: Contact for a quote
29. Circuit Wizard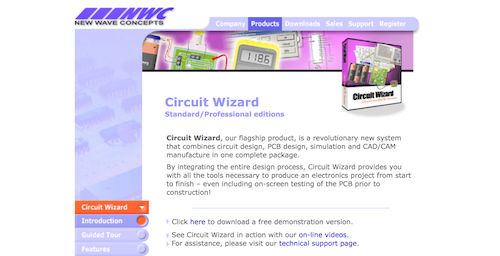 A PCB design software tool that combines circuit design, PCB design, simulation, and CAD/CAM manufacturing in one package, Circuit Wizard is available in educational, standard, and professional editions. The professional edition integrates the entire design process to give electronics engineers the tools necessary for producing a project from start to finish.
Key Features:
Includes on-screen testing of the PCB prior to construction
500-1500+ models in component library
ANSI an DIN symbols
Off-board components
Interactive PCB layout simulation
Breadboard simulation
On-screen animation
Automatic PCB routing
Cost: Contact for a quote
30. TinyCAD
@sourceforge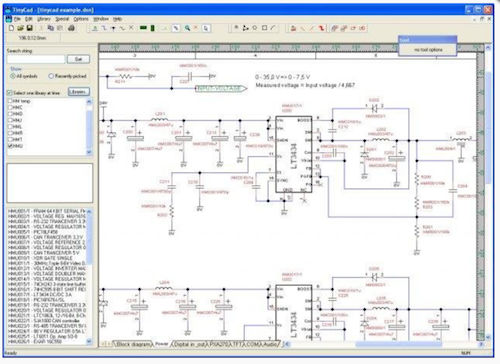 Available on Sourceforge, TinyCAD is an open-source program for drawing electrical circuit diagrams, or schematic drawings. TinyCAD is a PCB design software tool of choice for electronics engineers who want a solution that supports standard and custom symbol libraries and supports PCB layout programs with several netlist formats.
Key Features:
Often used to draw one-line diagrams, block diagrams, and presentation drawings
Flat or hierarchical schematic entry
Includes many popular PCB layout-compatible netlist formats
Convenient support for embedding graphical images in drawings
Cost: FREE
31. AutoTRAX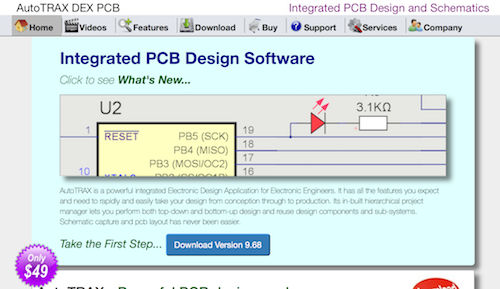 AutoTRAX DEX PCB is an integrated PCB design software and EDA for electronics engineers. Rapidly and easily move from design to production with this PCB design software tool that includes a hierarchical project manager.
Key Features:
Perform both top-down and bottom-up design and reuse design components and sub-systems
Schematic capture and PCB layout
Unified electronic design software with unmatched ability to design and build current and future generations of electronic products
Ensures your design remains correct without dangling wires or PCB design rule violations
Quickly proceed from design to production with a populated PCB without leaving the AutoTRAX program
Use auto routing or a combination of automatic and manual routing to complete all electrical wiring
Cost: $49
32. NI Multisim
@NIglobal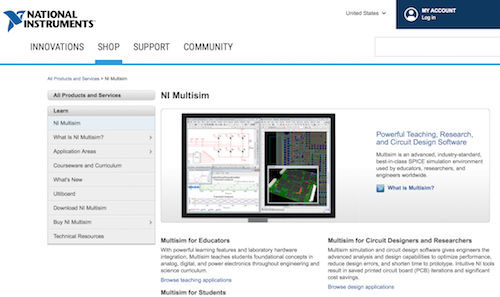 From National Instruments, NI Multisim is powerful circuit design software that is an advanced, industry-standard, best-in-class SPICE simulation environment used by electronics engineers around the globe. Multisim also is appropriate for educators and students.
Key Features:
Analyze analog, digital, and power electronics
All-new parameter analysis
Integration with new embedded targets
Simplified design with user-definable templates
Over 6,000 new components from leading manufacturers
Integrated with NI Ultiboard for a quick layout and prototyping design flow
Cost:
Multisim Base Edition for Windows: $1,617
Multisim Full Edition for Windows: $2,826
Multisim Power Pro Edition for Windows: $4,186
33. Zuken CR-8000
@ZukenAmericas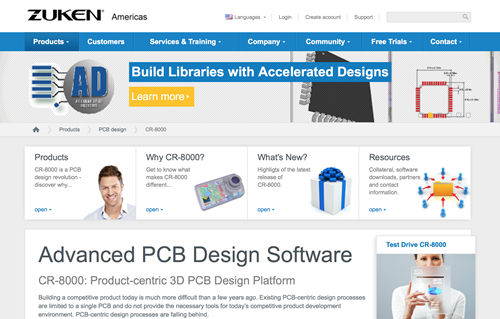 Zuken provides software solutions for PCB design, designing electrical wiring from schematic to cable harness and panel layout, and e-PLM. Electronics engineers choose Zuken CR-8000 when they require advanced PCB design software with a product-centric 3D PCB design platform.
Key Features:
Multi-site ECAD library and data
2D/3D multi-board PCB design
Design exploration to bridge the gap between marketing requirements and detailed design
3D ECAD/MCAD convergence
Chip-package-board co-design
FPGA pin optimization
Cost: FREE trial available; Contact for a quote
34. PCB Creator
@bayareacircuits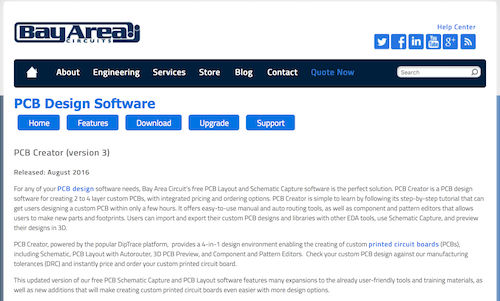 Bay Area Circuits is a PCB manufacturer specializing in quick-turn prototyping for businesses, designers, makers, and hobbyists. Their PCB Creator is a free PCB layout and schematic capture software that is the perfect solution for electronics engineers who want a powerful design tool without spending a lot of money.
Key Features:
PCB design software for creating 2-4 layer custom PCBs with integrated pricing and ordering options
Simple to learn
Easy-to-use manual and automatic routing tools
Component and pattern editors for making new parts and footprints
Import and export custom PCB designs and libraries with other EDA tools
Use schematic capture
Preview designs in 3D
Powered by the DipTrace platform
Cost: FREE, with paid upgrades to DipTrace available
35. Pulsonix
@PulsonixPCB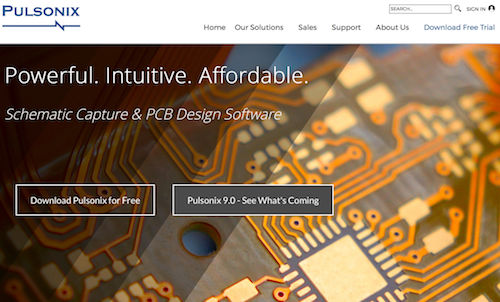 Pulsonix PCB is a global EDA company specializing in schematic capture and PCB design software. Electronics engineers improve their electronic design process with Pulsonix's advanced, yet affordable PCB design software tool.
Key Features:
 QSchematic capture includes the feature-rich toolset within the Pulsonix Schematic Editor
Sophisticated, fully integrated PCB design with intelligent features to aid complex day-to-day PCB design
Carefully designed to ensure maximum productivity with minimal engineer input time
Rule creation, component placement, routing modes, and post-processing capability to significantly reduce design time
Cost: FREE trial available; Contact for a quote
36. PADS PCB Design Software
@MentorPCB
From Mentor Graphics, PADS PCB Design Software is a powerful PCB tool for electronics engineers that allows for the easy design of printed circuit boards. PADS allows for robust rules hierarchy, powerful interactive routings nd advanced features like physical design reuse.
Key Features: 
Built-in DFF
Automatic routing
High-speed interactive routing
3D visualization and placement
Easy, effective interactive routing
Easily create split planes and copper areas
Advanced features and capabilities that speed lay out of most complex design
Cost: FREE trial of PADS Standard Plus available; Contact for a quote
37. Allegro PCB Designer
@Cadence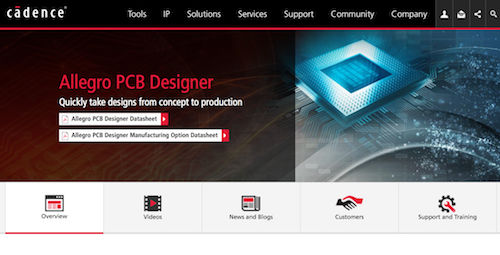 A leading global EDA and semiEDA company, Cadence enables electronic design innovation and plays an essential role in the creation of ICs and electronics. Electronics engineers turn to Cadence's Allegro PCB Designer when they require a more predictable, shorter design cycle.
Key Features:
Comprehensive in-design inter-layer checking technology to minimize design-check-redesign iterations
Dynamic concurrent-team-design capability to accelerate product creation time
Utilizes material inlay fabrication techniques to reduce material costs
Embedded Sigrity technology ensures critical signals meet performance criteria and power integrity for PCB designers to address power delivery and IR drop issues efficiently to eliminate time-consumer iteration with PI experts
Cost: Contact for a quote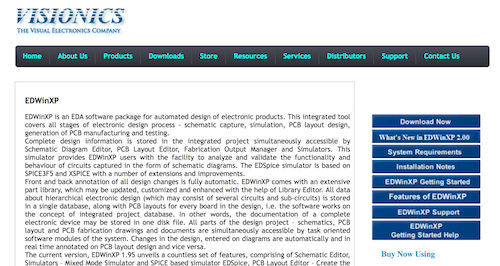 An EDA software package or automated design of electronic products, EDWinXP is the PCB designing and SPICE-based software tool from Visionics. An integrated PCB design software tool for electronics engineers, EDWinXP covers every stage of the design process, from schematic capture to PCB manufacturing and testing.
Key Features:
Stores complete design information in the integrated project and is accessible by Schematic Design Editor, PCB Layout Editor, Fabrication Output Manger, and Simulators
Analyze and validate the functionality and behavior of circuits captured in the form of schematic diagrams
Fully automatic front and back annotation of all design changes
Includes an extensive part library that may be updated, customized, and enhanced via the Library Editor
Cost:
EdWinXP 2.10 – Schematic, Commercial: $450
EdWinXP – Standard, Commercial: $800
EdWinXP – Deluxe, Commercial: $1,200
EdWinXP – Professional, Commercial: $3,200
EdWinXP 2.10 – Schematic, Small Biz License: $225
EdWinXP – Standard, Small Biz License: $800
EdWinXP – Deluxe, Small Biz License: $1,200
EdWinXP – Professional, Small Biz License: $1,600
EdWinXP 2.10 – Schematic, Non-Commercial: $45
EdWinXP 2.10 – Standard, Non-Commercial: $160
EdWinXP 2.10 – Deluxe, Non-Commercial: $240
EdWinXP – Professional, Non-Commercial: $320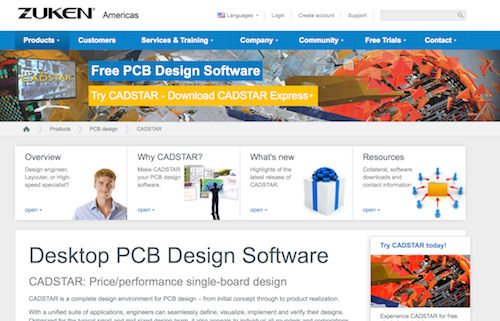 Zuken's software solutions for electronics engineers include CADSTAR, a desktop PCB design software. This complete design environment takes engineers from their initial ideas through product creation, thanks to its unified suite of applications.
Key Features:
Brings high-performance PCB layout to the engineer's desktop
Provides a fast, efficient way of capturing electronic design intent, rules, and constraints for smooth, error-free transition to PCB layout
PCB analysis and verification
Efficient library management
Cost: FREE trial of CADSTAR Express; Contact for a quote and for other CADSTAR products
40. Osmond PCB
Osmond PCB is a PCB design software tool for electronics engineers using Macs. This PCB design tool gives users power and flexibility and eliminates artificial limits and restrictions to enable the design of boards of any size and shape and with as many layers as needed.
Key Features:
Spatial resolution of 10 nanometers for precision
Place parts anywhere on the board with any orientation
Run traces of any with along any path and at any angle
Supports both metric and imperial unit, even on the same design
Integrated parts editor for easily defining new part types or modifying existing part types
Cost:
FREE for small designs with fewer than 700 pins
OsmondCocoa 1.1.1: $79
41. Pantheon PCB Layout Software
@Intercept2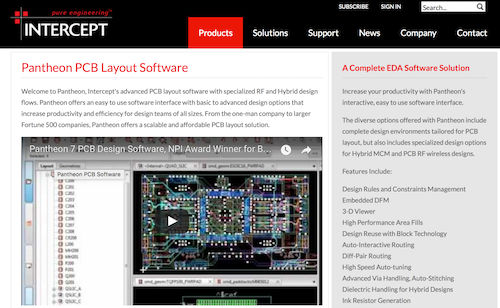 Intercept Technology, Inc. is a leading supplier of technology-independent PCB, hybrid, and RF design and layout software. Their Pantheon PCB Layout Software is an ideal PCB design software tool for electronics engineers because it offers an easy-to-use interface with basic to advanced design options for increased productivity and efficiency.
Key Features:
Advanced PCB layout software with specialized RF and hybrid design flows
For design teams of all sizes
Scalable, affordable PCB layout solution
Geometry generation
Component placement and routing
Flexible area fill creation and manipulation
Automatic test point generation
Split power planes
Artwork creation/verification
Cost: Contact for a quote
42. CometCAD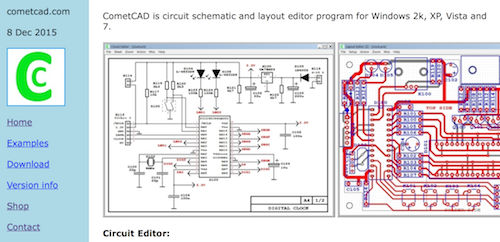 CometCAD is a schematic capture and PCB layout editor tool that is designed for electronics engineers using Windows. The PCB layout editor enables users to create rectangular multi-PCB panels and utilize PCB borders with polygon shapes.
Key Features:
1/2 copper layers
Internal resolution of one micrometer
Copper planes and design rule checks
Adjust trace width between corner points
Milled PCB gaps/cuts and round holes are possible
Cost:
Level 1, maximum of 2 schematic sheets and 250 package pins: FREE
Level 2,  maximum of 20 schematic sheets and 500 package pins: $67
Level 3,  maximum of 1,000 schematic sheets and 1,000 package pins: $134
43. VUTRAX
VUTRAAX is a major professional electronics schematic and PCB design package from the UK. VUTRAX is supported on Windows, and an unsupported Linux version is available to work with most x86 based distributions. Electronics engineers choose VUTRAX because it is scalable, features integrated schematic capture, and offers true WYSIWYG operation throughout.
Key Features:
Design for modern PCB technology including surface mount, gluespots, blind and buried vias, microvias, components on both sides, pick and place, and more
Bidirectional modification with integrity
Select auto routers from orthogonal, ripup and retry, and shape-based styles
Online and offline design validation
Extensive libraries of schematic symbols and component footprints are included3D view of the PCB
Cost:
VUTRAX Extended Custom: £4850
VUTRAX Standard Custom: £2048
VUTRAX Bureau Bundle: £2500
44. Microstrip Impedance Calculator
@EE_Web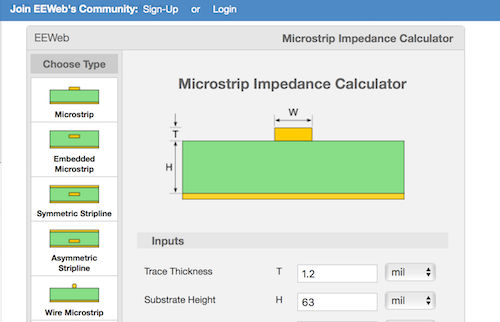 A premier electrical engineering community for hardware designers, EEWeb offers Microstrip Impedance. This handy PCB design tool does not require any installation or downloads, as it is a web-based PCB microstrip impedance calculator. Simple and useful, this PCB design tool is one electronics engineers should bookmark to use for their next design.
Key Features:
Properly build structures to meet your needs by understanding the microstrip transmission line
Use modeling approximation to design the microstrip trace
Forumla based on Wheeler's equation
Cost: FREE
45. CIRCAD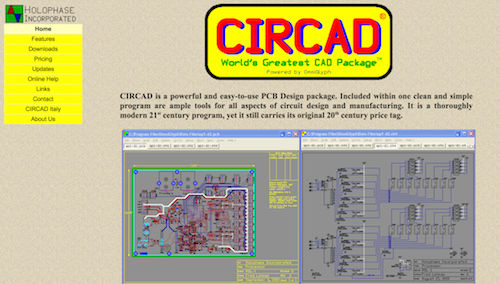 A powerful, yet easy-to-use PCB design package, CIRCAD includes all of the tools for circuit design and manufacturing that modern electronics engineers require. CIRCAD includes schematic capture, netlist generation, PCB layout, copper pour, design rule checking, several manufacturing output formats, and standard component libraries.
Key Features:
Easily accomplish more complex circuits with one set of signal names common to all schematic sheets
Multi-sheet schematics produce multiple net lists merged by the PCB editor
Manual routing or autorouting
Floods restricted areas and has individual clearance parameters for each different element type
DRC function enables engineers to verify correctness of circuit interconnections and ensure adequate clearances between various elements
Cost:
CIRCAD V6: $995
CIRCAD V5: $995
CIRCAD V4: $695
46. Eurocircuits Online PCB Data Verification Tools
@eC_PCB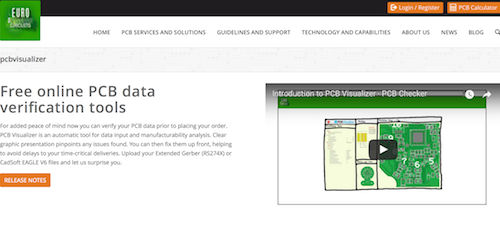 Eurocircuits is an online PCB prototype and small series specialists working to help cut designers' and engineers' time to market with fast and easy PCB procurement. Their online PCB data verification tools give electronics engineers additional piece of mind by enabling them to verify PCB data prior to placing orders.
Key Features:
PCB Visualizer – Automatic tool for data input and manufacturability analysis
PCB Checker – Shows design rule issues detected on layouts
PCB Solver – Online repair tools help users quickly and simply fix common production data issues before placing an order
Cost: FREE