Membrane switches provide an alternative to traditional mechanical switches. The variety of aesthetic options, tactile feedback, and other design options available have made membrane switches a popular option for modern electronics. The membrane switch design process is complex, with many considerations hinging on functional requirements and application specifications.
Coupled with ever-advancing technology, increasing consumer demands that must be balanced with safety and regulatory requirements, and the task of creating a functional user interface that provides usability and effectively differentiates products in today's competitive markets, membrane switch design technology is both complex and fascinating.
To help our readers and customers understand the many facets of membrane switch technology, we've compiled a list of 101 membrane switch design technology tips touching on the various aspects of membrane switch design technology, including membrane switch applications, user interface design and human-machine interaction, the use of PCBs (printed circuit boards), backlighting options, and other technologies, as well as tactile feedback and other design considerations, and finally, membrane switch and electronics industry trends. The following 101 tips are not listed in any particular order of importance, although they are categorized for simple navigation. To jump to a specific topic, click on a link in the table of contents below.

Table of Contents: 
Membrane Switch Applications
1. Membrane switches are used in many applications that you use every day. "Keypads have integrated deep into everyday schedule of an average person that it is almost impossible to carry out working on electronic devices without using them. Computer keyboards, calculators, remote controls, game joysticks, electronic locks and ATM machines are just a few cases where one cannot do even a single task without using keypad. It becomes quite uncanny that how deeply this electronic accessory has embedded into lives of a major part of the population." – Arpit Jain, Insight – How Membrane Keypad Works, EngineersGarage
2. Membrane switch technology is an ideal choice for medical electronic devices. "Membrane switch applications are well suited for medical electronics, which are limited to a specific or small number of functions, are portable, and require a high degree of visibility. Membrane switches are particularly suitable for handheld medical applications and portable devices because they are lightweight, low profile, durable, easy to clean, and RoHS-compliant." – Seven Advantages of Membrane Switches for Medical Electronics, Medical Design Briefs
3. Many medical devices make use of membrane switch technology. "Electronic devices and circuits are important tools for healthcare and for a wide range of medical applications. Medical electronics can help improve the quality of life in addition to extending life itself. Membrane switches are widely used in medical equipment for applications such as hospital bed controls, ultrasound systems, x-ray systems, patient monitoring, dialysis equipment, thermometers, scales, lighting systems, pharmaceutical delivery devices, and portable/wearable devices." – Basics of Harsh-Environment Membrane Switches Aid Medical Devices, ElectronicDesign.com, Twitter: @ElectronicDesign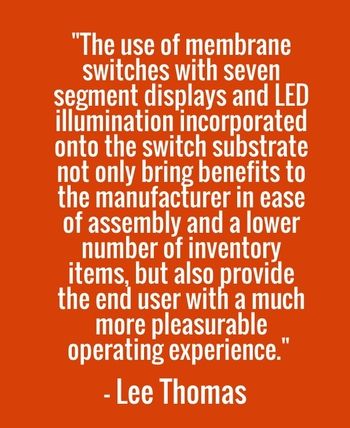 4. Home appliances are now technologically advanced electronics, thanks in part to membrane switch technology. "The use of membrane switches with seven segment displays and LED illumination incorporated onto the switch substrate not only bring benefits to the manufacturer in ease of assembly and a lower number of inventory items, but also provide the end user with a much more pleasurable operating experience." – Lee Thomas, How Times Have Changed, Connector.com, Twitter: @MolexConnectors
5. Full computer keyboards are now being made using membrane switch technology. "Recently, many full-sized keyboards have been designed to fold in various ways in an attempt to make them more transportable. The flexible membrane keyboard, one type of full sized keyboard, is unique because it is made from silicon rubber, thus it is fully flexible and water resistant. Although a number of flexible keyboard characteristics are the same as standard
keyboards (i.e. key size, shape and spacing), key-switch and key clicking mechanisms are inherently different." – DongJae Shin, Performance and Usability of Flexible Membrane Keyboards, VT.edu, Twitter: @virginia_tech
6. Assistive technology devices often make use of membrane switches. "Switch use and skills will only develop in the context of the whole activity, the switch is a means to an end. The focus of switching should be on the outcome: you are switching on the light, not just pressing the switch.
"Children who really enjoy being with others may develop their skills more quickly using their switch to control a simple communicator rather than a computer program. Pupils with a visual difficulty may react best to being in control of a visually stimulating computer program. The choice of activity is a key part of the development of switching skills, in fact the activity is the reason for using the switch." – Which Switch?, Inclusive Technology, Twitter: @InclusiveTechUK
Benefits of Membrane Switch Design Technology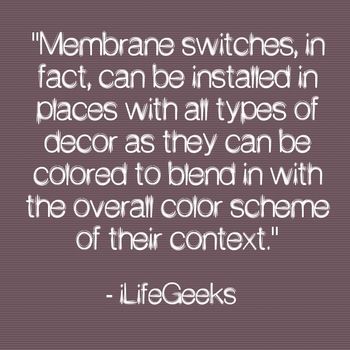 7. Membrane switches are space-saving alternatives to tactile switches. "An economy of space: Because membrane switches do not take up as much space as tactile ones, the designer has more freedom to include more decoration in the layout, and in consequence may of these keypads have colorful graphics overlaid on the keys. That is why they have become so popular in homes and offices. Membrane switches, in fact, can be installed in places with all types of decor as they can be colored to blend in with the overall color scheme of their context." – Benefits of Using Membrane Switches, iLife Geeks, Twitter: @iLifeGeeks
8. Membrane switches can add durability compared to standard mechanical switches. "Membrane switches are composed of several layers of membranes that allow users to interact with the devices' circuitry without the possibility of contaminating it. These devices are prized also because they can, in certain configurations, resist hazardous climatic conditions like moisture or dust accumulation, which means that some membrane switches are suitable for use outdoors." – Understanding the Value of Membrane Switches, Membrane Switch News, Twitter: @MembraneNews
9. Membrane switches take up less space and provide a more modern look. "Over the past decade, the membrane switch has grown in popularity as designers are seeking a more modernized look, avoiding the older, bulky switches, and looking for ways to fit switches into smaller footprints in today's equipment. The membrane switch's sleek, flat design with modern LED lights is appealing with a less industrial look." – Tips for selecting and designing a membrane switch, ECN Magazine, Twitter: @ecnonline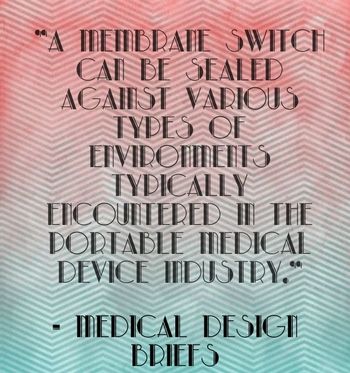 10. Membrane switch design technology allows for sealability, preventing water or chemical ingress into the switch cavity. "One of the biggest threats to any type of user interface is the risk of water or chemical ingress into the switch cavity. A membrane switch can be sealed against various types of environments typically encountered in the portable medical device industry. This can be achieved with a full perimeter seal or gasket within which the circuit tail exit is routed. With the proper design and material choices, not only can the switch array be sealed against the environment, but it can also seal the enclosure to which it is mounted. The sealed membrane switch can also provide highly visible status indication through the use of low profile surface mounted LEDs." – Seven Advantages of Membrane Switches for Medical Electronics, Medical Design Briefs
11. Membrane keypads use a continuous membrane, rather than a series of individual keys. "Rather than having a switch for each key, membrane keyboards use a continuous membrane that stretches from one end to another. A pattern printed in the membrane completes the circuit when you press a key. Some membrane keyboards use a flat surface printed with representations of each key rather than keycaps." – Jeff Tyson and Tracy V. Wilson, How Computer Keyboards Work, How Stuff Works, Twitter: @HowStuffWorks
12. Membrane switches are easier to keep clean than alternative options. "They are easy to keep clean. Mechanical switches attract all kinds of dirt, which becomes embedded in the crevices in the sockets where they are installed. Membrane switches, on the other hand, are much smoother and the surface is completely sealed." – Benefits of Using Membrane Switches, iLife Geeks, Twitter: @iLifeGeeks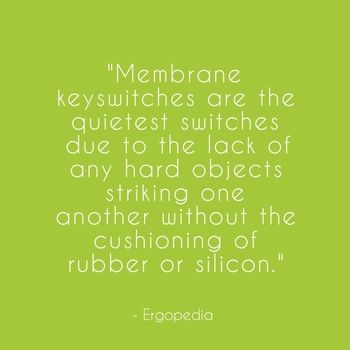 13. Membrane keypads offer quieter operation than mechanical keypads. "Membrane keyswitches are the quietest switches due to the lack of any hard objects striking one another without the cushioning of rubber or silicon." – Comparing Mechanical, Membrane and Scissor-Switch Membrane Keyboards – Ergonomic Considerations of Keyswitch Type, Ergopedia, Twitter: @ergopedia
14. Membrane keypads are more sanitary than mechanical keypads. "One of the characteristics of membrane switches that makes them so attractive is the ease with which they can be kept clean. An ordinary keyboard or keypad, on the other hand, has spaces between each of the keys into which dust particles, dirt and other debris can easily fall. So can germs such as mildew and bacteria." – How to Clean a Membrane Switch, FindHow.com
15. Membrane switches are powerful components with substantial capability. In this study, a membrane switch array suitable for driving large-scale flat-panel displays was fabricated. "Electrophoretic devices (EPDs) and organic light-emitting diodes (OLEDs) have potential application in a large-area flexible displays, such as digital signage. For this purpose, a new backplane is capable of driving a large unit is required instead of thin-film transistors. In this paper we describe the fabrication of a membrane switch array suitable for driving large-scale flat-panel displays. An array of membrane switches was prepared using flexible printed circuit (FPC) technology of polyimide films, by combining low-temperature processes of lamination and copper electroplating methods. An array of 256 matrix switches with a pixel size of 7 mm2 was prepared to drive the EPD front panel. The switches were driven at a voltage of about 40 V and a frequency of 10 Hz. The operation characteristics agreed well with the result of the theoretical calculation. The calculation also suggested that driving voltage can be lowered by increasing pixel size. The contact resistance of the membrane switch was as low as 0.2 Ω, which implies the wide applicability of this device for driving a variety of elements." – Kazuo Senda and Hiroaki Usui, Fabrication of Electrophoretic Display Driven by Membrane Switch Array, Japanese Journal of Applied Physics, Volume 49, Number 4S, IOP Science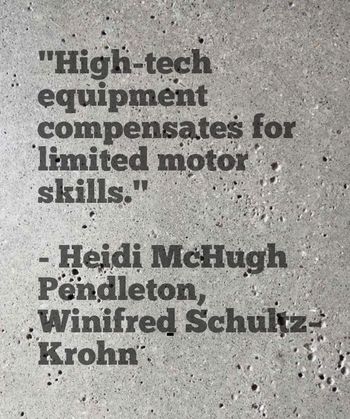 16. Membrane switches, particularly those offering tactile feedback and other sensory cues for users, play an important role in the development of accessible devices for users with visual or auditory impairments, as well as those with limited mobility. "High-tech equipment compensates for limited motor skills. The evaluation van equipped with electronic mobility controls (EMC) has a left-side electronic gas-brake, a remote left elbow secondary control button, a 7-inch remote steering wheel with trip-in steering device, and a membrane switch console for functions including gear shift, windows, and headlights." – Heidi McHugh Pendleton, Winifred Schultz-Krohn, Pedretti's Occupational Therapy: Practice Skills for Physical Dysfunction
17. Assistive technology devices made possible by membrane switch technology enable children with disabilities to interact with the world around them. "Switches can be liberating! Using switch access, students with the most severe physical disabilities can participate in all kinds of interesting activities. They can play at recess or participate in classroom sharing, stories, surveys, and reports. They can interact with friends and classmates, ask and answer questions. They can run computer programs, read stories, help make lunch, and participate in science experiments. Switch access offers opportunities for children to participate in every aspect of life." –  Rosemary Bogart, Switch to Success!, BVSD.org, Twitter: @BVSDcolorado
18. The design possibilities of the graphic overlay component allow for product differentiation and improved usability. "The biggest advantage of a graphic overlay on a medical instrument is its ability to be seen in a 180° radius. Warning lights or other functional indicator lights can be viewed from a distance at various angles. Touchscreens do not provide the same ease of signal detection and identification. As the top layer of the membrane switch, the graphic overlay is the direct interface between the product and the end user. Besides the obvious function of defining the switch locations and functions, it can also serve purposes of product enhancement and differentiation. With an essentially unlimited color palette, the graphic overlay can provide aesthetically pleasing yet highly functional characteristics to the product. Very simple color and artwork adjustments provide low-cost model or functional differentiations even though the lower switch layers remain constant, which can help to keep total program costs down." – Seven Advantages of Membrane Switches for Medical Electronics, Medical Design Briefs
User Interfaces and Human-Machine Interaction
19. The user interface is comprised of various elements. "The user interface (UI) comprises the screen menus and icons, keyboard shortcuts, mouse and gesture movements, command language and online help, as well as physical buttons, dials and levers. Also included are all input devices, such as a mouse, keyboard, touchscreen, remote control and game controller." – Definition of: user interface, PCMag, Twitter: @PCMag
20. Many principles of user interface design apply to both software applications and hardware interfaces. "User Interface (UI) Design focuses on anticipating what users might need to do and ensuring that the interface has elements that are easy to access, understand, and use to facilitate those actions. UI brings together concepts from interaction design, visual design, and information architecture." – User Interface Design Basics, Usability.gov, Twitter: @usabilitygov
21. The epitome of the user interface lies in improving the user experience. "The epitome of the user interface now lies in improving the user experience, defined as a user's perceptions and responses that result from the use or anticipated use of a product, system or service. The economic opportunities presented by the user interface are by no means trivial. The size of the global user interface market is predicted to grow from US$10 billion in 2011 to US$25 billion by 2016." – User Interface and Future Interaction Technologies, IDA.gov, Twitter: @IDA_SINGAPORE
22. UI design can set products apart in the market. "UI is having a convergent effect on the PC, consumer electronics and mobile industries. In order to remain competitive, OEMs must ensure their product management strategy focuses on innovating UI design." – Mobile User Interface 2011-2016: Designing Compelling UI in iPhone and Android Era, Reportlinker.com via PR Newswire
23. Understand your users and design interfaces that support their goals. "The important questions to ask then in creating a user-centered interface are: Who are the users? What are the main functions that the user will need? Why is the user using this particular piece of software/hardware and what are their goals? Is the software/hardware accessible by users of different experience levels? What is the most intuitive way that the user could interact with the software/hardware?" – Adrian Jones, 5 Principles of User-Centered Interface Design, Sitepoint.com, Twitter: @sitepointdotcom
24. Design-focused product development fosters emotional engagement among consumers. "At the core of design-focused product development is emotional engagement—the deep feelings a person forms about a product while using it. People tend to personify products—especially, increasingly, digital products—assigning them human characteristics and relating to them on an emotional, human level. To understand and design for this emotional appeal, it's critical not only to understand people, but to truly empathize with them in order to feel what they feel." – Jon Kolko, From Design Thinking to Design Doing, UX Magazine, Twitter: @uxmag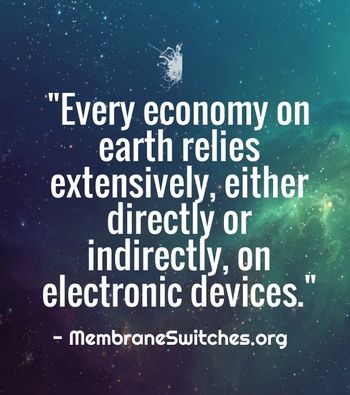 25. Membrane switches are the key to the user experience. "Membrane switches are user-equipment interface utilities that allow for the communication of commands from users to electronic devices. Every economy on earth relies extensively, either directly or indirectly, on electronic devices. Interface utilities like membrane switches give users control over their devices. For this reason, they are just as important as the devices they control." – Membrane Switch Manufacturers, MembraneSwitches.org
26. Tactile feedback is important for the user experience. "Electronic membrane switches are a type of keypad widely used in products such as handheld devices, toys, medical products, home electronics, and appliances. These switches can be designed to give tactile feedback or non-tactile feedback. Tactile membrane switches provide immediate feedback to the user." – Mark Theeuwes, Make It Big: Crossing the Entrepreneur's Gap 
27. Displays and interfaces differentiate products in their respective markets. "The notion of making the product "fit" the user began spreading to consumer products shortly after the war. The rise of computers and computing in the '80s gave human factors a boost and shifted the focus to displays and interfaces. It has since become an important point of differentiation for any product." – Keith Karn, Five Steps To Usable Product Design, Accelerator, Twitter: @bresslergroup
28. User interfaces should be as simple and intuitive as possible. "Ideally, the UI should be designed so that most everyday users can, without having to consult the user manual, easily figure out how to use all of the primary functions of the devices and systems, easily comprehend all of the basic information they contain, and easily comprehend most of the responses from them. Sadly, however, the state of UI for CE devices, and many of the general digital systems, today is well short of the ideal." – Minimalist and Intuitive User Interface
Design Guidelines for Consumer Electronics Devices, Journal of Object Technology, Vol. 6, No. 3, March – April 2007, Twitter: @jotfm
29. Follow the logic of usability. "For an interface to be easily useable and navigable, the controls and information must be laid out in an intuitive and consistent fashion. Your users are probably well acquainted with many other interfaces, and you should be too if you want to achieve a level of familiarity for your users. Coming out with an entirely new layout for your interface might sound like a highly rewarding, paradigm-breaking project, but for all practical purposes, if you want users to feel at home then follow the path of your predecessors! Logic of usability should play a big part in the design process: features that are the most frequently used should be the most prominent in the UI and controls should be consistent so that users know how to repeat their actions." – 5 aspects of a good user interface, Argon Design, Twitter: @Argon_Design
30. Consumers buy devices for their features, not simplicity. "We do not buy televisions for their simplicity but for their features. However, complexity can be managed and presented in a manner that reduces clutter, confusion, and cognitive workload. In order to design a prolonged user experience, complexity has to be sequenced into challenges that match the skills of the users, giving them the chance to learn progressively and feel satisfied while doing so." – Philip Battin, The Next Big UI Idea: Gadgets That Adapt To Your Skill, Fast Company, Twitter: @FastCoDesign
31. User interfaces are poised to make major strides in healthcare. "Pacemakers and other implanted medical devices have become commonplace. But being able to directly interact with implants–via user interfaces that are implanted as well–still might strike some as science fiction a la the Terminator. Researchers who are testing implanted user interfaces say the appliances will enable people who have implanted medical devices such as pacemakers to recharge and reprogram them without the use of wireless transmissions, which are considered vulnerable to hacking." – Ken Terry, Implanted User Interface Gives Patients New Options, Information Week, Twitter: @InformationWeek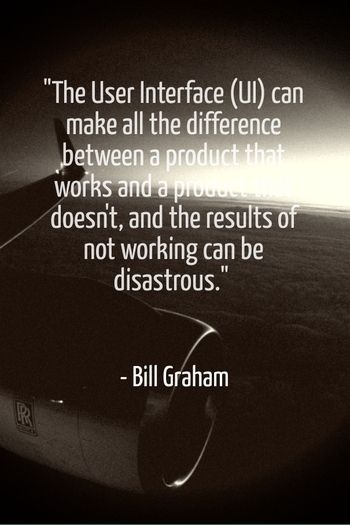 32. Adobe Flash provides a common technology for use in designing, prototying, and deploying user interfaces. "The User Interface (UI) can make all the difference between a product that works and a product that doesn't, and the results of not working can be disastrous. More robust, better tested, and more uniform interfaces are needed. One way to help achieve UI reliability is to eliminate the error-prone process of translating UIs designed with high-level tools into conventional graphics technology. Rather than use two or more technologies to design, prototype, and deploy UIs, teams can work with one common technology: Adobe Flash." – Bill Graham, Applying modern UI technology to safety-critical systems, Industrial Embedded Systems, Twitter: @Industrial_mag
33. User interface design must weigh cross-cultural considerations. "On the one hand, the user interface design process focuses wholly on the user and his context — his needs, wants, expectations and preferences — and on the other hand, global businesses want to cater to and engage with consumers across the world and consider demographic diversity which, while possible, can get very complicated." – Nehal Shah, CUA, CXA, Cross cultural considerations for user interface design, Human Factors
34. Color contrast aids in navigation of a user interface. "Color guidelines are the basic fundementals of designing interface. Using colour contrasts are very effective because the human eye has an edge enhancement mechanism). It arises interest, is a stylistic device in painting or point to important information. A strong contrast can be achieved by using the primary colours red, yellow and blue. The intensity gets weaker when you use secondary mixed colours like green, orange or violet." – Özlem ILHAN, Analysis of the Graphical User Interface in the Context of Human-Computer Interaction (with a Case Study on Oven Control Panel), A Thesis Submitted to The Graduate School of Engineering and Sciences of zmir Institute of Technology in Partial Fulfillment of the Requirements for the Degree of MASTER OF SCIENCE in Industrial Product Design, IZTECH Library, Twitter: @iytelibrary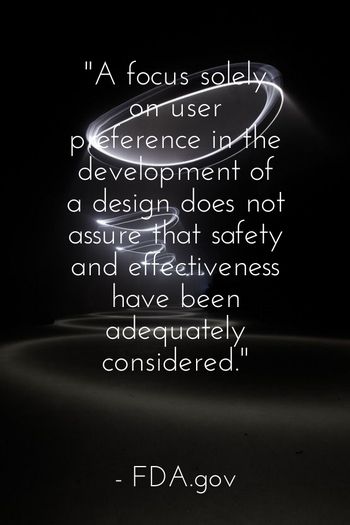 35. Safety and effectiveness should be weighed alongside user preferences and aesthetics. "User Preference does not Necessarily Indicate Safety and Effectiveness. A focus solely on user preference in the development of a design does not assure that safety and effectiveness have been adequately considered. Users generally prefer devices that are easy and satisfying to use and are aesthetically pleasing. Too often, device manufacturers and users emphasize these device characteristics at the expense of safety and effectiveness. Although design features that assure safety and effectiveness could decrease user preference in some instances, they are necessary nevertheless. For instance, safety-related user interface design features such as shields over critical controls, mechanical or software-based interlocks, or verification requirements could slow down the use of a device or effect its aesthetics." – Medical Device Use-Safety: Incorporating Human Factors Engineering into Risk Management, FDA.gov, Twitter: @US_FDA
36. Human interface design issues are present in a wide variety of electronics devices, appliances, and other gadgets. "A TV remote control, a radio, a car alarm and a food blender (minus the top). Each of these objects relies on a wide variety of button controls. Each device has a control panel. The issue is human interface design." – Color & Usability Matters, Color Matters
37. Eliciting feedback from users on prototypes is a valuable practice. "Knowledge about the interplay among users, tasks, task contexts, IT, and the environments in which the systems are used comprises the basis of human–computer interaction. The main tactic of HCI in systems analysis and design is to repeatedly elicit feedback from users about their experiences with prototyped designs (which could be screens, forms, interfaces, and the like), refining the design based on the suggested changes, trying them with users again until the design is acceptable, and until it is frozen by the analyst." – Human-Computer Interaction, Pearson Higher Education, Twitter: @PearsonNorthAm
38. Intuitive design aids usability. "B.F. Skinner, the famous psychologist, articulated the idea of behaviorism and reinforcers. The basic concept is that a stimulus, negative or positive, can either encourage or discourage a behavior. This concept can be applied to human interface systems and gesture design and is one of the reasons that the 'swipe to scroll' gesture is so intuitive. When one is reading a book or magazine, the action to 'scroll' to the next page is identical to the actions required on a modern touchscreen device. Since the device operates in a predictable manner, the gesture is reinforced and easily learned. This is one reason why toddlers find it easy to interact with touchscreen systems: the action and response is predictable and instantaneous with minimal learning required and little frustration." – Designing Intuitive Gesture-Based Human Interface Systems, Silicon Labs, Twitter: @siliconlabs
39. Keyboard layouts are an excellent example of usability in action. "Though strictly mechanical, typewriters do, after all, have a one-to-one relationship between buttons (aka keys) and their actions. Nonetheless, somebody thought to layout those buttons in a very specific non-linear way and in an abstract order according to letter frequency in the English language—itself an abstract concept. The layout also took into consideration tactile human factors such as physical reach of average fingers and the distance between each button. There's a reason Q and Z are so awkward to get to and ASDF are not." – Tom Lakovic, To Make Tech Design Human Again, Look to the Past, Wired, Twitter: @WIRED
40. While some principles of UI design overlap between computer software interfaces and UIs for electronics devices, experts suggest a different design approach to achieve usability goals. "Compared to computer-based products like software and websites, consumer electronic products like mobile phones pose limitations such as smaller screen size and cumbersome input mechanisms. Also, because the consumer electronic products have hardware-oriented features such as dedicated controls in addition to software-oriented features such as menus, there are more dimensions that need to be considered with regard to usability." – Human Interface and the Management of Information, Symposium on Human Interface 2011, Springer
41. Effective interface design and analysis saves money — and sometimes lives. "The news headlines: an aircrash claims a hundred lives, an industrial accident causes millions of pounds worth of damage, discovery of systematic mistreatment leads to thousands of patients being recalled to hospital. Some months later the public enquiry concludes: human error in the operation of technical instruments. The phrase 'human error' is taken to mean 'operator error', but more often than not the disaster is inherent in the design or installation of the human interface. Bad interfaces are slow or error prone to use. Bad interfaces cost money and cost lives.
"On the other hand, effective interface design or analysis can save money. A few years ago the US telephone company NYNEX was intending to install a new computer system to support their operators. Before installation a detailed analysis was performed taking into account the cognitive and physical processes involved in dealing with a call. It was discovered that rather than speeding up operations, the new system would take longer to process each call. The new system was abandoned before installation, leading to a saving of many millions of dollars." – Alan Dix, This article appeared as: A. J. Dix (1994). The Human Interface. Assembly Automation, 14(3): 9-13., via AlanDix.com, Twitter: @alanjohndix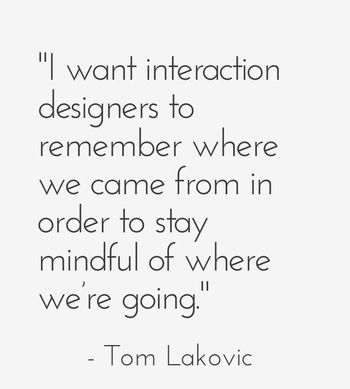 42. Designers should remember where we've been to be mindful of where we're going. "I want interaction designers to remember where we came from in order to stay mindful of where we're going. In the early 20th century, interaction design wasn't much of a career because there simply wasn't any need for it. Mechanical devices were controlled physically and directly, period. A lathe handle turned a gear that turned the lathe in the same direction. You could design the handle to fit the human hand a bit better, but otherwise you didn't have to solve any deep cognitive interaction problems such as, 'How will this interface be understood, and valued by the user? What role does metaphor play? What does this interaction say about our brand?'" – Tom Lakovic, To Make Tech Design Human Again, Look to the Past, Wired, Twitter: @WIRED
43. User testing is imperative. "One excellent way to verify your guesses, of course, is to test your design with potential users. Lots has been written on usability testing and other field methods, and it's all important. Before the design phase begins, we must understand our users' concerns and learn to empathize with them; their feedback guides and inspires us while we explore different design possibilities; and late in a project, they help us refine and build the chosen design. In the field of human-computer interfaces, we have learned — faster than in many other fields — the value of an iterative design process that directly involves the end users.
"But how do you come up with those initial designs? Once you understand where the user is coming from and what the artifact needs to do, what comes next? What further questions do you ask? What assumptions should you make? How do you put it all together into a design that might work? This creative leap is always harder than it sounds. And it costs us far less, in terms of time and usability testing, to make good guesses and design choices right at the beginning." –  Jenifer Tidwell, Common Ground: A Pattern Language for Human-Computer Interface Design, MIT.edu, Twitter: @MIT
Tactile Feedback in Membrane Switch Design
44. Tactile feedback goes by many names among user interfaces. "There are many terms used to describe haptics technology in user interfaces, including 'full force feedback,' 'rumble feedback,' 'tactile feedback,' 'touch-enabled,' 'vibration,' and 'vibrotactile.'" – What is Haptics?, All About Robotic Surgery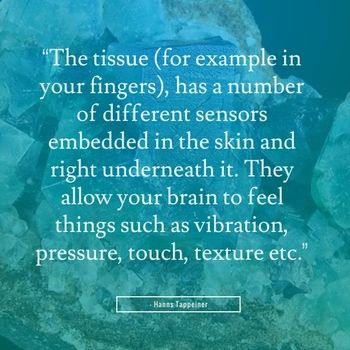 45. Tactile feedback is a type of haptic feedback. "Tactile Feedback is a type of Haptic Feedback. Haptic feedback is generally divided into two different classes: Tacticle and Kinesthetic. The difference between the two is quite complex, but at a high level:
Kinesthetic: The things you feel from sensors in your muscles, joints, tendons. Weight, stretch, joint angles of your arm, hand, wrist, fingers, etc. Imagine holding a coffee-mug in your hand. Kinesthetic feedback tells your brain the approximate size of the mug, it's weight, and how you are holding it relative to your body.
Tactile: The things you feel in your 'fingers' etc., or on the surface. The tissue (for example in your fingers), has a number of different sensors embedded in the skin and right underneath it. They allow your brain to feel things such as vibration, pressure, touch, texture etc." – Hanns Tappeiner, Co-Founder & President at Anki, Inc., via Quora, Twitter: @Quora
46. The electronic computer facilitated a major advance for haptic interaction in the 1980's. "At first, computers were used to control machines in a real environment (think of the computer that controls a factory robot in an auto assembly plant). But by the 1980s, computers could generate virtual environments — 3-D worlds into which users could be cast. In these early virtual environments, users could receive stimuli through sight and sound only. Haptic interaction with simulated objects would remain limited for many years." – William Harris, How Haptic Technology Works, How Stuff Works, Twitter: @HowStuffWorks
47. As tactile feedback evolves in an increasingly mobilized world, designers must adapt. One study evaluates the environmental levels at which audio and tactile feedback become ineffective.  "The results show significant decreases in performance for audio feedback at levels of 94dB and above as well as decreases in performance for tactile feedback at vibration levels of 9.18g/s. These results suggest that at these levels, feedback should be presented by a different modality. These findings will allow designers to take advantage of sensor enabled mobile devices to adapt the provided feedback to the user's current context." – Eve Hoggan, Andrew Crossan, Stephen Brewster, and Topi Kaaresoja, Audio or Tactile Feedback: Which Modality When?, University of Glasgow, School of Computer Science, Twitter: @GlasgowUni
48. Consumers still value a tactile feedback experience from electronic devices. "If the idea of finding buttons by touch reminds you of the Blackberry, it's no accident. Blackberry users have long held that their device was superior to pure touchscreen phones because of the tactile feedback of the physical keyboard. In an attempt to let their customers have their cake and eat it too, Blackberry incorporated the SurePress touchscreen into their Storm smartphone. The implementation of it was flawed, however, leading to a recall of the first model and, in general, users were less than impressed." – Anthony Wing Kosner, The "Feel Screen": The Pros and Cons of a Tactile Interface for the Next iPad (or iPhone?), Forbes.com, Twitter: @Forbes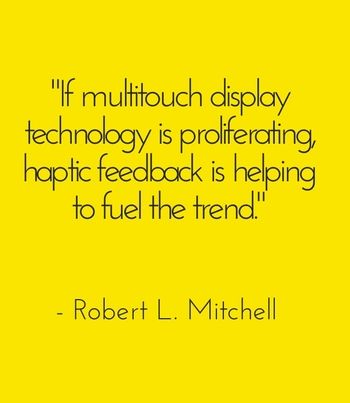 49. Tactile or "haptic" feedback is increasingly critical to successful touch-screen product design. "If multitouch display technology is proliferating, haptic feedback is helping to fuel the trend. Haptics provide tactile feedback to your fingers as you touch a display by vibrating all or part of the display surface.
"Haptic technology is on a roll; it's been adopted in more than 20 smartphone models, including the Nokia N8 and Samsung Galaxy S series, because it can help people interact with touch-screen applications more accurately and otherwise enhance the user experience, says Jennifer Colegrove, an analyst with DisplaySearch." – Robert L. Mitchell, Display tech to watch this year: Haptics create a buzz, ComputerWorld, Twitter: @Computerworld
50. The sense of touch is both unique and remarkable. "Haptics (touch feedback), aka Tactile Feedback is the future of the user experience in digital devices. There are both physiological and emotional reasons for its fast-growing use: Of the five senses, touch is the most proficient, the only one capable of simultaneous input and output, and touch is at the core of personal experience." – What is Haptics?, All About Robotic Surgery
51. Actuation force is the amount of force required to activate a switch. The same measurement applies to mechanical switches as well as membrane switches. "Activation Point (or Operating Position) is the key travel distance where the key is actually recognized by the keyboard. Actuation force is the force required at this point. Put simply, it's how hard you have to press the key for it to be recognized." – Mechanical Keyboard Terms, MechanicalKeyboards.com 
52. Actuation force has an impact on long-term usability. "The final objective measurement we can take is actuation force, or the total amount of input force a user must exert to cause any given key to activate consistently. While the amount of force that it actually takes to press a key down is probably a bit less important than either ghosting or noise, over time it can have a pretty significant impact on usability in the long run. Keys that are too easy to press can be easy to accidentally trigger, while keys that are too stiff can be particularly exhausting after long typing sessions." – Daniel Starkey, Mechanical Keyboards: BlackWidow, Osmium, G710+, Tom's Hardware, Twitter: @tomshardware
53. Actuation force is one of the most important considerations in membrane switch design. "Actuation force is one of the most important membrane switch characteristics but also one of the most troublesome. Good actuation force control, with narrow tolerance ranges, can be obtained by understanding the factors which affect it and controlling these parameters." – Ken Gilleo, Polymer Thick Film: Today's Emerging Technology for a Clean Environment Tomorrow
54. Interface design now includes cognitive and emotional aspects of the user experience. "When the concept of the interface first began to emerge, it was commonly understood as the hardware and software through which a human and a computer could communicate. As it has evolved, the concept has come to include the cognitive and emotional aspects of the user's experience as well…The noun, interface is taken to be a discrete and tangible thing that we can map, draw, design, implement, and attach to an existing bundle of functionality." – Brenda Laurel, S. Joy Mountford, Editors, The Art of Human-Computer Interface Design, ACM Digital Library
55. The concepts of user interfaces, human-machine interaction, and tactile feedback all relate to an emerging discipline known as Human-Machine Interface (HMI) design. "Human Machine Interface (HMI) Systems provide the controls by which a user operates a machine, system, or instrument and includes all the elements a person will touch, see, hear, or use to perform control functions and receive feedback. Sophisticated HMI Systems enable reliable operations of technology in every application, including high-speed trains, CNC machining centers, semiconductor production equipment, and medical diagnostic and laboratory equipment." – John J. Pannone, Design Considerations for Effective Human Machine Interface Systems, Product Design & Development, Twitter: @PDandD
56. Developing a consistent HMI philosophy and style guide is an important first step. "Developing a consistent HMI philosphy and style guide is an important first step to designing a successful high-performance HMI. The philosphy defines what constitutes 'good.' The style guide interprets that philosophy in terms of the particular vendor's equipment being used." – Ian Nimmo, Best Practices in High-Performance HMI Design, Control Global, Twitter: @ControlGlobal
57. The Human Machine Interface Unit creates a friendly visual environment between the user and the technology. "In process automation industry operator interface is usually a Human Machine Interface Unit (HMI). HMI plays a significant role in creating a friendly visual environment between the user and the technology. It is considered to be the window to the automation control system. Controlling through finger touch has replaced the use of hammers and manual switches enormously. With the increasing application of HMIs in industry, a good number of software tools are being introduced and the competiveness in designing HMI displays is increasing
tremendously." – Prof. Akram Hossain, Purdue University, Calumet, Ms. Tanima Zaman, Purdue University Calumet, HMI Design: An Analysis of a Good Display for Seamless Integration Between User Understanding and Automatic Controls, American Society for Engineering Education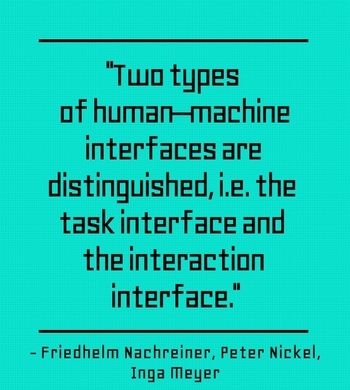 58. Automation does not always adequately account for human factors principles. "The argument is that although there are already some legal obligations to take human factors into account, practical experience shows that this is not done adequately and sufficiently. Two types of human–machine interfaces are distinguished, i.e. the task interface and the interaction interface. The design philosophy of process engineers seems to aim at automating all safety critical functions, which is called into question based on the available ergonomics evidence." – Friedhelm Nachreiner, Peter Nickel, Inga Meyer, Human factors in process control systems: The design of human–machine interfaces, Safety Science 44 (2006) 5–26
59. Engineering best practices, along with ergonomic, safety, and industry standards and functional requirements must be considered from design to production through quality assurance. "A highly-reliable HMI System that delivers safe, cost-effective, consistent and intuitive performance relies on the application of engineering best practices throughout design and panel layout, production, testing, and quality assurance processes.
"Just as critical, in-depth knowledge of and compliance with all relevant ergonomic, safety, and industry standards must inform each step of the design and manufacturing cycle.
"Clear definitions of the functional requirements, the operator's level of expertise, and any communications/interactions with other systems provide the starting point in the knowledge-intensive design process." – – John J. Pannone, Design Considerations for Effective Human Machine Interface Systems, Product Design & Development, Twitter: @PDandD
Printed Circuit Boards: A Key Component in Membrane Switch Design
60. PCBs are present in a wide range of electronic devices. "A printed circuit board, or PCB, is a self-contained module of interconnected electronic components found in devices ranging from common beepers, or pagers, and radios to sophisticated radar and computer systems. The circuits are formed by a thin layer of conducting material deposited, or "printed," on the surface of an insulating board known as the substrate. Individual electronic components are placed on the surface of the substrate and soldered to the interconnecting circuits. Contact fingers along one or more edges of the substrate act as connectors to other PCBs or to external electrical devices such as on-off switches. A printed circuit board may have circuits that perform a single function, such as a signal amplifier, or multiple functions." – Printed Circuit Board, MadeHow
61. PCBs are made from glass-reinforced plastic with copper tracks. "Electronic circuits in schools and industry are normally manufactured through the use of PCBs (Printed Circuit Boards). The boards are made from glass reinforced plastic with copper tracks in the place of wires. Components are fixed in position by drilling holes through the board, locating the components and then soldering them in place. The copper tracks link the components together forming a circuit." – Printed Circuit Boards – Introduction, TechnologyStudent.com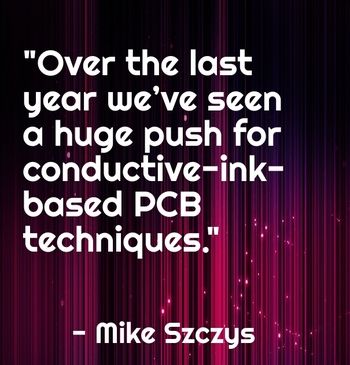 62. Conductive inks are a growing trend in PCB prototyping. "It's amazing how affordable PCB fabrication has become. It has long been economical (although not always simple) to fabricate your own singe and double-sided boards at home, the access to professional fabrication is becoming universal. The drive continues downward for both cost and turnaround time. But there is growing interest in the non-traditional. Over the last year we've seen a huge push for conductive-ink-based PCB techniques. These target small-run prototyping and utilize metals (usually silver) suspended in fluid (think glue) to draw traces rather than etching the traces out of a single thin layer of copper." – Mike Szczys, Ask Hackaday: Are Conductive Inks Going to Make It?, Hackaday, Twitter: @hackaday
63. Inkjet printing has emerged as a viable printing method for PCBs, with some shortcomings. "In an effort to overcome the shortcoming of conventional PCB manufacture there has been significant interest in the direct digital deposition of conductive tracks to form PCBs. Inkjet printing is by far the most widely explored due to its inherent ink formulation flexiblity, scalability and availability of off the shelf print heads (for example Xaar,Cambrige UK)." –  J. B. Jones, D. I. Wimpenny, R. Chudasama, & G. J. Gibbons, Printed Circuit Boards by Selective Deposition and Processing, Solid Freeform Fabrication Symposium, University of Texas
64. Screen printing is a commonly used process for printing conductive ink. "Conductive ink, for example the Dow Corning PI-2000 series of Silver Polymeric Interconnect Materials, can be used to print conductive circuit traces. Generally, the ink is applied using a screen printing technique, with typical print thicknesses of 25 um to 40 um. Sheet Resistivity is specified in milliohms/square at a 25 um print thickness and varies from 8 to 81 for the currently available inks. For comparison, copper has a Sheet Resistivity of 0.68 milliohms/square at a 25 um thickness."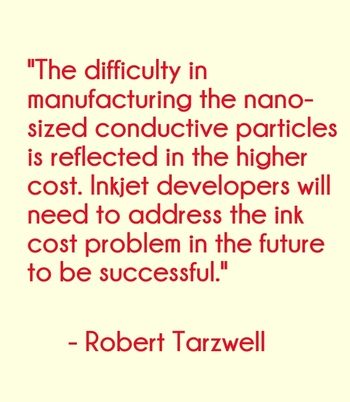 65. Screen printing has a few advantages over inkjet printing for PCBs, while inkjet printing shows promise in some respects. "Some companies are working on inkjet conductive ink programs now. They illustrate a few good and bad points associated with this technology. The first problem relates to the size of the conductive particle. To be properly sprayed in droplets of the right size and pass through the inkjet head, the conductive particles of silver, copper or gold must be between 100 nanometers and 40 nanometers in size. In silkscreen printing, the screen can pass a larger particle, so we can use bigger 10 micron particles to lower costs. The difficulty in manufacturing the nano-sized conductive particles is reflected in the higher cost. Inkjet developers will need to address the ink cost problem in the future to be successful." – Robert Tarzwell, DMR Ltd., Can Printed Electronics Replace PCB Technology?, PCBDesign007.com, Twitter: @IConnect007
66. FR-4 Epoxy systems offer flame retardant properties. "Circuit boards are made with copper conductors separated by insulating materials which are typically resin systems with a reinforcement material to add strength and stability. The most prevalent materials are FR-4 Epoxy systems (which means Flame Retardent) reinforced with layers of woven glass cloth, but other resin systems are available like Polyimide (Kapton) or PTFE (Teflon), or with more exotic reinforcements like Kevlar or quartz. A variety of options have been developed to enhance specific desired properties (for example, better thermal performance or lower signal loss), but of course they are more expensive than common FR-4 materials." – How-To PCB, Printed Circuit Board Material, FrontDoor.biz
67. Soldermask protects circuits and provides electrical insulation. "When you order silkscreen, you almost always get solder mask on both sides as well. Solder mask (or soldermask) is a coating that protects the circuit from corrosion and electrical shorts. It also provides electrical insulation that allows higher voltage traces to be placed nearer to each other. Most importantly, the solder mask keeps the solder on the pads, as opposed to flowing onto traces, planes, or empty board space. This reduces the likelihood that solder will form bridges (unintended connections) from one element to another. Solder masks are critical for wave soldering, which is a mass production technique. But, solder masks also make hand soldering faster, easier, and more accurate." – PCB Solder Mask and Silkscreen, Robot Room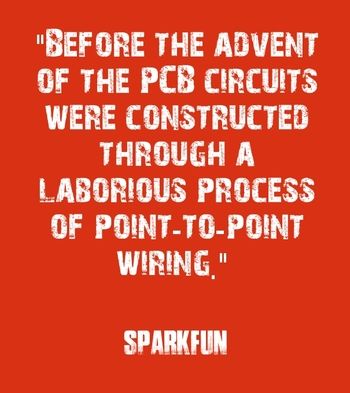 68. PCBs have revolutionized the field of electronics. "Printed circuit board is the most common name but may also be called 'printed wiring boards' or 'printed wiring cards'. Before the advent of the PCB circuits were constructed through a laborious process of point-to-point wiring. This led to frequent failures at wire junctions and short circuits when wire insulation began to age and crack." – PCB Basics, SparkFun, Twitter: @sparkfun
69. PCBs range from single-layer to 12-layer configurations. "PCBs can be single-layer for simple electronic devices. Printed circuit boards for complex hardware, such as computer graphics cards and motherboards, may have up to twelve layers. PCBs are most often green but they can come in any color." – Printed Circuit Board, TechTarget, Twitter: @TechTarget
70. Modern PCB design focuses on packing more functionality into a smaller space, as well as getting it right the first time. "The driving force for today's PCB design tools is to design and produce a board that is 'right first time', and that can be manufactured easily, cost-effectively, and in the shortest timeframe. Bhavesh Mistry breaks down the role of PCB design tools into three parts: schematic capture, simulation, and layout." – Caroline Hayes, Printed circuit board design tools, Engineering & Technology Magazine, Twitter: @EandTmagazine
The Role of Backlighting in Membrane Switch Design
71. Modern backlighting options enable the creation of non-rectangular membrane switches. "Circles, semi-circles, holes, and other irregular shapes are possible using UniGlo patented fiber optics. Traditional membrane switches have been rectangular in shape, but some OEMs have been designing membrane switches with other, more unusual shapes to help differentiate their products in the marketplace." –  Mark T. Hoske , Control Engineering editor in chief, Fiber-optic backlighting fits under switches, buttons, indicators, Control Engineering
72. Fiber optic lamps are one of several backlighting options for membrane switch design. "Uni-Glo® and Clad Flat Fiber™ products offer superior tactile feel and thin packages in dome applications. They can additionally be cut into specific sizes and shapes to create a thin, flexible, lighting layer between the overlay and dome switches. In applications involving keypads, Lumitex can be used under either keypads or switch layers. The intensity is high enough to provide superior illumination through all switch and keypad layers." – Membrane Switch, Lumitex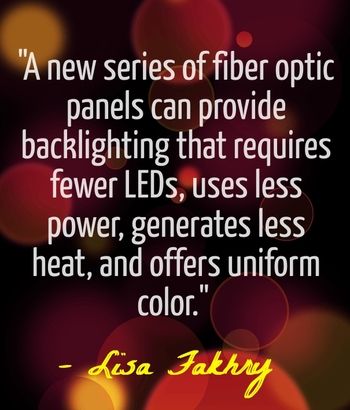 73. Fiber optic panels offer a backlighting option with several benefits. "A new series of fiber optic panels can provide backlighting that requires fewer LEDs, uses less power, generates less heat, and offers uniform color. Also, backlighting systems employing these panels take up less space and last longer than traditional LED arrays for a variety of LCD applications. Suitable applications include digital controllers, test and measurement equipment, and medical instrumentation." – Lisa Fakhry, Fiber Optic Panels Supply Backlighting With Fewer LEDs, Electronic Design, Twitter: @ElectronicDesign
74. Fiber optic panels can provide backlighting for up to 20 square inches with a single LED. "As much as 20 square inches can be lit with only one LED consuming 20mA at 3.6V DC or less. In addition, this technology also allows the fiber optic backlight to have pre-selected die cut holes or notches through the back-reflector which would accommodate a visual spot for indicator lights, positioned on the circuit board. This is ideal for a different color of light to be focused through the transparent fibers (backlight) and would not have any interruptions throughout the length of the panel." – Fiber Optic Backlight – panels are exceptionally thin, EE Times, Twitter: @eetimes
75. Fiber optics make it possible to differentiate product designs with light, increasing perceived customer value. "Fiber optic technology has developed to make the most out of the brightest LEDs, spreading their light efficiently and flexibly, while minimizing power, circuitry and LED count. Fiber optic backlighting, in particular, is an increasingly popular way to differentiate product designs with light, increasing clearly-perceived customer value. Fiber optic panels couple with LEDs to provide more flexible, adaptable and cost-effective alternatives to such common technologies as molded plastic light pipes, EL, LED arrays, discrete (embedded) LEDs and CCFLs." – Frank Byers and Walter Schulz, Fiber optic technology delivers versatile LED-based illumination, LEDs Magazine, Twitter: @ledsmagazine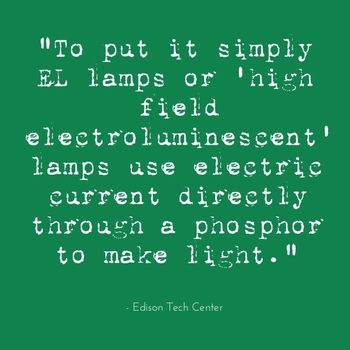 76. Electroluminescent (EL) lighting provides another backlighting option for membrane switch design. "To put it simply EL lamps or 'high field electroluminescent' lamps use electric current directly through a phosphor to make light. Unlike most lamps, they can be shaped to be extremely flat, or in narrow wire-like shapes. Electroluminescence or 'EL' is the non-thermal conversion of electrical energy into light energy. This phenomenon is used in EL lamps, LEDs, and OLEDs." – Using electric current through a phosphor or semiconductor, Edison Tech Center, Twitter: @EdisonTechCtr
77. EL lamps are loose parallel-plate capacitor. "How do EL lamps work? An EL lamp is a loose parallel-plate capacitor. In other words, it's an electronic device that is electrically charged and then loses its energy in the form of light. To do this an EL lamp requires an AC current which is applied to both plates. The current allows energy to build up within a phosphor layer between the plates, and the energy is released as light during each half cycle of the AC current (when the electrical field or charges applied to the plates alternate). The number of times that the field changes within a given time period (the frequency of the current) influences the brightness of the light emitted by the phosphor." – Technolight
78. EL lighting can take the form of flexible sheets, wires, or sticks. "Electroluminescent (EL) lighting are flexible sheets, wires, sticks, etc. that use electroluminescence to produce illumination. These devices emit light when a current passes through a thin layer of phosphor or semiconductor, or a strong electromagnetic field is applied. The light occurs because the current field creates electron-hole pairs that release light when they recombine. This optical and electrical phenomenon is the result of radiative recombination of electrons and holes in a material, usually a semiconductor. Electrons and holes are separated either by doping the material or through excitation by impact of high-energy electrons accelerated by a strong electric field. The excited electrons and holes are then recombined and the electrons release their energy as photons (light)." – Electroluminescent Lighting Information, Global Spec, Twitter: @engineering_360
Membrane Switch Design Technologies: Printing, Materials, and More
79. Inkjet printing is a viable technology for membrane switches and other electrical contact applications. " A geometrical model has been developed for a better understanding of the electrical contact in the membrane switch. The device has been tested under cold and hot switching at 5V and 10 mA. For low power applications, the membrane switch proves to be reliable for 105 mechanical actuation cycles. This work validates inkjet technology potential for electrical contact applications." – Sette, D. et. al, Study of the Electrical Contact in a Fully Inkjet Printed Membrane Switch, Holm Conference on Electrical Contacts (HOLM) , 2013 IEEE, Twitter: @IEEEXplore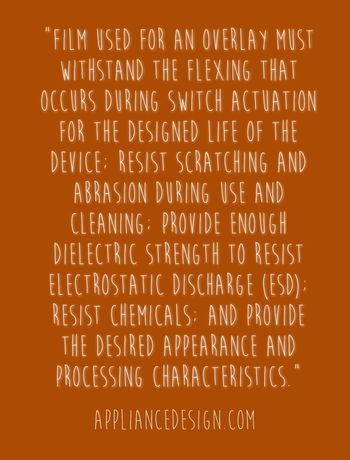 80. Choose your overlay materials carefully, considering the typical use and application of the device. "Film used for an overlay must withstand the flexing that occurs during switch actuation for the designed life of the device; resist scratching and abrasion during use and cleaning; provide enough dielectric strength to resist electrostatic discharge (ESD); resist chemicals; and provide the desired appearance and processing characteristics." – PET vs. PC for Membrane Switch Parts, ApplianceDesign.com, Twitter: @ApIncDsgn
81. The graphic presentation layer makes up the visible component of a membrane switch assembly. "The graphic presentation layer of the membrane switch is a graphic overlay. The configuration is dependent on the function of the device. The graphic presentation layer is typically a printed material, such as polyester or silicone rubber." – Typical Membrane Switch Design and Construction, Engineer's Edge, Twitter: @EngineersEdge
82. Engineering designers graphically create and test products prior to manufacturing, saving companies substantial time and money. "Professionals in this field use computer-aided design, computer-aided engineering, and computer-aided manufacturing in order to analyze the overall worth of a potential product and to help in the assembly of a product by graphically documenting its parts." – Engineering Design Technology (EDT), Western Michigan University, Department of Industrial and Manufacturing Engineering, Twitter: @wmunews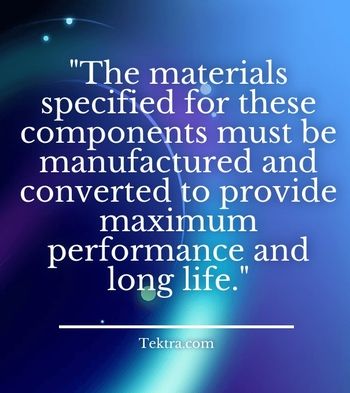 83. Membrane switch assemblies contain multiple components, each with one or more critical functions. "Each layer of a membrane switch performs a function. Some components do double and even triple duty. The materials specified for these components must be manufactured and converted to provide maximum performance and long life." – Custom Membrane Switch Components, Tekra.com
84. Polycarbonate and polyester are the most commonly used materials for membrane switch overlays. "The two most common materials used in making the graphic overlay for membrane switches are polycarbonate and polyester. All overlays begin as clear material, with the graphics printed on the reverse side. A variety of finishes can be placed to visually enhance the final membrane switch, including embossing, texturing or finish, varied colors, or backlighting." – Tips for selecting and designing a membrane switch, ECN Magazine, Twitter: @ecnonline
85. Polycarbonate is often a material of choice for stand-alone display windows, overlays without keypads, and bezel overlays for rubber keypads due to its durability and transparency. "Polycarbonate, or specifically polycarbonate of bisphenol A, is a clear plastic used to make shatterproof windows, lightweight eyeglass lenses, and such. General Electric makes this stuff and sells it as Lexan."
86. Heat resistance adds to the benefits of polycarbonate. "Polycarbonate is naturally transparent, with the ability to transmit light nearly that of glass. It has high strength, toughness, heat resistance, and excellent dimensional and color stability. Flame retardants can be added to polycarbonate without significant loss of properties." – A Guide to Polycarbonate in General, Polymer Technology & Services, LLC, Twitter: @PolymerTechnol
87. Polyester is a material of choice for membrane keypad overlays due to its superior flex life and chemical resistance. "The most popular and one of the earliest uses of polyester was to make polyester suits – all the rage in the 70s. Polyester clothes were very popular. Due to its strength and tenacity polyester was also used to make ropes in industries. PET bottles are today one of the most popular uses of polyester." – What is Polyester, WhatIsPolyester.com
88. Metals, copper, and plastic are often used in membrane switch assemblies. "Some of the materials commonly used for manufacturing membrane switches are metals, copper and plastic. It is basically a circuit printed over a thin ITO or polyester film. The topmost layer serves as a protective layer to the user. This layer is made of graphic overlay which is attractively designed with impressive graphics, colors and text. It is also used for branding purposes. The role of the remaining layers is to offer durability and enhance the performance of the equipment. Membrane switches are made of polyester to add to its durability and improve its performance." –  CKhuzwayo, The Importance of Using Membrane Switch Tester, via Storify, Twitter: @Storify
89. Conductive inks are commonly used in membrane switch design. "A conductive ink is a thermoplastic viscous paste that conducts electricity by inculcating conductive materials such as silver and copper. This ink comprises binder, conductor, solvent, and surfactants used during its manufacturing process. Conductive inks are used in various industries such as Photovoltaic, sensor/medical, printed electronics, consumer electronics and many more. The major application of conductive inks is in the Photovoltaic industry followed by the membrane switches." – Conductive Ink Market by Application (Photovoltaic, Membrane Switches, Displays, Bio-Sensor, Automotive), Type (Silver Flake & Nanoparticle, Copper Flake & Nanoparticle, Carbon/Graphene, CNT, Dielectric, Polymer) – Global Trend & Forecast to 2018, Reportlinker.com via PR Newswire
Membrane Switch and Electronics Industry Trends
90. Passive components are gaining momentum. "Like any evolving technology, in recent years the electronic components industry has seen a shift toward passive components that are smaller, more reliable and more powerful. Distributors and manufacturers alike are investing heavily in the development of these features, and we will see three distinct trends in passives continue to play out in 2015 as a result. Higher density resistors, higher current magnetics and polymer and hybrid capacitors will all take center stage in the year ahead as leading passives manufacturers like Vishay, Panasonic, Ohmite, Fair-Rite and Bourns leverage new techniques and technologies that change the way passive components fulfill the design needs of engineers." – Larisa Miles, 3 trends in passives for 2015, ECN, Twitter: @ecnonline
91. Capacitive touch switches are becoming commonplace among certain device subcategories. "The way in which engineers approach user interface development has changed radically in recent years. Touch based sensor mechanisms of some form now make up the vast majority of human-machine interfaces within the consumer portable electronics sector and there is an on-going proliferation of these into various other sectors too. Among the products where touch switches are starting to bring multiple operational benefits are white goods, cooking appliances, printers, PCs, games consoles and vehicle infotainment systems." – Steve Sheard, Comparing touch switch technologies, Advantage Media, Twitter: @b2badvantage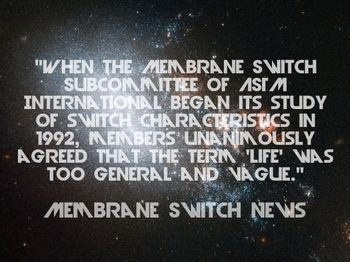 92. Estimating the life of a membrane switch is more complex than providing an estimated number of cycles. "When the Membrane Switch Subcommittee of ASTM International began its study of switch characteristics in 1992, members unanimously agreed that the term 'life' was too general and vague. To put the committee's dilemma in perspective, consider how many times you've seen switch designers provide drawings that identify 'Life = 1 million.' The simple statement breeds a long list of questions about switch performance." – Alan Burk, The Life of a Membrane Switch, Membrane Switch News, Twitter: @MembraneNews
93. Modern electronic interfaces have evolved from simple 'on-off' functionality to more advanced options. "Clearly and unambiguously labeling power switches and buttons for modern electronic devices is becoming increasingly challenging. The international symbols for power control were established in 1973 with some dating back at least sixty years. At that time, most devices had just two power modes (on and off), a single mechanical power switch, and zero power consumption in off. Today, electronic devices commonly have multiple power modes and multiple power switches. In addition, many consume 'standby' power — non-zero power consumption in the minimum power mode, usually an off mode — so that the only way to achieve zero power draw is to pull the plug." – Power Switch Labeling for Medical and Other Devices, Energy.lbl.gov, Twitter: @BerkeleyLab
94. Even oscilloscopes, used by engineers and technicians to debug and analyze designs, have experienced radical improvements in user interface design, enabling these devices to more quickly and accurately analyze leading-edge designs. "Human interface design of modern electronics have dramatically improved to increase productivity. In parallel, oscilloscope user interfaces have had radical improvements to speed debug and analysis. While oscilloscopes shouldn't necessarily work like tablets or smartphones, they should leverage modern hardware/software technologies to speed up the analysis and debug of today's leading-edge designs." – Doug Beck, Usability Engineer, Ten Oscilloscope Innovations You'll Want that Didn't Exist Three Years Ago, Electronic Design, Twitter: @ElectronicDesign
95. The past decade has brought many advancements in consumer electronics. "We've come a long way in just 10 years. While the 1990s saw computers, the Internet, and various consumer electronics steadily evolve from the sole purview of nerds into things everyone can use, it was the aughts which truly brought these technologies (and many more) into the lives of mainstream America." – Will Greenwald, Top 10 Most Influential Tech Advances Of The Decade, PC Mag, Twitter: @PCMag
96. Smart devices are bringing about a more connected world. "I grew up watching the Jetsons, a show about the future with flying cars, robots and the home of the future. It was this home of the future that captured my imagination. The smart home revolution is all around us and we are quickly approaching a world full of technology that is like the Jetsons. As our homes are becoming smarter and more connected there is an incredible opportunity…The problem is that smart devices are islands and do not work as a real network. The result is a collection of disconnected devices in the home that are smart but not smart enough. The consumer is faced with a dilemma of how to make things work together in a seamless way." – Itai Ben-Gal, CEO, iRule, LLC, Technology Advancements in Consumer Electronics and the Impact on Energy Savings, via Vimeo, Twitter: @Vimeo
97. Rapid evolution in the field of consumer electronics is expected to continue. Membrane switch design must keep pace with the speed of technology. "The evolution of consumer electronics, high definition displays, digital broadcasts, displays and media is happening at an increasingly rapid pace. Advancements in technology are occurring much faster than before, reducing the time to deliver new technologies to market at an exponential rate. The algorithm for designing and delivering new technology is nearly a fifty percent reduction in time with every significant breakthrough. With such a rapid race for invention the simultaneous introduction of diverse technologies is as inevitable as price erosion and shortened life cycles for what is considered 'new' in consumer electronics." – The Rapid Pace of Evolution in Consumer Electronics, Executive Blueprints
98. The growth of the consumer electronics market offers benefits for modern consumers. "Technology has provided us with even more creative ways to occupy our time. Thanks to Sony, Nintendo, and Microsoft, we can play video games, competing with friends and other gamers from around the world to master fighting, strategy, and sports titles. While some parents may argue that video games are violent and addictive, healthy amounts of game time can actually be beneficial to a child's development. A study by Information Solutions Group for PopCap Games discovered that playing video games can improve concentration, increase attention span, and provide positive affirmation, especially in children suffering from ADHD. In addition, we can burn calories while playing Wii Fit." – Jennifer L. Deleo, How Tech Has Changed Our Lives, PC Mag, Twitter: @PCMag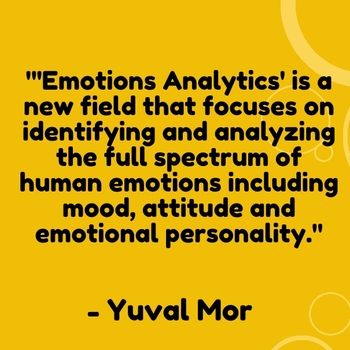 99.  Machines will one day have the ability to identify and analyze the full spectrum of human emotions. "'Emotions Analytics' is a new field that focuses on identifying and analyzing the full spectrum of human emotions including mood, attitude and emotional personality. Now imagine Emotions Analytics embedded inside your mobile applications and devices, opening up a new dimension of human-machine interactions. Think of an 'emotional analytics engine' that takes a 20-second snippet of your spoken vocal intonation and nearly simultaneously offers you a succinct analysis of the underlying emotional communication via a dashboard." – Yuval Mor, Beyond Verbal, The Future of Human-Machine Interaction: It's Not What You Say, It's How You Say It, Wired, Twitter: @WIRED
100. As gadget interfaces have become more sophisticated, some push towards greater simplicity. "User interfaces to consumer electronics devices – Video recorders, phones, cameras, washing machines, microwave ovens, etc. – are getting too complicated to be easily used by ordinary consumers. We believe that what is responsible for such complication is a design philosophy which simply maps functions the device can perform to controls like buttons and menu items. That leaves the users with the difficult cognitive task of mapping their goals onto the devices' capabilities – a frustrating and error-prone process." – José Humberto Espinosa Christlieb, Reducing Complexity of Consumer Electronics Interfaces Using Commonsense Reasoning, Submitted to the Program in Media Arts and Sciences, School of Architecture and Planning, Universidad Nacional Autónoma de México, Twitter: @medialab
101. Genetics, robotics, information, and nanotechnology are converging to transform the way humans interact with the world. "Four converging technologies are going to transform our interaction with the world radically: genetics, robotics, information and nanotechnology. With a few exceptions, such as pacemakers and artificial hips, technology has always been at one distance removed from our bodies and brains. Not for much longer. The interface between the made world and us is going to become almost invisible." – Andy Goodman, The future of the human machine interface, The Guardian, Twitter: @guardian